Summary Report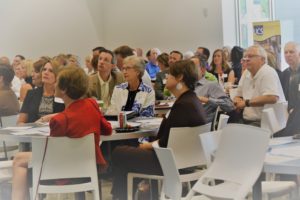 More than 200 community members from across sectors including business, public safety, education, human services, government, faith community and funders gathered at the Johnson County Arts and Heritage Center to discuss what impacts our health and well-being. Johnson County's economic vitality and sustainability are only as healthy as those who live and work here.  UCS shared its community collaboration efforts to create a Johnson County Health Equity Network.  A link to the event's presentation materials can be found here.
Dr. Marci Nielsen, President and CEO of PolicyPRN Consulting, served as the keynote speaker.  Dr. Nielsen provided an overview of what is Health Equity and our Social Determinants of Health.  She explored the "10 Things to Know About Health", integrated excerpts from the documentary Unnatural Causes (unnaturalcauses.org) and shared guiding principles for communities to achieve health equity.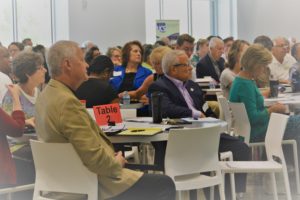 UCS' Executive Director, Julie Brewer, and Director of Education and Planning, Kathryn Evans Madden, reviewed the top headlines last year's Summit participants identified through their breakout session focused on emerging issues impacting Johnson County and the improvements they'd like to see in the next five years.  Brewer and Evans Madden shared with participants how last year's community input helped the organization move forward with a focus on health equity. Through grant support from the Kansas Health Foundation and REACH Healthcare Foundation, UCS is working with Johnson County Department of Health and Environment to develop a Johnson County Health Equity Network.
Brewer and Evans Madden presented local data and testimonials highlighting how safe, stable, affordable housing has emerged as the key issue that the Johnson County Health Equity Network multi-sector Leadership Team plans to focus its efforts on during the next few years.
The Summit included a multi-sector panel discussion on health equity issues that affect our region, moderated by Steve Kraske of KCUR and Kansas City Star. Panelists included:
Senator Barbara Bollier, KS District 7
Tim DeWeese, Director of the Johnson County Mental Health Center
Ken Southwick, Interim Superintendent of Shawnee Mission School District
Celeste Gruhin, UPS Human Resource Specialist
Rebecca Buford, Executive Director of Tenants to Homeowners, Inc.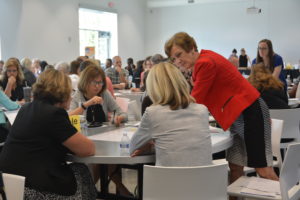 Panelists discussed how housing issues affect all vulnerable populations, particularly those with mental health issues and how cost of living, including access to affordable housing and transportation, impact some area employees.  Student mobility due to lack of safe, stable and affordable housing for some families and its impact on student performance and engagement was also discussed. Examples of solutions from other communities who have identified and created intentional action plans to address the need for safe, stable, affordable housing was shared as well as noting the importance of selecting local and state elected officials who prioritize health equity when creating policy.
The Summit included a table-level breakout session: Investing in our Most Vital Resource and concluded with a Call to Action next steps for participants and the community.
During the breakout session participants brainstormed around three discussion questions, highlighted below with the top responses:
Breakout Session: Investing in Our Most Vital Resource – A Community Conversation