2021 Point in Time (PIT) Count Training
This brief training explains the purpose of the 2021 PIT count and how to administer the HUD-approved PIT count survey. This training is mandatory for any individual administering the 2021 PIT survey. The PIT count will count the number of individuals experiencing sheltered or unsheltered homelessness in Johnson County on the night of January 26th into the morning of January 27th. Surveys will be administered and data collected about where homeless individuals slept on the night of January 26 beginning the night of January 26 and continuing through the day of January 29. Completed surveys must be returned to Christina Ashie Guidry by Wednesday, February 3rd so that the data can be compiled, de-duplicated, and submitted to HUD.
Please contact Christina Ashie Guidry for more information: christinag@ucsjoco.org.
2021 PIT Count Training Video Presentation
2021 PIT Count Training PowerPoint Presentation
Coordinated Entry System Changes During COVID-19 Pandemic

Triage and screening for those who are experiencing homelessness and living in places not meant for human habitation is available at the Salvation Army-Olathe Corps, Catholic Charities, and Johnson County Mental Health Center in Shawnee. However, all triage and screenings during the COVID-19 Pandemic must be conducted virtually instead of in person - please see the table below with information on how to access these organizations.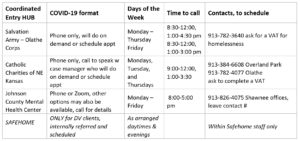 KS-505 Johnson County Continuum of Care on Homelessness

UCS is the lead agency for the KS-505 Johnson County Continuum of Care on Homelessness or CoC, a community collaboration that seeks to improve the community's response to poverty and homelessness.  The CoC is made up of both private and public organizations and agencies who either serve those who are currently homeless or those who are most at risk.  Together, with private and public resources, the members of the CoC work to create a comprehensive safety net for those who are homeless or facing homelessness that provides shelter and assists them to regain stable housing. The CoC meets the 4th Wednesday of each month except December at 8:30 a.m. and is open to all who wish to work together to prevent and end homelessness in Johnson County. Currently, meetings are being held virtually through Zoom. Please reach out to Christina Ashie Guidry to be placed on the calendar evite notifications.
On an annual basis, UCS submits a consolidated application to the U.S. Department of Housing and Urban Development on behalf of the CoC for housing and supportive services programs.  Staff contact is Christina Ashie Guidry.
Preventing and Mitigating Infectious Disease Among Those Experiencing Homelessness in Johnson County, KS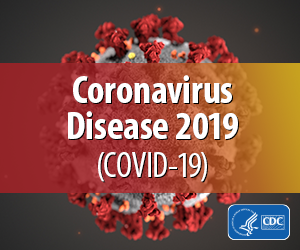 KS-505 is charged with developing and implementing a plan to prevent and mitigate infectious disease transmission among those experiencing homelessness in the Johnson County community. In consultation with the local health department and Johnson County's federally qualified health center, KS-505 CoC providers are developing a plan and set of resources for local shelter, street outreach and housing providers so that those experiencing homelessness in our community and the persons who assist them regain housing and stability remain healthy and have their basic needs met.
Until a local plan is fully developed, UCS is sharing a variety of resources from credible sources for your organization's planning and communication purposes. Please check back periodically as new resources and local plans will be posted as the outbreak unfolds.
---
Includes the following toolkits:
---
If you have any questions, call JCDHE at (913) 477-8343 during regular business hours or the Kansas Department of Health and Environment at (877) 427-7317 after business hours.
Health care providers should immediately notify infection control at their health care facility and the Kansas Department of Health and Environment at (877) 427-7317 if they have a patient under investigation for COVID-19. KDHE is coordinating all testing for the 2019 novel coronavirus (COVID-19).
Includes the following one-page handouts/flyers for posting:
---
---
Includes:
---
(Includes multiple links to: Center for Disease Control and Prevention (CDC); Health Resources and Services Administration (HRSA); Dept of Housing and Urban Development (HUD); and a variety of local policies and guidance from US cities)
---
---
The term "homelessness" conjures up a variety of images and experiences. Even for those who work year round to assist households to regain and sustain stable housing, the term has multiple meanings. The experience of homelessness results in significant barriers and challenges for adults and children, both now and in the future.  Johnson County's Continuum of Care on Homelessness is a collaboration of public and private service providers committed to quickly and effectively responding to housing crises in order to end homelessness among local residents.
Experiencing homelessness? Let's get connected!
¿Está sufriendo por la falta de vivienda? Conectemonos!
Homelessness in Johnson County 2019
Since its inception, United Community Services has addressed issues related to poverty through program activities that raise awareness, plan collaboratively and mobilize resources.
KS-505's FY 2019 Continuum of Care on Homelessness' Competition Public Notification for Proposals
Each year, the U.S. Department of Housing and Urban Development (HUD) offers a national competitive funding opportunity to Continuums of Care (CoC) working to end homelessness.  UCS acts as Johnson County's CoC lead agency (KS-505) and submits the application annually on behalf of local members.  In FY 2018, $684,000 was awarded to members of KS-505's CoC to support 7 programs in Johnson County offering permanent supportive housing, rapid re-housing, homeless data management services and CoC planning support.
In 2019, KS-505 is opening the application process locally prior to HUD's official release of the RFP to provide adequate time for any organization or agency committed to ending homelessness in Johnson County, KS to learn about and apply for CoC funding. Each year the CoC accepts and considers proposals from organizations whether they have previously received funding or not and regardless of whether the CoC is applying for new funding.
HUD released the FY2019 CoC NOFA on July 3, 2019. A revised local application timeline for KS-505 can be found here. It was approved by the KS-505 CoC Board on July 10th.
For more information, please contact Valorie Carson, valoriec@ucsjoco.org.
Program Description. The Continuum of Care (CoC) Program (24 CFR part 578) is designed to promote a community-wide commitment to the goal of ending homelessness; to provide funding for efforts by nonprofit providers, states, and local governments to quickly re-house homeless individuals, families, persons fleeing domestic violence, dating violence, sexual assault, and stalking, and youth while minimizing the trauma and dislocation caused by homelessness; to promote access to and effective utilization of mainstream programs by homeless individuals and families; and to optimize self-sufficiency among those experiencing homelessness.
In FY 2019, the KS-505 Continuum of Care, which serves Johnson County KS, anticipates that it will be eligible to apply for approximately $700-720,000 based on 2018 awards and bonuses.
CoC Program Components. 24 CFR 578.37 states that CoC funds may be used for projects under five program components: permanent housing (including rapid rehousing and permanent supportive housing); transitional housing; Supportive Services Only; HMIS; and in some cases, homelessness prevention. We do not anticipate that homelessness prevention dollars will be available in FY 2019. The likely components that will be funded in the FY 2019 CoC Program Competition will be:
Permanent Housing (either Permanent Supportive Housing or Rapid-Rehousing);
Transitional Housing;
Supportive Services Only; and
HMIS.
In addition to funding projects that use these components, KS-505 will likely be able to apply for projects that include the Transitional Housing and Permanent Housing-Rapid Re-Housing components in a single project, a Joint TH and PH-RRH component project. If your agency or organization is interested in either renewing or applying for a new project in one of the program components listed, please submit a Letter of Intent to apply in KS-505's FY 2019 CoC competition by end of day Wednesday May 29th, 2019.
For a more detailed description of the CoC program components, please click below:
https://www.hudexchange.info/programs/coc/coc-program-eligibility-requirements/
KS-505 regularly reviews the performance of CoC funded programs to assure that they meet the needs of local residents experiencing homelessness, result in successful and sustainable permanent housing, and that awarded funding is spent down in a timely manner so that funds are not returned unspent. KS-505 members work together to support the success of CoC funded programs.  However, under certain circumstances HUD CoC funding may be recommended for reallocation due to a number of factors. Click here for KS-505's reallocation process.
In FY2019, CoC project applications are scored during the rank and review process on a number of performance-related criteria. These include: housing stability, increased total income, bed utilization, housing first practices, data quality, and fiscal responsibility. The KS-505 Board reviews, edits and approves the rank and review process and the process and scoring is shared with project applicants at the annual NOFA training. Click here to view the rank and review scoring break down for the FY2019 NOFA.
Policy Priorities. HUD's selection criteria include the following priorities to support the goal of ending homelessness:
Ending homelessness for all persons. To end homelessness, CoCs should identify, engage, and effectively serve all persons experiencing homelessness.
Creating a systemic response to homelessness. CoCs should be using system performance measures such as the average length of homeless episodes, rates of return to homelessness, and rates of exit to permanent housing destinations to determine how effectively they are serving people experiencing homelessness. Additionally, CoCs should use their Coordinated Entry process to promote participant choice, coordinate homeless assistance and mainstream housing and services to ensure people experiencing homelessness receive assistance quickly, and make homelessness assistance open, inclusive, and transparent.
Strategically allocating and using resources. Using cost, performance, and outcome data, CoCs should improve how resources are utilized to end homelessness. CoCs should review project quality, performance, and cost effectiveness. Additionally, CoCs should review all projects eligible for renewal in FY 2019 to determine their effectiveness in serving people experiencing homelessness, including cost effectiveness.
 Use a Housing First approach. Housing First prioritizes rapid placement and stabilization in permanent housing and does not have service participation requirements or preconditions. CoC Program funded projects should help individuals and families move quickly into permanent housing, and the CoC should measure and help projects reduce the length of time people experience homelessness. KS-505 will only consider project applicants for housing if they verify that they use a housing first approach.

KS-505 FY2019 Continuum of Care Rank and Review Committee Results

The Johnson County CoC's Rank and Review Committee and Board have officially released KS-505's FY2019 HUD Continuum of Care (CoC) NOFA Rank and Review results for this year's competition. The recommendations include funding for six programs in local agencies that support households experiencing homelessness. To review the full results, please click here.
KS-505 FY2019 CoC Collaborative Application and Priority Listing Posted 9.26.2019

Each year, prior to submission of the annual CoC Collaborative Application and Priority Project Applications, KS-505 posts the final draft of the application for funding on its website and notifies the CoC and community of its availability. In FY2019, KS-505 will be applying for $682,926 to support permanent supportive housing, rapid re-housing, a homeless management information system, and planning. This year's application reflects the work of many persons and organizations who actively collaborate year-round to prevent and end homelessness in Johnson County. The process and application are both an opportunity to celebrate what we've accomplished in the past year and a challenge to all CoC organizations to improve outcomes for clients and the system's responsiveness. To view it, click here.