Kansas Public Policy Forum Focus – Health Equity & Federal Budget's Impact on States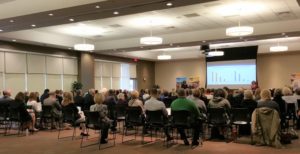 DECEMBER 4, 2017 — This week's Kansas Public Policy Forum, hosted by UCS, Community Health Council of Wyandotte County (CHC) and United Way of Greater Kansas City convened 15 state legislators from Johnson and Wyandotte counties as well as local elected officials, county and city staff, health and human service agencies, health foundation grant makers, community advocates, educators, and residents.
UCS Executive Director Julie Brewer and CHC Executive Director Jerry Jones began the forum discussing issues that impact health in Johnson and Wyandotte counties such as poverty, lack of health insurance, safe and affordable housing, and barrier to success for children and youth.  Both agencies have received grants from the Kansas Health Foundation to improve health equity, the fair and just opportunity for everyone to be as healthy as possible, in their respective communities.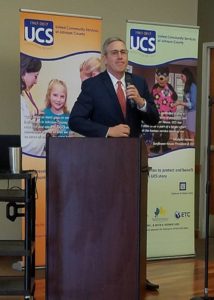 David Adkins, Executive Director/CEO of the Council of State Governments, was a featured presenter at the forum.   The Council of State Governments is a nonpartisan, nonprofit organization serving all three branches of state government.  It is a region-based forum that fosters the exchange of insights and ideas to help state officials shape public policy.  Adkins, a former Kansas state legislator, discussed the role federal funding plays at the state level and the potential impact of the President's proposed budget cuts to critical Kansas safety net programs.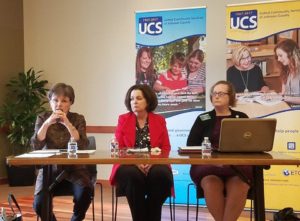 The forum included a panel of experienced legislators including Senator Laura Kelly, Representative Kathy Wolfe Moore, and Representative Linda Gallagher.  The panel discussed the upcoming legislative session, current work of the Child Welfare System Task Force, Mental Health, and SNAP, TANF and other safety net programs.  A summary of the Kansas Public Policy Forum and copy of the presentation materials will be available on the UCS website soon.
Read UCS' Public Policy Platform: