UCS 2021 Annual Meeting Celebrates Community and Connectedness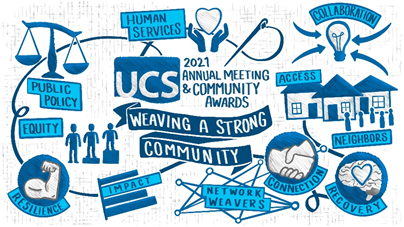 Approximately 130 community members participated in the 2021 UCS Annual Meeting on December 3, where the theme was Weaving a Strong Community. The virtual event was an opportunity to reflect on UCS' partnerships and successes in 2021, and to honor the contributions of our Human Service Awards winners.
Highlights of 2021 include:
The publication of the Johnson County Municipalities Housing Study, the implementation of the Housing for All Task Force, which included the participation of more than 100 community members, and the release of the Housing Toolkit.
UCS, Johnson County, United Way of Greater Kansas City, and community agencies worked with the Kansas Housing Resource Center to connect federal funding supporting rental and utility assistance with those in need within Johnson County.
UCS launched the Racial Equity in Communities pilot with support from the Health Forward Foundation and the Kauffman Foundation, continuing to elevate our commitment to racial equity, inclusion, and belonging.
In partnership with Johnson County and the 14 jurisdictions who participate in the Human Service Fund, UCS developed a new small grants program for 2022 to inclusively support small nonprofits.
The keynote presentation featured a discussion on the importance of community and connectedness. UCS Director of Education and Planning, Kristy Baughman and Manager of Special Projects, Kathryn Evans shared experiences highlighting power of community, and discussed the ways in which connecting with those around us can create relationships that promote resilience in times of crisis. Kathryn Evans' neighbors came together through a network of front porches, shared dinners, and friendship that established systems of support throughout the pandemic. Kristy Baughman's community of humanitarian aid workers provided connection that was vital to centering their mission and supporting their safety and well-being.
Kathryn Evans noted that "at UCS we've begun to notice how much being connected to others is critical to the work we do. There is not one project or issue that UCS has taken on or worked to address on our own—we always go to the community and bring people together to address challenges. Community and connectedness are really at the heart of what UCS does."
Human Service Awards
Each year, UCS presents the Human Service Awards to recognize the profound impact we have in improving the human condition when we make the effort to care, to help, and to connect with those around us.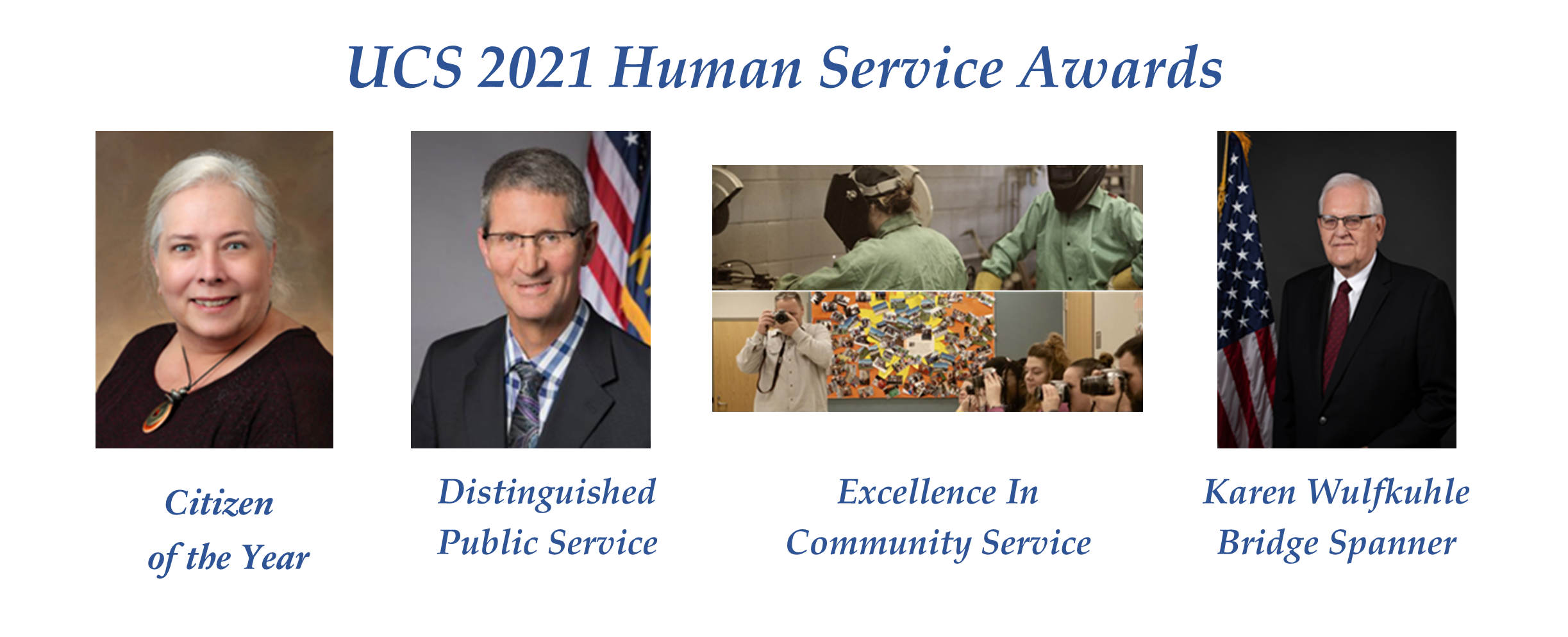 The 2021 UCS Citizen of the Year Award recognizes an individual who has provided lasting contributions that enhance the well-being of Johnson County residents. This year, we honored Mina Foster, Director of Housing Services with The Salvation Army. For more than sixteen years, Mina has worked with families and individuals experiencing homelessness, bringing a unique perspective of care and commitment to serving vulnerable populations.
The recipient of the 2021 Distinguished Public Service Award, recognizing outstanding public service by a government official who has advanced human services to improve quality of life for Johnson County citizens, was Carl Gerlach, Mayor of Overland Park. Mayor Gerlach's commitment to promote understanding, tolerance and acceptance of religious and cultural diversity has helped bridge divides and break down barriers throughout the greater metropolitan area.
For the 2021 Excellence in Community Service Award, we celebrated the collaborative partnership of NCircle, Johnson County Community College Continuing Education, Kansas City Community College, and Johnson County Department of Corrections through their work in the College of Trades program. Since its inception, the College of Trades program has helped more than 300 formerly incarcerated people rejoin their communities as productive citizens.
The Karen Wulfkuhle Bridge Spanner Award honors a community advocate who recognizes the complex issues that affect the quality of life in our community and exemplifies commitment and leadership. This year, UCS presented The Karen Wulfkuhle Bridge Spanner Award to Ed Eilert, Chairman of the Johnson County Board of Commissioners. A long-time Johnson County resident and advocate, Chairman Eilert has dedicated his life to serving others and supporting his community.
The entire annual meeting can be viewed online here.