UCS 2022 Annual Meeting is a reminder that "It Starts With Us"

More than 130 community members gathered at Johnson County Community College on December 2nd for the 2022 UCS Annual Meeting, where the theme was It Starts with Us. The event was an opportunity to celebrate community, reflect on UCS' accomplishments and partnerships, and honor the contributions of our Human Service Awards winners. UCS also welcomed new board members and thanked departing board members for their service to the UCS mission.

Participants listened as UCS board members, staff, and community partners shared program successes and highlights from 2022, which include:
A partnership with United Methodist Church of the Resurrection to produce JoCo's One Small Step. UCS launched a call for community members to come for a conversation with a stranger in a model that is based on the NPR StoryCorps "One Small Step" project. The goal is to promote civil discourse as a tool for overcoming divisiveness and nurturing connections. A teaser of the conversations, which will be released in 2023, can be found here.
As the lead agency for the Continuum of Care on Homelessness (CoC), UCS helped secure more than $888,000 in funding from HUD this year to support local providers who serve our homeless population in Johnson County. This work has highlighted the vital need for a dedicated emergency shelter for adults without minor children. Also in 2022, UCS and the CoC partnered with Johnson County Housing Authority to work on allocating 62 new Emergency Housing Vouchers specifically for some of our most vulnerable populations experiencing homelessness.
In its resource allocation role, UCS partnered with the County, local agencies and the Kansas Housing Resource Corporation to ensure Emergency Rental Assistance and Homeowner Assistance Funds are allocated effectively here in Johnson County.
With grant funding from the Health Forward Foundation and REACH Healthcare Foundation, UCS has partnered with Consensus KC to launch a Community Housing Advocacy Training (CHAT) pilot, beginning with residents in Overland Park. The goal is to bring interested residents from all parts of the city together to be a part of the housing solutions conversation and equip them with the knowledge and tools to be engaged.
As part of UCS' Racial Equity and Inclusion efforts, UCS brought together University of Kansas' Public Management Center, the Kansas Leadership Center, and consulting expertise through Critical Social Change Project to create a Racial Equity in Communities Pilot. The pilot launched the fall of 2021 with five participating jurisdictions who identified staff, elected officials, and resident participants to go through a six-month education, training, and leadership development process centered in developing understanding, leadership skills, and organizational plans to implement racial equity in decision-making across all areas of government.
This year, 14 cities and the County committed more than $437,000 for the Human Service Fund, supporting programs that improve the quality of life and public safety through human service strategies and providing services to Johnson County residents. With jurisdictional support, 2022 saw the launch of the Small Grants Pool which provides grants of less than $5,000 for new, growing, and grassroots organizations working to build their service reach in Johnson County.
The Drug and Alcoholism Council, facilitated by UCS, oversaw allocations of more than $2 million in Alcohol Tax Funds from the ten cities and County Government who collect this tax to 23 programs which provide substance abuse education, prevention, intervention, treatment, and recovery services. UCS also released Alcohol Tax Fund Priorities reports providing a five-year outlook of emerging trends and funding needs to address substance abuse in Johnson County.

Human Service Awards
Each year, UCS presents the Human Service Awards to recognize the profound impact we have in improving the human condition when we make the effort to care, to help, and to connect with those around us.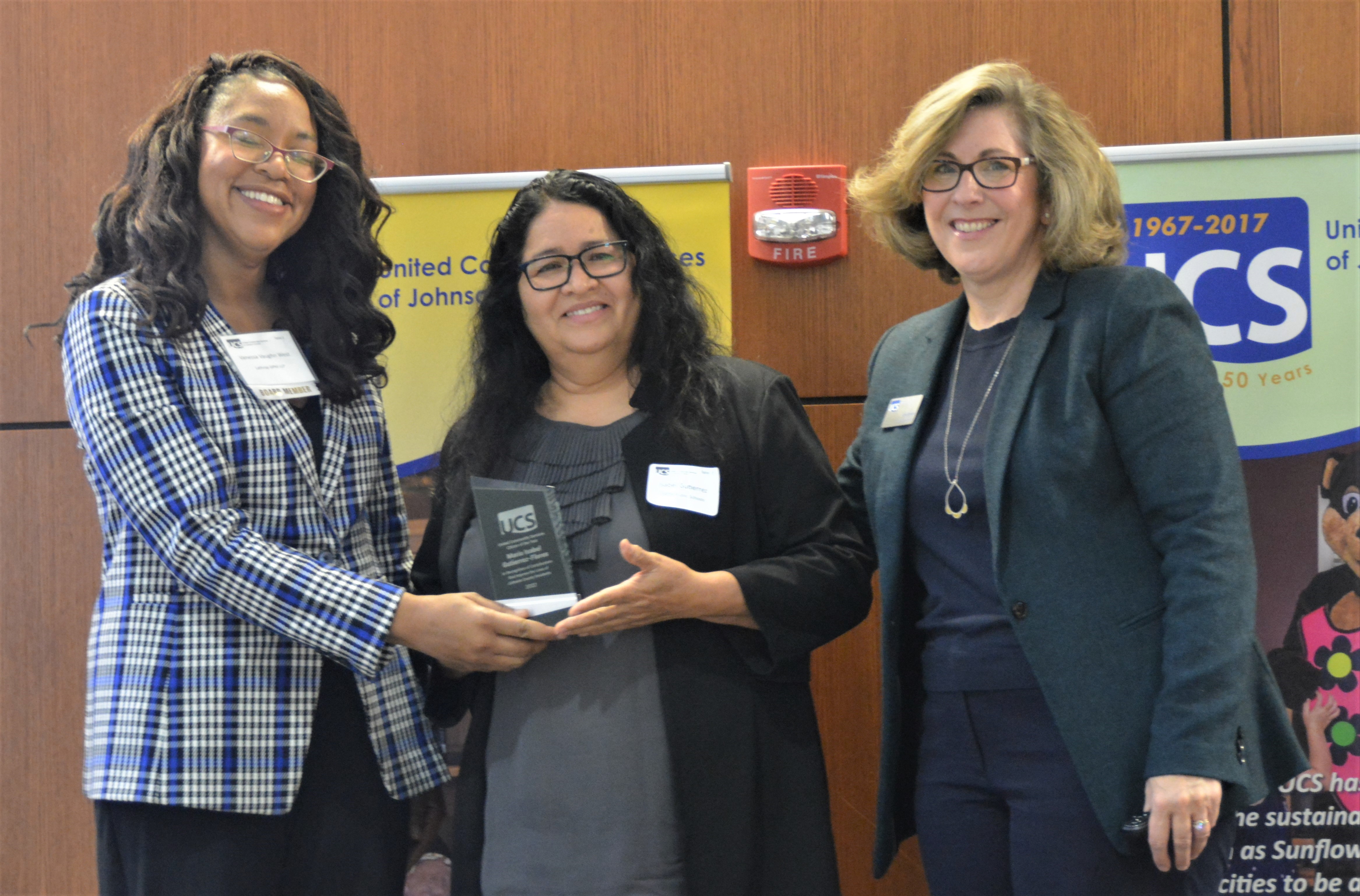 The UCS Citizen of the Year Award recognizes an individual who has provided lasting contributions that enhance the well-being of Johnson County residents. This year, we honored Maria Isabel Gutierrez-Flores, or as she is lovingly known to many: "Miss Isabel". Miss Isabel has the unique ability to recognize a need, but she doesn't stop there. The next question she asks is, "How can I help?" Much of her work has been focused on improving access to resources for our Spanish-speaking population, especially in areas that serve our families and children. Over the years, she has identified many gaps in the resources, training, and support for families who speak Spanish. Because of her work, Johnson County has had Spanish-speaking, accessible options for everything from CPR training, fire department courses, instruction on safe sleep for babies, parenting classes through Parents as Teachers, and more. The award was presented by UCS Board Member Vanessa Vaughn-West.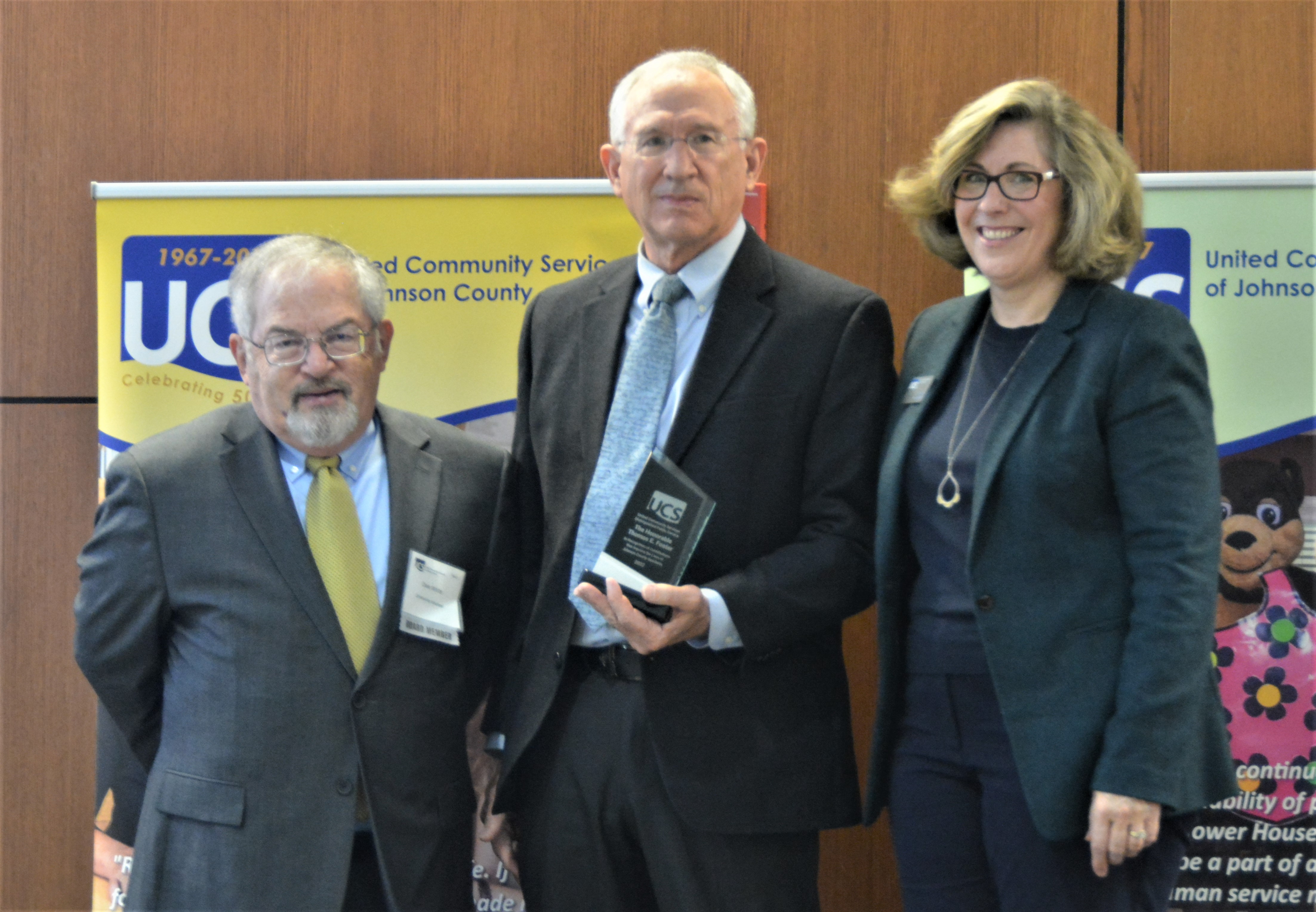 The recipient of the 2022 Distinguished Public Service Award, recognizing outstanding public service by a government official who has advanced human services to improve quality of life for Johnson County citizens, was Judge Thomas Foster. Judge Foster retired in 2020 after 21 years of service. During his time with the 10th Judicial District, he served as chief judge from 2009-2013. His body of work includes efforts to improve child support guidelines and juvenile facilities – including serving on the Kansas Juvenile Justice Review Committee. Judge Foster's focus on family issues included serving as chairman of the Kansas Child Support Guidelines Committee the last 11 years prior to his retirement and helping to start the Johnson County Family Court docket in 2006. The award was presented by UCS Board Member Dave White.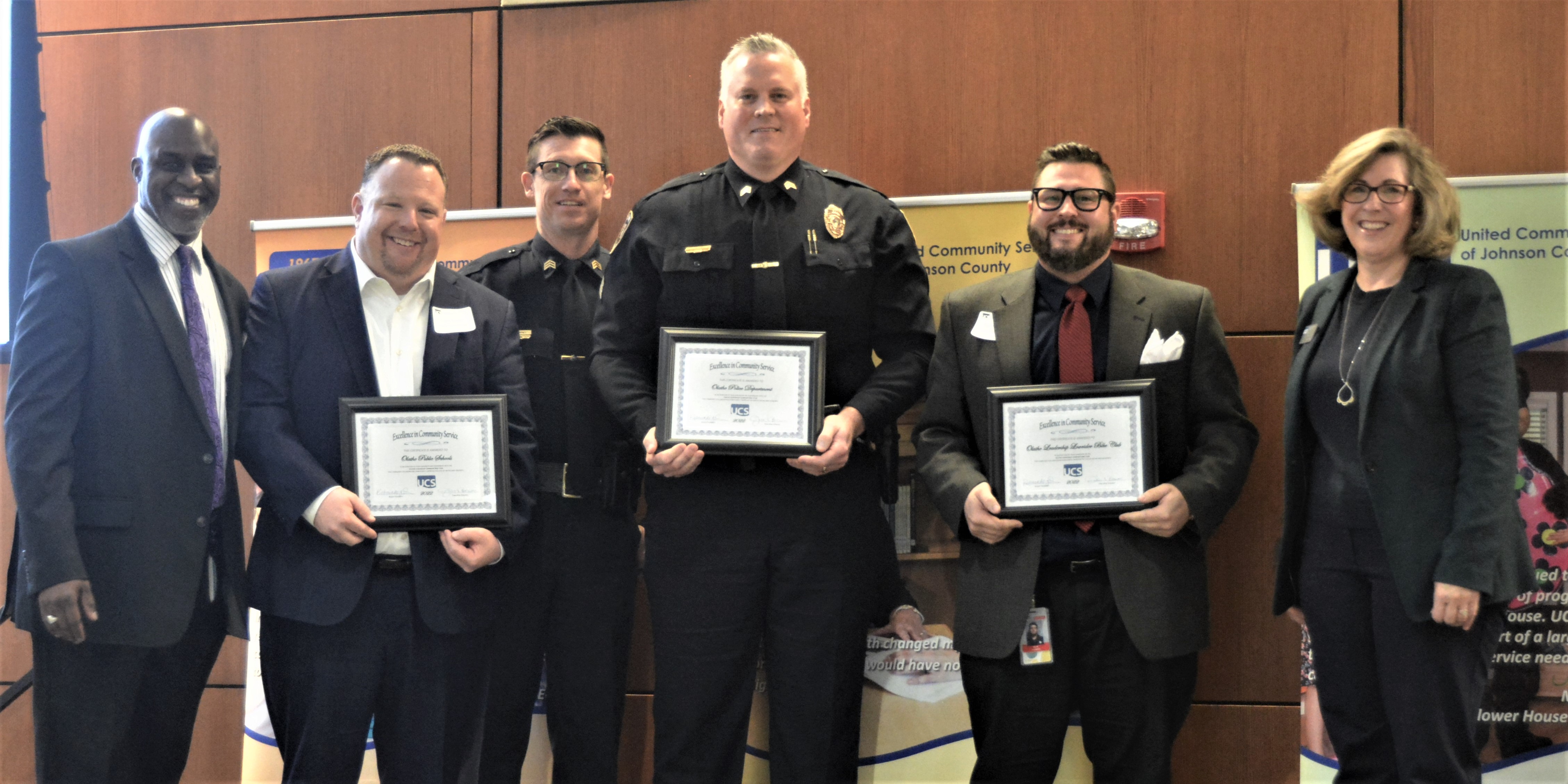 For the 2022 Excellence in Community Service Award, UCS celebrated the collaborative partnership of the Olathe Leadership Lowrider Bike Club, Olathe Public Schools, and the Olathe Police Department. The Olathe Leadership Lowrider Bike Club not only offers high schoolers a chance to customize a flashy, envy-inducing bike, but also an opportunity to develop relationships with mentors and connect to the significant history of lowrider culture. The club has yielded a 100% graduation rate among participants, and the program is now being duplicated in Albuquerque and even Española, New Mexico — the unofficial "lowrider capital of the world." Locally, a new chapter has launched in Kansas City, Kansas. The award was presented by UCS Board Member Dr. Mickey McCloud.