Preparing for the 2023 Legislative Session in Kansas
Legislators returned to Topeka this week to kick off the Kansas Legislative Session. While there are many issues on the table for this session, UCS is particularly interested in policies, programs, and services that invest in the health and wellbeing of our community and provide people the opportunity to achieve their full potential. UCS urges legislators to support a Family First approach to meet the needs for a quality workforce through investment in Kansans and health equity. The UCS Public Policy Platform outlines priority policy issues for the 2023 legislative session.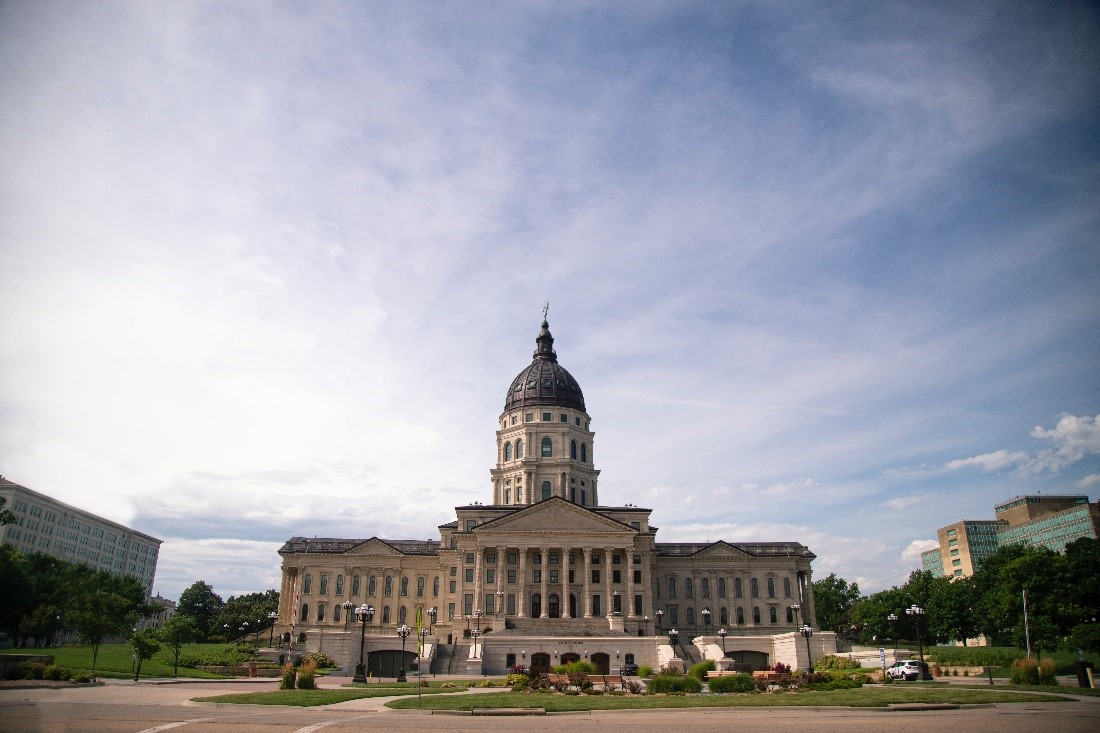 ---
The Case for KanCare Expansion
A top policy issue for UCS and other advocates during this legislative session is the expansion of KanCare, the state's Medicaid program. Medicaid is a federal health insurance through which people who meet certain criteria, including income requirements, can get publicly funded health insurance.
Health insurance is a critical resource for the health and well-being of the entire community. It provides financial protection from the costs associated with medical care; it also helps people to access the care they need so they can maintain good health, care for their loved ones, and participate in activities that keep our community running smoothly. In Johnson County, more than 34,900, or almost 6% of the county's population, are uninsured. Among the insured population in Johnson County, the most common form of health insurance is employer-based coverage. Households with higher incomes are more likely to have employer-based coverage than low-income households. Only 5% of residents with health insurance have Medicaid coverage.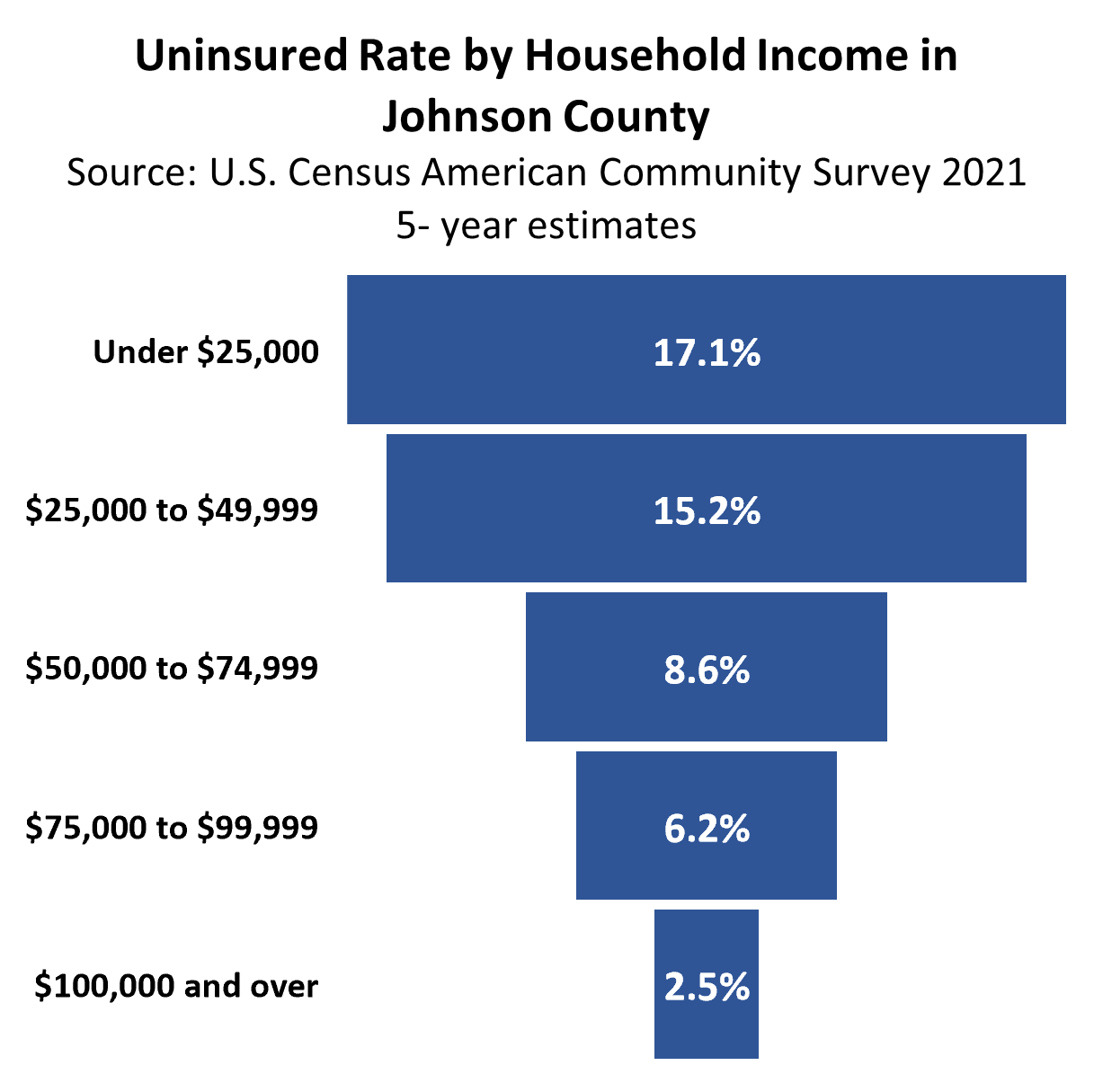 KanCare eligibility limits currently deny coverage options for adults without a disability and without children under the age of 18, or for adults with children who make more than 38% of the Federal Poverty Level (FPL). Thirty-eight percent of poverty for a family of three in 2022 was equivalent to an annual income of $8,751. Further, as many as 125,000 Kansans may be removed from Medicaid programs in the coming months as a result of new federal regulations which will permit the state to interview recipients to determine if they are eligible, which has not happened for the past few years due to a COVID-related pause to the rule.
Medicaid Expansion would create a sustainable path to health insurance for more than 9,700 Johnson County residents currently uninsured by increasing eligibility to 138% of the FPL, or a maximum annual income of $31,781.
More information about the health insurance status of Johnson County residents can be found in our latest fact sheet.
---
Health Insurance Marketplace Application Assistance from Health Partnership Clinic – Open Enrollment Closes Soon

The Health Insurance Marketplace (also known as the "Marketplace" or "exchange") opens Tuesday, Nov. 1 and will close Sunday, Jan. 15. The Marketplace provides health plan shopping and enrollment services through websites, call centers and in-person help.
Health Partnership Clinic offers free, in-person help with the health insurance application. Open enrollment is from Tuesday, Nov. 1-Sunday, Jan. 15.
Call 913-730-3653 to schedule an appointment. A certified application counselor is available to help you in English or Spanish.
When you apply for individual and family coverage through the Marketplace, you'll provide income and household information. You'll find out if you qualify for premium tax credits and other savings that make insurance more affordable; or coverage through the Medicaid and Children's Health Insurance Program (CHIP).
---
The Kansas Homeowner Assistance Fund (KHAF) Program is Open for Applications!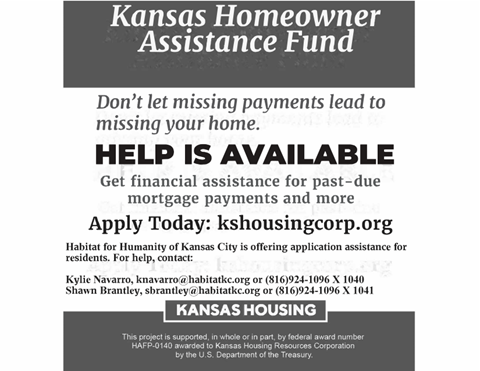 Help for Kansas Homeowners – Don't Wait
If the pandemic has created financial stress causing you to miss mortgage and/or property tax payments, you may qualify for the Kansas Homeowner Assistance Fund (KHAF), a program for low- to moderate-income homeowners. Learn more and apply here: https://kshousingcorp.org/kansas-homeowner-assistance-fund #homeownership #mortgageassistance #avoidforeclosure
Help for Kansas Homeowners – Apply Now
If you're behind on mortgage or property tax payments, help is here. The Kansas Homeowner Assistance Fund is helping homeowners across the state who have fallen behind on payments. Apply today.
https://kshousingcorp.org/kansas-homeowner-assistance-fund
Help for Kansas Homeowners – Funds won't last long.
Don't wait to ask for help if you need it. The Kansas Homeowner Assistance Fund can help you pay your past due bills:
Mortgages
Property taxes
Homeowner association fees
https://kshousingcorp.org/kansas-homeowner-assistance-fund
The purpose of the KHAF program, is to prevent foreclosures on homeowners suffering pandemic-related financial hardship.
Homeowner submits an online application.
* Application is processed to ensure all eligibility criteria are met.
* If approved, funds are paid directly to the service provider(s), who apply to the homeowner's account(s).
Applicants must meet all of the following criteria:
You own your home in Kansas and are at least 30 days past due on mortgage or property taxes.
The property (a single-family home, one-to-four-unit dwelling, condo, townhome, or manufactured home) is your primary residence.
Your recent income did not exceed 150 percent of your area's median income.
Your household has experienced financial hardship during the COVID pandemic and attests to this hardship.
For help with your application or understanding the process, Habitat for Humanity of Kansas City is providing assistance. Reach out to:
Kylie Navarro, knavarro@habitatkc.org or (816)924-1096 X 1040
Shawn Brantley, sbrantley@habitatkc.org or (816)924-1096 X 1041