U.S. Census Bureau releases 2019 population and poverty estimates
Johnson County's 2019 annual average unemployment rate was at a 5-year low of 2.8%. Despite the low rate of unemployment, the percentage of people living at or below the Federal Poverty Level in Johnson County has seen little change since 2015. In 2019, 5% of Johnson County residents (31,774 people) were living at or below 100% FPL ($21,330 or less for a family of three). The total number of people living in "low-income" households (those at or below 200% FPL, or $43,440 or less for a family of three) decreased by 1,609, a notably smaller drop than was seen in 2018 (7,769 between 2017 and 2018).
For more details, see out full fact sheet here.
---
Racial Equity and Inclusion at UCS – Open Info Sessions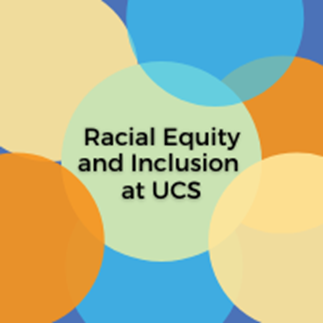 Like many in our community and across the nation, UCS has prioritized a critical need for greater awareness, analysis, and action with regards to racial equity. UCS brings diverse partners to a common table to help inform, guide and lead our work. We strive to be an institutional ally and partner to diverse communities by engaging and working alongside those disproportionately impacted by social and economic barriers to housing, living wage, food, education, childcare, and mental and physical health care.
The changing demographics of Johnson County indicate that diversity is inevitable, yet the social unrest of the past several months tells us that change is difficult. By equipping ourselves with knowledge and connecting with others, we can overcome those challenges to co-create a healthier, more diverse, and thriving Johnson County community for all people.
Please join us for a 30-minute virtual information session where you will see our Theory of Action, the result of a 6-month planning process of the REI Committee and UCS Board of Directors, and learn how you can participate.
Information sessions are free to attend, but you must register. Select a date below to register:
If you have any questions, please contact ucsjoco@ucsjoco.org.
---
TAY Planning Project Speaker Series
There is still an opportunity to register for the second and third sessions of the three-part Best Practices to Effectively Partner with Youth. Each session will last for 90 minutes and will cover a different component. These dynamic training sessions will cover research-based best practices, outline tips for implementation, and promote transparent conversation to learn from one another. Anyone working with young people or anyone with a young person in their lives will benefit from this three-part series. The final two sessions have been rescheduled, and there is still time to register. Please note the new dates below for information and links for registration:
Trauma-Informed Care: October 15, from 3:30 to 5:00pm. Register here.
Trauma & Brain Development
Strengths-based Approach
Empowering Relationships (Include discussion around how Covid-19 restrictions and Black Lives Matter impact relationship building)
 Harm Reduction: October 22, from 3:30pm – 5:00pm Register here.
Power of Choice
Acceptance versus Judgement
Cycle of Behavior Change
Wrap-up Activity where we apply all three approaches
---
Sign Up Now: Get Significantly Discounted Rates on Y Learning and Child Care Programs
Families who live or work in Johnson County can participate in Y Club Academy before and after school programs and full-day Y Learning Academy programs at significantly reduced rates - or even no cost!
Before and After School - Y Club Academy offers learning support, academic enrichment, social opportunities, and physical activities for grades K-6 in a safe and fun environment. State-licensed with qualified, trained staff. Located in the child's school in the Blue Valley, Shawnee Mission and Spring Hill Districts.
Full-Day - Y Academy provides in-person support for virtual learning. Learning Coaches support each student with virtual learning assignments from their school and deliver the Y's holistic youth development curriculum. Sites include Church of the Resurrection locations and Johnson County Community College.
Who Qualifies for Discounted Rates?
Your family can qualify for discounted rates if you attest to an annual adjusted gross household income of less than $150,000 and are:
Employed full-time
Attending school full-time
Participating in a certified workforce training program
Looking for full-time work
Lacking a safe option for child care
Most families who apply are receiving a 75-100% discount!
As a nonprofit committed to serving all, the Y supports families regardless of income. Complete our application, and we'll work with your family to find the right solution.