Kansas Public Policy Forum - Registration Deadline this Friday
Join us for UCS' annual Kansas Public Policy Forum on Tuesday, November 26th, 10:00 a.m.- Noon, as we prepare for the 2020 Kansas Legislative Session. This year's theme is Public Policy & Healthy Communities.  We will discuss with our local and state policymakers the work being done in our community and state around key health and human service issues.  Secretary Laura Howard of the Kansas Department for Children and Families and the Kansas Department for Aging and Disability Services is the featured speaker.  We will look at the upcoming session with a panel of state legislators including Senator Molly Baumgardner, Representative Jarrod Ousley, and Senator John Skubal.  The event concludes with a reception and refreshments. There is no cost to attend, however space is limited and UCS would like to ensure an accurate count for refreshments. Please register here.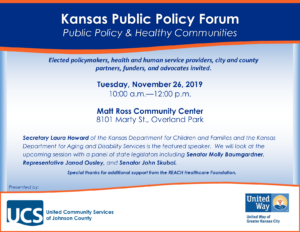 ---
Today is World Children's Day - Make Sure Children are Counted
According to the United Nation's website, World Children's Day was first established in 1954 as Universal Children's Day and is celebrated on November 20th each year to promote international togetherness, awareness among children worldwide, and improving children's welfare.  Making sure all children are counted in the upcoming 2020 Census is an important step in supporting the welfare of children.
In the 2010 Census, nearly 1 million children (4.6% of children under the age of 5) were not counted, according to the U.S. Census Bureau.
The U.S. Census Bureau goes on to note that children under age 5 are one of the largest groups of undercounted people in the United States.
Counting young children will be vitally important in the 2020 Census because population statistics are used by local, state, and federal lawmakers to determine how to spend billions of dollars in federal and state funds annually over the next 10 years.
Much of that money funds programs that directly affect children. They include nutrition assistance, Head Start, special education, foster care, Medicaid, and the Children's Health Insurance Program and housing assistance to help a child's family.
Knowing how many children live in a community is the foundation of many important municipal decisions. For example, should a community build a new library? A new school? A new hospital? Should Head Start for pre-K children be expanded?
---
2020 Census - Everyone Counts for the 2020 Census!
Not having a quality, fair and accurate 2020 Census will cost Kansas nearly $4,000 annually for every household undercounted.  Currently, Kansas receives more than $6.05 billion for 55 federal assistance programs that distribute funds based on decennial Census-derived statistics.  Approximately 300 financial assistance programs created by Congress rely on data derived from the Decennial Census to guide the fair distribution of hundreds of billions in funds to states and local areas. (FY 2016 figures. Source: George Washington Institute of Public Policy).
For more information on the Census and Johnson County's Complete Count efforts, go to Count Me In JoCo.