UCS Hosts DCF Secretary Gina Meier-Hummel
On December 13, UCS' Transitional-Age Youth Planning Project and Children's Coordinating Council will host Secretary Gina Meier-Hummel from the Kansas Department for Children and Families. This will be an opportunity for Secretary Meier-Hummel to discuss the strategic direction of DCF, what communities can expect (changes, etc.), statewide trends, initiatives and pilot programs. There is no cost to attend; however, space is limited. Those who have 
not
 contacted UCS about attending, please make a reservation through Brown Paper Tickets by clicking 
HERE
. This event will be held from 1:30 to 3:00 at Sunflower House, 15440 W. 65th St., Shawnee. Please park on the west side of the building and use the west/basement entrance.
UCS Presents Human Service Awards at 2018 Annual Meeting
UCS hosted its 51st Annual Meeting and Community Awards Ceremony on December 7. The event highlighted the work of UCS over the past year, including community collaborations and its public policy platform, and included the Human Service Awards presentation. UCS presented awards in recognition of Citizen of the Year, Distinguished Public Service, and Excellence in Community Service. Read about the award winners below and see their work in action 
HERE.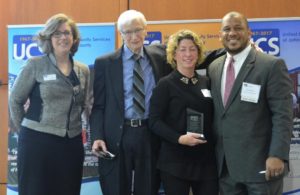 The 2018 
Citizens of the Year
 are two people who have saved lives and made a world of difference to those without a home in Johnson County. When 
Barb McEver
 and 
Dean Askeland
 learned no overnight shelters in Johnson County were available to adults without children, they were surprised and chose to take action. They were most concerned for the homeless during the dangerously cold winter nights. Four years ago they began Project 10♥20 to provide overnight shelter to adults when the temperature drops below 21 degrees. In the beginning, they would walk through parks and public spaces seeking to get the homeless off the street and into the warmth. Today, knowledge of their work has spread to county agencies, restaurants, libraries, fire and police departments, that call them when someone needs shelter from the extreme cold. Their shelters were previously located at Neema Community Church and Redemption Church in Olathe. Currently, they are working to open a cold weather shelter in a recently acquired building. Barb and Dean's work is making a difference in the community for the homeless. This work has helped Barb and Dean spread empathy and understanding for the homeless, who they say just want to know that they matter to someone. While some may have a "pull yourself up by your bootstraps" opinion of the homeless, Barb and Dean carry no judgment and say their ultimate goal is to provide hope and connection to permanent housing.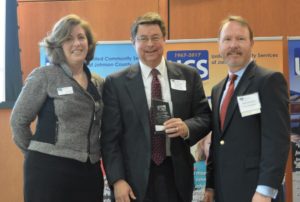 The 2018 
Distinguished Public Service Award
 goes to someone who is giving back to those who have risked everything. Started in January 2016, the Veterans Treatment Court is an effort to identify eligible veterans and place them into treatment and court supervision as an alternative to incarceration. While 
Judge Timothy McCarthy
 says he cannot take full credit for creating the first Veterans Treatment Court (VTC) in the State of Kansas, he knows the effort is making a huge difference in the lives of veterans in the criminal justice system. This voluntary program includes court appearances, drug and alcohol testing, treatment, recovery support meetings, and a mentorship program. VTC is a collaborative effort between the Johnson County Sheriff's Office, Johnson County Mental Health Center, Johnson County District Court, the Johnson County Justice Information Management System, and the U.S. Department of Veterans Affairs. Judge McCarthy's background as a civil attorney gives him unique perspective in many cases where treatment and rehabilitation are better than incarceration. This perspective was especially important in the case of veterans suffering from post-traumatic stress, physical injuries, depression, and/or substance abuse, as a result of serving our country. Judge McCarthy says the extra level of support offered by VTC is something all veterans deserve, and he believes it can help them reach a much better place when they graduate. The 2018 
Excellence in Community Service Award
 goes to two local programs, 
Project HOME 
and 
Impact Olathe 
and their partners. Both of these programs support students and families who have struggled with economic stability and have been forced to navigate challenging circumstances.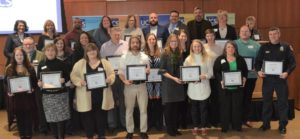 Project HOME (Housing Opportunities Move Everyone) provides a deep level of caring and commitment to people in the community who have been marginalized. Project HOME is in its third year and rooted in the Shawnee Mission School District. Despite the perception of affluence, there are 400 students in the district who meet the criteria for homelessness. Project HOME convenes twice-monthly meetings at a local church and brings together officials from various agencies that help move homeless families into permanent housing. A collaboration of many community resources in Johnson County, the program uses a holistic approach to identify eligible families and offers community resources for housing, finance, utilities, food, and healthcare for families. Impact Olathe is a project of the Olathe Public Schools and was started in the fall of 2016. This program is also a collaborative effort, with nine social service agency partners that donate their time. The program seeks to support students and families in transition who lack housing, as well as those who need employment, healthcare, childcare, transportation, and food. The program works to break down barriers and provide a continuum of care. Project HOME and Impact Olathe partners include: Johnson County Mental Health Center, Shawnee Community Services, New City Church, Vineyard Church, Shawnee Mission Area Council PTA, Redeemer Fellowship, United Way of Greater Kansas City, Jewish Family Services, Catholic Charities of Northeast Kansas, Northeast and North Central Multi-Service Centers, Workforce Partnership, KS DCF, El Centro, KidsTLC, City of Olathe, Olathe Housing Authority, The Salvation Army, Health Partnership Clinic, reStart Inc., Olathe Multi-Service Center, and Olathe Fire Department.