UCS' Kansas Public Policy Forum Next Week -- Register Now to Attend
Join us for UCS' annual Public Policy Forum as we prepare for the 2019 Kansas Legislative Session. We will look at the upcoming session, learn more about the work of the Child Welfare Task Force and Joint Legislative Transportation Vision Task Force and discuss the role of public policy in healthy communities. The event includes a reception for legislators and attendees after the presentations and legislative panel. Please let us know if you plan to join us by clicking 
here
.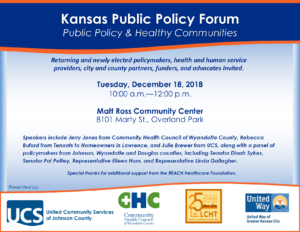 ---
Poverty & Economic Insecurity in Greater Kansas City -- Recent Data Shows Improvement in Urban Poverty while Suburban Poverty Remains Stagnant
People across the greater Kansas City region live with economic hardship. Nearly 200,000 residents are below the official poverty line; many more are above that line, but still unable to make ends meet. Many people living in poverty rely on public and private services to meet their families' basic needs during tough economic times. Health and human service investments not only prevent a fall deeper into poverty, but also benefit the whole community - from promoting workforce participation and lifting children out of poverty to strengthening social mobility. Level of poverty, as measured at three income thresholds, shows economic conditions are improving for vulnerable residents of our community, but improvements are not consistent across the counties. Jackson and Clay counties in Missouri and Wyandotte County, Kansas poverty rates showed statistically significant improvement between 2013 and 2017; while Johnson County, Kansas and Cass and Platte counties in Missouri saw no significant change. This trend mirrors the national trend; urban communities showed improvement while suburban poverty remained stagnant. Click 
here
 to read the full fact sheet.