UCS Public Policy Forum - Public Policy & Healthy Communities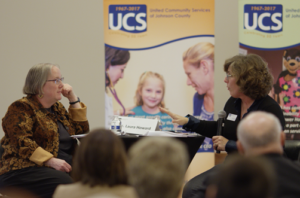 Last month's Kansas Public Policy Forum, presented by UCS and United Way of Greater Kansas City with support from the REACH Healthcare Foundation, brought together state legislators, local elected officials, county and city staff, health and human service agencies, health foundation grant makers, community advocates, educators, and residents to discuss the upcoming 2020 legislative sessions and issues impacting the well-being of residents.
The forum featured a conversation with Secretary Laura Howard of the Kansas Department for Children and Families (DCF) and the Kansas Department for Aging & Disability Services (KDADS). Secretary Howard discussed the work in both agencies to address concerns and improve outcomes for clients. She discussed how DCF is implementing recommendations from the Legislature's Child Welfare Task Force report released at the beginning of 2019, implementation of the Families First Prevention Services Act, infrastructure investments within the agencies, and roll out of DCF's Team Decision Making program. Additionally, Secretary Howard discussed the importance of Medicaid expansion and the priority issue of behavioral health, providing an overview of the Mental Health Task Force recommendations.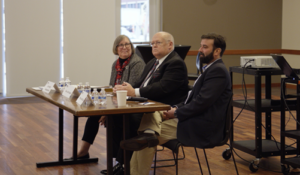 The forum included a panel of experienced legislators including Senator Molly Baumgardner, Senator John Skubal, and Representative Jarrod Ousley. The panel shared a look ahead to the 2020 session, including a discussion of the competing bills around Medicaid expansion.
Click here to view presentation slides from the November 26, 2019 forum.
---
Remembering Shirley Kelso - A Vital Community Collaborator
by Karen Wulfkuhle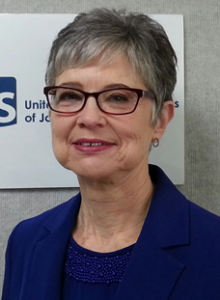 In the three years since I retired, I've reflected on the people who influenced me and the work of UCS over my three decades at the agency.  Shirley Kelso, who passed away this summer, was one of those people.   Shirley and I started our respective jobs within months of each other in 1984.  She was hired by Catholic Charities to be the lone staff at a new emergency assistance center in Olathe.  Over nearly three decades, she grew the agency's role and was instrumental in forging a network of community service providers that collaborate to assist households in need.
Because she understood the lives of people living with few resources and the power of collaboration, she was a valued ally in UCS's community planning work.  Four examples stand out.
In the late 1980s, lack of access to health care was a growing concern.  To document the need, Shirley agreed to include questions about health care during client intakes for 6 months.  That data was used to support establishment of the Health Partnership Clinic.
In the days before the Continuum of Care on Homelessness, Shirley worked with UCS to devise a research strategy to measure the number of people experiencing homelessness.  The UCS 1992 study, Homeless in Johnson County, led to the creation of the Salvation Army Family Lodge.
Shirley understood the power of stories and was skilled at helping people tell their story to inform policy making.  Shirley recruited families to tell meet with legislators, which helped pass the Kansas Earned Income Tax Credit in 1998.
To better connect community partners, Shirley worked with UCS and others to create the "Get to Know Your SRS Community Outreach Training" that was presented annually from 2001-2010.  (SRS is now known as DCF.)
Shirley Kelso's commitment to collaboration and helping others will have a lasting impact on this community.
---
2020 Census - Everyone Counts for the 2020 Census!

Not having a quality, fair and accurate 2020 Census will cost Kansas nearly $4,000 annually for every household undercounted.  Currently, Kansas receives more than $6.05 billion for 55 federal assistance programs that distribute funds based on decennial Census-derived statistics.  Approximately 300 financial assistance programs created by Congress rely on data derived from the Decennial Census to guide the fair distribution of hundreds of billions in funds to states and local areas. (FY 2016 figures. Source: George Washington Institute of Public Policy.)
For more information on the Census and Johnson County's Complete Count efforts, go to Count Me In JoCo.