Black History Month is about Resilience and Connectedness
It's officially Black History Month. Like me, many of you may plan to attend various events and celebrations to learn about, discuss, remember, and honor the history and achievements of Black people in Kansas City and around the U.S. It's important to pause in February (and throughout the year) to reflect upon the achievements of our ancestors, leaders in the struggle for racial equality and freedom. Abolitionist Frederick Douglass, voting rights activist Fannie Lou Hamer, Congresspersons Shirley Chisholm and John Lewis, and local educator Corinthian Nutter are among the many historical and contemporary leaders who are often deservedly remembered at this time. And, for me, Black History Month is about them and so much more.
Black History Month is about connectedness, you and me, not us and them. We are all connected to the struggles of Black people in history and the Black people right here in our own County. It impacts us all when our public school data shows black and brown students underachieving their white and Asian counterparts. We are all hurt by health disparities, environmental risks and lifespan differences that vary by ZIP code and racial group. And, we are all disadvantaged by homogenous neighborhoods and social interactions that limit cultural exposure to families and experiences that may differ from our own.
Black history is also about resilience. My people have been through a lot—forced labor, denial of property and voting rights, legalized segregation, and unfair housing restrictions to name a few. We were excluded from entire industries of sports, entertainment, and business before trailblazers like baseball legend Jackie Robinson, entertainer Aretha Franklin, and entrepreneur George Lee sacrificially fought for full inclusion. As I have come to realize, especially in recent years while dealing with the effects of decades of racial bias and the emotional trauma of the deaths of George Floyd, Ahmad Arbury and others, the fight for equality continues. The drive towards progress that was in the hearts of the civil rights leaders of the past is still the heartbeat of today's sojourners for justice. And isn't the fight for equality, fairness and opportunity really the heartbeat of America?
It's true, what Frederick Douglass said, "There is no progress without struggle." And, at times that struggle for equality can be difficult, if not painful and exhausting. And, we all will have missteps. Yet, we keep going. We learn by participating in programs like UCS' Racial Equity and Inclusion Initiative so we can do better, and we keep going. As allies and connected Johnson Countians we learn from each other, and we keep going. This Black History Month, I encourage you to join me in reflecting on the resilience and connectedness of the Black community, and to keep going.
---
Commission on Racial Equity and Justice Releases Final Report of Recommendations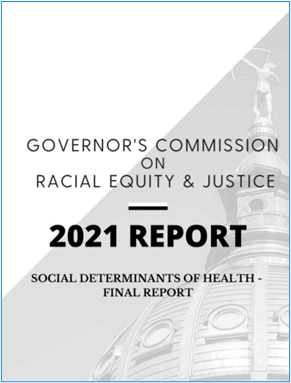 Governor Laura Kelly's Commission on Racial Equity and Justice has released its final report, including recommendations to various levels of government on ways to improve racial equity in economic systems, education, and healthcare. In June of 2020, Governor Laura Kelly established the Commission to study relevant racial issues in Kansas. The Commission, led by co-chairs Dr. Tiffany Anderson and Dr. Shannon Portillo, held bi-weekly meetings with information from guest presenters for a year and a half.
The Commission began its work focusing on law enforcement and policing, releasing a report in December 2020 with more than 60 recommendations for improving racial equity and justice at different levels of government. The final release contains an additional 124 recommendations – some of which were included in the Commission's July 2021 interim report.
---
Local Black History: African-American Heritage Trail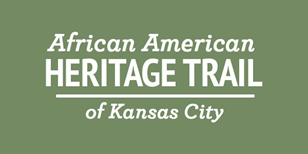 Kansas City is filled with Black history, and you can explore it yourself with the African-American Heritage Trail. The Trail is largely "virtual" and can be explored on the website, as the number and land area of sites along the Trail are too large to walk. However, maps will guide you to neighborhoods and clusters of sites where you can create your own Trail experience. You can use this map to find the closest place to you and start from there.
---
Johnson County Museum Opens New Special Exhibit on the History and Lasting Legacies of Redlining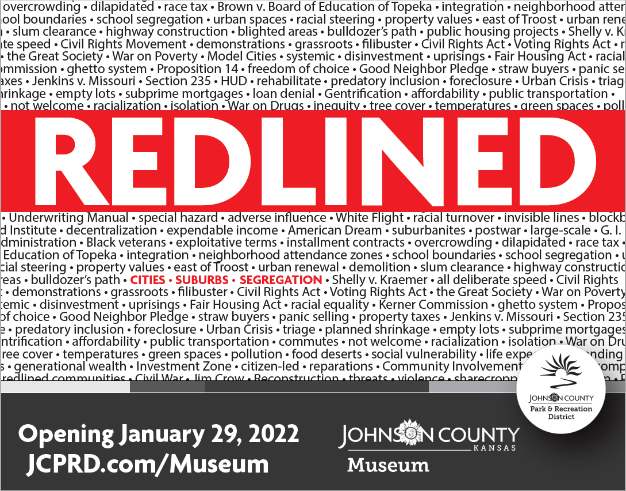 REDLINED: CITIES, SUBURBS, AND SEGREGATION, the Johnson County Museum's newest special exhibition, opened on Saturday, January 29th. The exhibit explores the history of redlining and how it both shaped and was shaped by Johnson County and the region. Visitors will learn about the 19th and 20th century foundations of redlining, how the private practice became federal policy during the Great Depression, the expansion of the practice during postwar suburbanization, attempts to dismantle the system during the Civil Rights Era, and how the legacies of redlining continue to impact communities around the nation today.
For more information, visit: https://www.jcprd.com/Redlined.
---
New Poll Shows Majority of Kansans Support Medicaid Expansion
A new poll from the Alliance for a Healthy Kansas shows that 78% of Kansans believe that it's time for the state to pass Medicaid expansion. In Kansas, federal Medicaid dollars are administered through the program known as KanCare. KanCare eligibility currently provides no coverage options for adults without a disability and without children under the age of 18, or for adults with children who make more than 38% of the Federal Poverty Level (FPL). Thirty-eight percent of poverty level for a family of three is an annual income $8,751. Various estimates have indicated an additional 120,000 to 165,000 Kansans, more than half of them children, would receive health care coverage through Medicaid expansion. More information on the Alliance for a Healthy Kansas poll can be found HERE.
As outlined in UCS's Public Policy Platform, UCS supports expanding KanCare to maximize coverage to those eligible for Medicaid under the Affordable Care Act (ACA). Affordable healthcare supports healthy families and a productive economy. Health impacts employment, productivity, academic achievement and financial stability. Health insurance is critical for ensuring good health.
---
Support for Parents Available from Johnson County Mental Health
Johnson County Mental Health Center has two upcoming virtual events as part of their Parent Connect series. Parent Connect events provide information and learning opportunities from parenting experts and community presenters. Parent Connect focuses on families' strengths to help find solutions and encourage self-care. These events are open to any parent/guardian living in Johnson County, Kansas. No registration is needed.
February 15, 2022 at 5:30 - For this session, three members of the LGBTQ community will join to support caregivers gain insight into their children's experiences. Follow this link for more information.
February 24, 2022 at 5:30 - For this session, Lesli Girard, Families Together Inc., and Jane Groff, KPIRC, will provide families and caregivers with information on the impact of Adverse Childhood Experiences (ACEs), different forms of stress, and practices that promote resilience. Follow this link for more information.