DAC Releases ATF Funding Priorities for 2023-2028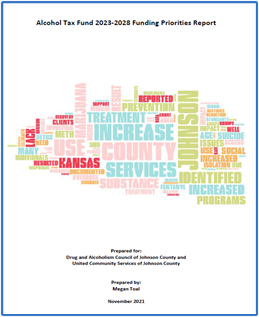 The Drug and Alcoholism Council of Johnson County (DAC), supported by UCS, is tasked with making annual recommendations for the expenditure of Alcohol Tax Funds for Johnson County Government and multiple cities in Johnson County, Kansas. By statute, Alcohol Tax Funds must be spent on programs that have the primary purposes of substance use education, prevention, intervention or treatment/recovery.
Every three to five years, the DAC undertakes an analysis of the strengths, gaps, and trends within the substance use continuum of care in Johnson County and, using that information, updates funding priorities for use of the Alcohol Tax Funds. This deliberative process, which engages stakeholders, jurisdictions, providers, and a range of data sources throughout the County, region, state, and country, helps ensure that programs funded through the ATF grant process address issues and trends in substance use and misuse in Johnson County.
The 2023-2028 Alcohol Tax Fund Priorities Report is now available.
Key trends include:
Tobacco and alcohol continue to be the most favored drugs in Johnson County, with alcohol consumption up among adults during the pandemic;
Stimulants, especially methamphetamines, have emerged in prevalence;
Increased tolerance and normalization of marijuana use makes addressing marijuana use through treatment more challenging;
Increased fentanyl, that is being "cut" into other drugs such as opioids, is resulting in an increase in drug overdoses and deaths.
The impact of the COVID-19 pandemic is also detailed in the report: increased consumption of alcohol and drugs by adults, increased isolation leading to anxiety and depression in all age groups, and decreased availability of services.
The report also highlights strengths and impact of Johnson County's substance use continuum of care.
Reported substance use among students of all age groups has reduced in the past five years (Kansas Communities that Care survey).
Johnson County is ranked number 1 in overall health rankings in the State of Kansas (Robert Wood Johnson Foundation).
Jurisdictions and providers report that Johnson County's collaborative continuum of support on substance use is key to providing timely intervention and reintegration and reduced costs to the legal system and local hospitals/emergency rooms.
The report noted areas to focus on include:
Substance use and overdose and suicide deaths, particularly among teens;
Pandemic effects, particularly increased alcohol use in adults and increase in co-occurring substance use and mental health disorders related to social isolation, anxiety, and depression among school-aged youth;
Increased tolerance of marijuana, including vaping;
Impact of increased methamphetamine and fentanyl abuse;
Habitual use of electronics as a form of addiction and its potential connection to substance use.
---
Johnson County Government & 10 Cities Commit Approximately $2 million in 2022 Alcohol Tax Funds for Grants
The entire community benefits when substance abuse is prevented and/or effectively treated. A continuum of services is vital to reducing drug and alcohol use and addiction.
UCS supports the work the Drug and Alcoholism Council of Johnson County (DAC) whose purpose is to direct local Alcohol Tax Funds (ATF) to alcohol and drug prevention, education, intervention, detoxification, treatment, and recovery programs that serve Johnson County residents.
For the 2022 ATF grant cycle, twenty-one applications plus UCS administration fee exceeded $2.2. Grantees will receive more than $1.9 million in grant funding for programs and services addressing substance use. After reviewing applications, interviewing agencies, and deliberating, the DAC developed the funding recommendations. The Board of County Commissioners and city councils have ultimate authority and responsibility for determining which organizations receive funds from their respective jurisdictions based upon the recommendations.
To review the recommendations from the DAC to participating jurisdictions, visit our website.
---
"The Opposite of Addiction is Connection"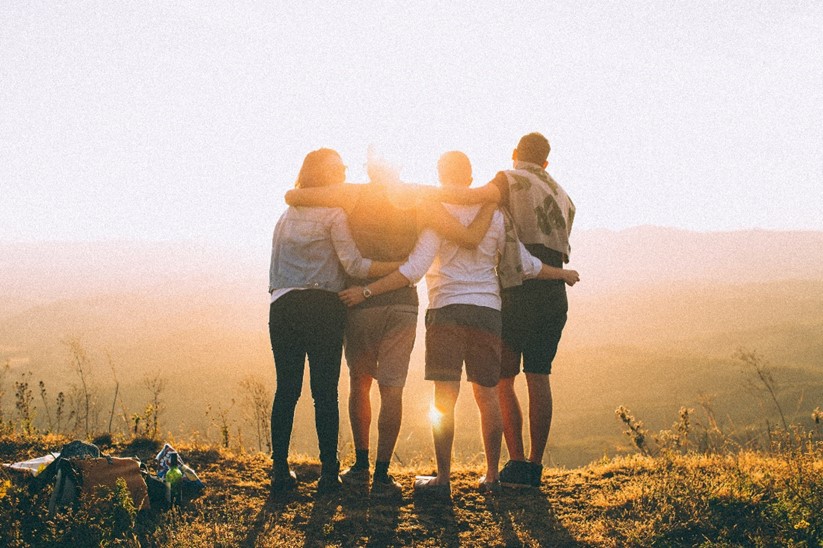 What really causes addiction, and how can we overcome it? Check out this TED Talk by Johann Hari in which he shares his story and the questions that took him around the world to find some surprising and hopeful ways of thinking about the age-old problem of substance use.
---
Johnson County Museum Opens New Special Exhibit on the History and Lasting Legacies of Redlining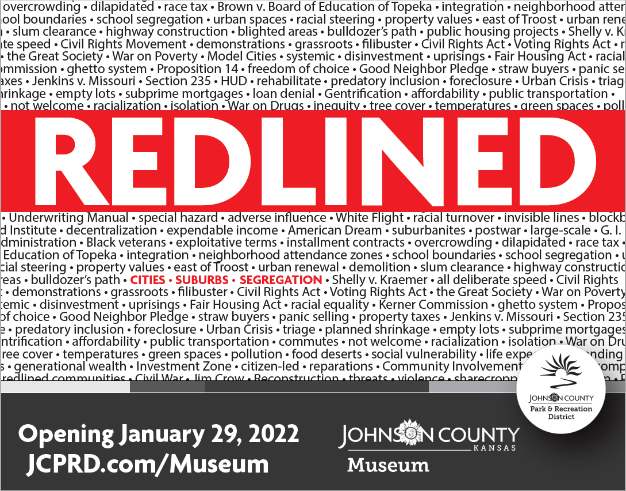 REDLINED: CITIES, SUBURBS, AND SEGREGATION, the Johnson County Museum's newest special exhibition, opened this Saturday, January 29th. The exhibit explores the history of redlining and how it both shaped and was shaped by Johnson County and the region. Visitors will learn about the 19th and 20th century foundations of redlining, how the private practice became federal policy during the Great Depression, the expansion of the practice during postwar suburbanization, attempts to dismantle the system during the Civil Rights Era, and how the legacies of redlining continue to impact communities around the nation today.
For more information, visit: https://www.jcprd.com/Redlined.