Understanding and Overcoming Historical Racial Divides
Understanding what impacts the health and well-being of our community has been the focus of UCS for its more than 50-year history. Since 2017, UCS has convened the Johnson County Health Equity Network and worked collaboratively across sectors to address the social determinants of health: non-health factors that impact a person's well-being, such as poverty, discrimination, and their consequences.
Discrimination based on race has impacted the overall wellness of our community in significant ways. The Johnson County Museum contains exhibits that detail the ways in which racism was codified in history through policies and practices. Rapid suburbanization in the 1950s and 1960s led to rapid economic growth in Johnson County cities - but some groups were excluded from this opportunity:
"While American Dreams were being made in the new suburbs of Johnson County, some populations were strictly prohibited from participating. There were several racially-motivated legal tools that developers, real estate agents, and government agencies used to ensure suburban neighborhoods remained all-white. From deed restrictions to homes associations to FHA-subsidized communities, Johnson County, like many of the United States' new suburban developments, witnessed each of these tools in action." - JCM Docent Guide 2020

(This deed restriction or racial covenant governed a home in Johnson County's Leawood Estates subdivision, built in 1954. The language in this restriction is typical, and the racial exclusion is explicit.)
The result of these actions can be observed in our present-day realities, where non-White residents of Johnson County are up to four times more likely than their White neighbors to live in poverty, and up to seven times more likely to be uninsured.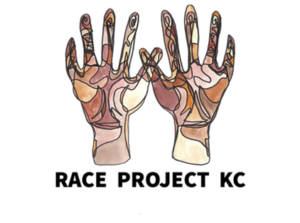 More and more organizations and community leaders are becoming aware of the negative impact of racism on our community's health outcomes and are actively working to address it through community education, targeted programs, and public policy change. One such program coordinated by the Johnson County Library Foundation is Race Project KC, an annual immersive experience designed for students in grades 9 through 12 in the KC metro area which builds from the principle text Some of My Best Friends are Black: The Strange Story of Integration in America by author Tanner Colby.
UCS continues to explore the ways in which our past and present challenges will shape the future of Johnson County. By focusing on equity and inclusion in our work, we hope to be a part of creating a Johnson County in which everyone can thrive.
---
Program Highlight: TAY Planning Project
Since 2017, UCS has led the Transitional-Age Youth (TAY) Planning Project, which was launched in response to poverty trends in Johnson County indicating that the poverty rate for residents age 18-24 is almost double the countywide average. The TAY Planning Project supports implementation of a plan that coordinates best practices, protocols, and evaluation measures to ensure responsive and adequate delivery of services and supports for at-risk transitional-age youth.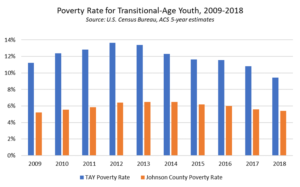 One of the recommendations that emerged from the early planning stages was providing the option for "re-entry" for youth who age out of the Kansas foster care system. This recommendation was also reflected in the Kansas Legislature's Child Welfare Task Force report released in January 2019:
"The State of Kansas should provide young adults age 18-21 with the option to seamlessly re-enter the child welfare system, and ensure continuity in medical, behavioral health and support services for youth who have exited the custody of DCF."
A small work group in 2018 identified intensive case management as a primary need for youth who are released from state custody. This collaborative effort ultimately resulted in the Aged- Out Intensive Home-Based Services Pilot, designed to provide a path for youth in Johnson County who have aged out of foster care to re-engage with supportive services and case management for a cumulative period of six months with the intent of assisting youth in addressing specific needs and removing key barriers in order to promote their overall success as they transition to independence.  As of October 2019, these services are component of the foster care services statewide.
UCS provided a qualitative evaluation of the Pilot, which indicated:
For youth, the importance of having a consistent, supportive adult in their lives is profound. Whether a parent, a foster parent, a social worker, or the lack of a supportive adult, the clear message from youth is that having an adult in their lives whom they can trust, count on, and talk to is a vital and positive force in their lives.
Youth aging out of foster care are more likely to be open to aftercare services when there is a clear distinction between those services and foster care services. Youth emphasized the importance of highlighting their independence, respecting their roles as decision-makers, and giving them the support needed to set goals and shape their plans.
Subsequent to the Johnson County Aged- Out Intensive Home-Based Services Pilot, this approach is now a component of the foster care services statewide.
The collaborative model of the Transitional Age Youth Planning Project has highlighted the value and effectiveness of bringing a range of service providers together on a regular, ongoing basis. This process has created new partnerships, strengthened existing working relationships, and yielded fresh, innovative insights for problem solving.
The full Intensive Home-Based Services Pilot evaluation report can be viewed here. The TAY Planning Project is funded by the REACH Healthcare Foundation
---
2020 Census - Everyone Counts for the 2020 Census!

Not having a quality, fair and accurate 2020 Census will cost Kansas nearly $4,000 annually for every household undercounted.  Currently, Kansas receives more than $6.05 billion for 55 federal assistance programs that distribute funds based on decennial Census-derived statistics.  Approximately 300 financial assistance programs created by Congress rely on data derived from the Decennial Census to guide the fair distribution of hundreds of billions in funds to states and local areas. (FY 2016 figures. Source: George Washington Institute of Public Policy.)
For more information on the Census and Johnson County's Complete Count efforts, go to Count Me In JoCo.