Point-in-Time Count -- Thank You for Helping!
A HUGE thank you to the many Johnson County agencies and volunteers who publicized, trained for, and administered the Point-in-Time (PIT) count on homelessness January 26-29. We want to particularly acknowledge Matt Clark of Johnson County Mental Health Center and Rita Carr of ReStart, Inc. for their efforts in PIT training and coordination. The data collected on the number and characteristics of individuals and households experiencing homelessness in Johnson County is critical for identifying gaps in services, shifts in need, and areas of success. UCS will share a report on this data in the late spring. UCS and the KS-505 Continuum of Care are deeply grateful for your support!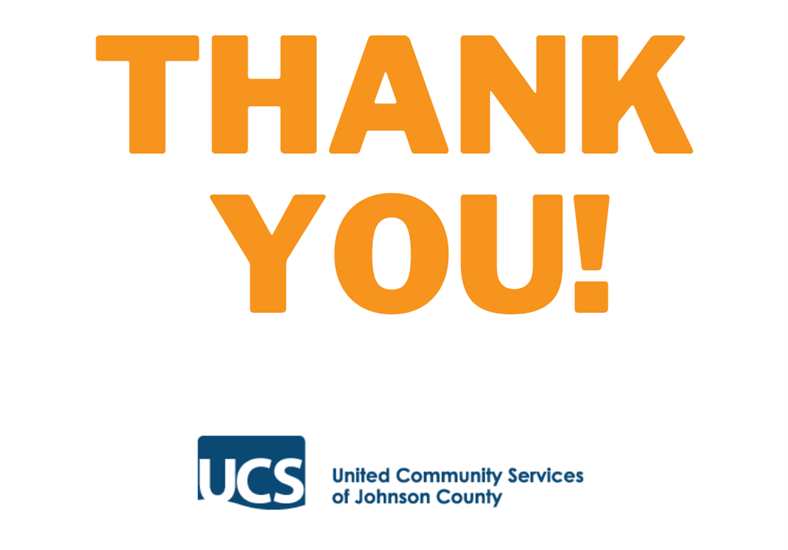 ---
UCS Awards More Than $395,000 in Human Service Funds to Local Agencies
Congratulations to the 2021 Human Service Fund grantees! UCS is proud to note that these grantees worked incredibly hard in 2020, shifting program delivery and adapting service mechanisms to serve the evolving needs of Johnson County residents during the global coronavirus pandemic.
Johnson County and 14 cities* committed $395,176 for the 2021 Human Service Fund; recognizing the importance of human service providers during the global pandemic, these jurisdictions have remained steadfast in their support of the Human Service Fund.
These funds will be utilized by 14 grantees to provide critical human services for Johnson County residents who live with income at or near the federal poverty level ($21,720 for a family of 3 in 2020). Funded programs prioritize addressing workforce childcare needs, job training, emergency aid and shelter, child/adult abuse, child welfare, and health care. For more information on the funded agencies, visit our website.
UCS also recognizes the work of the 2021 Human Service Fund grant review committee: Robin Harrold, Committee Chair, AdventHealth; Kate Allen, Johnson County Community College; Tara Eberline, Foulston Siefkin, LLP; Tom Herzog, Netsmart; Roxann Kerr Lindsey, CBIZ; Justin Nichols, Kutak Rock LLP; and Beccy Yocham, City of Lenexa. Thank you!
*De Soto, Edgerton, Gardner, Leawood, Lenexa, Merriam, Mission, Olathe, Overland Park, Prairie Village, Roeland Park, Shawnee, Spring Hill, and Westwood
---
UCS Says Farewell to Valorie Carson and Seeks New Director of Community Planning
United Community Services has begun seeking qualified candidates for Director of Community Planning. After 13 years of service and leadership, UCS staff member Valorie Carson has moved on to a new role. During her time as UCS Director of Community Planning, Valorie impacted the Johnson County community with her deep commitment to our residents, particularly through her leadership of the Johnson County Continuum of Care on Homelessness, her work on trauma informed care, and countless collaborative planning and research initiatives to improve the well-being of our community. UCS thanks Valorie for her many contributions and we wish her success in her new role.
The Director of Community Planning responsibilities include managing Johnson County's Continuum of Care on Homelessness, grant coordination of the Emergency Food and Shelter Program and Emergency Solutions Grant, research and data analysis, engaging community partners around strategies to prevent and end homelessness and housing instability, management of related grant processes, and policy analysis and advocacy. Click here to view the position description.