Women's History Month Reminds Us of the Power of Connection
Contributed by Beccy Yocham
UCS Board Chair
City Manager, City of Lenexa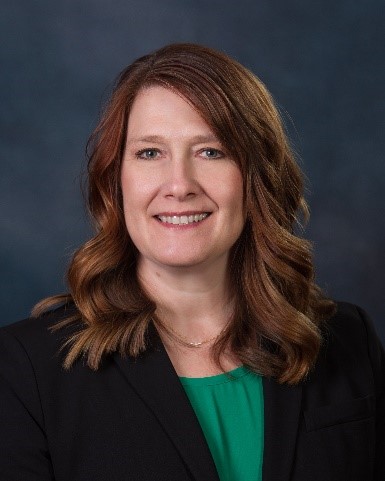 Women's History Month has been celebrated in the United States each year since 1987 and provides an opportunity to honor the generations of strong, trailblazing women who have shaped this nation in ways that have not always been fully recognized nor appreciated. The theme for Women's History Month this year is "Providing Healing, Promoting Hope" which is both a tribute to the ceaseless work of caregivers and frontline workers during this ongoing pandemic and a recognition of the thousands of ways that women of all cultures have provided both healing and hope throughout history. As the Covid-19 pandemic enters its third year, and the myriad ways this pandemic has taken a toll on working women becomes clearer, Women's History Month is an excellent time to reflect upon the lessons learned throughout the pandemic about the value of social connection and the importance it plays in our overall health and well-being. We can acknowledge and celebrate the ways in which strong women, across time, have provided that invaluable connection.
Throughout my life, I have been blessed with many female role models, who have connected me with the past, my community, and the future in ways that only strong women can do.
My grandmother, Lucille, was a single mother to four daughters from the 1940's until her death in 1988. With the help of her sister, Margaret, she raised my mom and her three sisters to be strong, loving, and successful. These women modeled grace and strength in the face of adversity and provided a supportive and loving network for each other and for me. From their example and unwavering support, I learned the value of hard work and built self-confidence.
When I joined the City of Lenexa in 1997, women held numerous positions of leadership, including but not limited to Mayor, City Attorney and Police Chief. Over the past 25 years, I have been mentored and supported by both male and female city leaders who have valued my contributions, provided me with opportunities, and advocated for me. All these leaders have been invaluable to my success, but the female leaders impacted me in a very specific way: I could see myself in them and from their example and could envision a future where I was a leader in the organization. These women influenced me in ways that strengthened my resolve to do the same for other women within the organization and my network. Today, I work with a diverse group of elected and appointed female leaders to serve a community that understands the importance of, and places great value on, connectedness.
My newest female role model is my great-niece, Lola, who is fierce, independent and marches to the beat of her own drum. At just five years old, she stands up for what she believes in and can argue like a prosecutor, but she also instinctively knows the importance of not taking yourself too seriously and the value of fun. Lola - and all young women of her generation - will undoubtedly use these skills to change the world and I will do everything in my power to help them along the way.
As we pause to reflect on the achievements of women and girls across the centuries, I celebrate these women, and the many others, who have impacted my life so profoundly and I urge you to do the same for the women in your life.
---
Johnson County's 2021 Human Services Factsheet Highlights Areas of Need for County's Vulnerable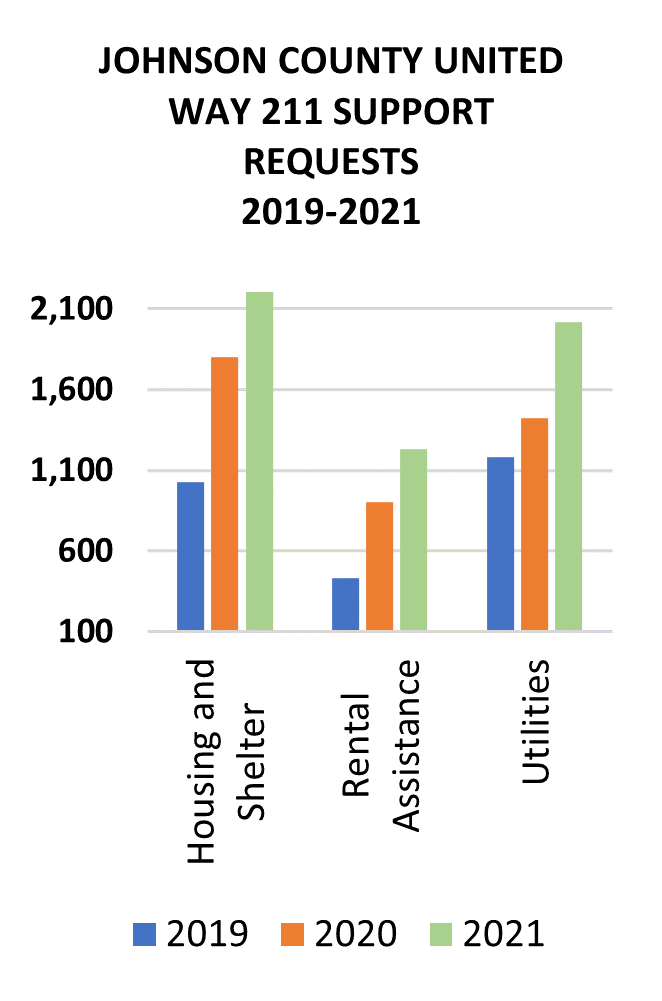 UCS released its annual Investments in Johnson County Human Services factsheet today. This annual information provides a snapshot of the types of services residents rely on to help meet household economic needs. Many areas of our economy have seen signs of recovery from COVID-19. However, those at the lowest income levels continue to be impacted. While initial data shows that use of human services such as SNAP, TANF, and childcare assistance remained steady in 2021, local data suggests an increase in need. For example, Johnson County requests for some forms of assistance from United Way 211 increased significantly since 2019. Requests for rental assistance increased by more than 183%, and requests for utilities assistance increased by 71%.

---
Tax Credit Information for HUD Assisted Individuals and Families
The Child Tax Credit (CTC) and Earned Income Tax Credit (EITC) are large tax refund payments that people can receive when they file a tax return. The 2021 American Rescue Plan (ARP) expanded who can receive these payments and increased the amount of money available to many families and individuals. These tax credits are not income. Receiving these benefits will not impact eligibility for other federal benefits. The best way to receive these benefits is to file a tax return before April 18, 2022.
Service providers can support their clients in receiving these tax credits by:
Making sure clients are aware of the credits. See the IRS Toolkit, one pagers and flyersfor more information on both tax credits and easy to share resources.
Connecting clients to free tax filing support online or via IRS Volunteer Income Tax Assistance (VITA) program centers.
---
Parent Connect Event with Johnson County Mental Health on March 31
Johnson County Mental Health Center (JCMHC) will host a Parent Connect event on March 31 at 5:30pm on Zoom. For this session, a parent panel will discuss their experiences navigating mental health resources for their children. Parent Connect is open to any parent/guardian living in Johnson County, Kansas. You do not have to be a client of JCMHC to attend. The Zoom link is here. For Questions, contact Rachael.McDonald@jocogov.org or 913-715-7718.