A Message from United Community Services of Johnson County and a Link to COVID-19 Information for Local Agencies and Residents
Like many of our partners throughout the community, UCS is monitoring the COVID-19 health crisis and adjusting our work environment and meeting schedules accordingly to ensure the health and safety of staff and guests. Until further notice, UCS staff is working remotely. Our office hours (8:30 am - 5:00 pm, Monday - Friday) have not changed, but our office location is not open to the public. We are reachable by email and phone. UCS staff can be reached through our office phone system as calls will be forwarded automatically to the staff member you select. Staff also receive voice messages to our email system.
To help keep our community providers and residents informed, UCS has created a COVID-19 tab on our website. We will work on gathering information including changes in agency service delivery and hours, expanded services, support regarding food and childcare needs, COVID-19 guidance and best practices for agencies and service delivery, and links to other resources. If you are an agency and have updates you would like us to help post, please send them to ucsjoco@ucsjoco.org
UCS will continue to work with partners and stakeholders in all project areas. We are contacting partners involved in upcoming meetings/events through the end of March to reschedule or move to virtual meeting options as appropriate. We will update this message as needed on our website. UCS recognizes the vital importance of ensuring a robust health and human service response to the needs in our community, especially during this time. We anticipate there will be an increased need for services now and into the foreseeable future and will be working with partners to identify and assist in creating a collaborative response to these needs accordingly. Our community has a strong history of partnership and collaboration. This foundation will serve us well as we move forward.
Please connect with your primary UCS staff contact if you have any additional questions.
Thank you,
Julie K. Brewer
Executive Director
---
COVID-19 Impacts on Service Occupations in Johnson County and the Importance of the Human Service Safety Net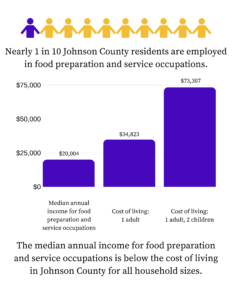 Guidance from state and federal officials necessitates that certain business and institutions close or limit their hours to slow the spread of COVID-19 in our community. These closures will impact Johnson County workers, especially those working in service occupations which traditionally are lower paying occupations. According to the Occupational Employment Statistics and Wages Program from the Kansas Department of Labor, of the more than 348,070 employed civilian residents in Johnson County, 9.1% (nearly 1 in 10 residents) are in food preparation and serving occupations - low-wage jobs that likely do not have the option of working from home to continue earning wages. The median annual income for these occupations in the county is $20,004, well below the annual cost of living for a single adult in Johnson County ($34,823). Many of these workers are in industries that have been ordered to close, including arts, entertainment, recreation, and hospitality and restaurants.
Additionally, many national retailers have chosen to close storefront operations to help combat the spread of COVID-19. Although we do not have precise data at this time regarding how many of our Johnson County residents are affected by these closures, we do know that 10.4% or 1 in 10 county residents are employed in sales occupations, which include cashiers, rental clerks, retail salespersons and supervisors. The median annual income for sales and related occupations in the county is $34,384, which is approximately the annual cost of living in Johnson County for a single adult ($34,823) but well below the annual cost of living for a single-parent family with two children ($73,307).
Johnson County's Human Service Safety Net plays a vital role in connecting residents to services when the unexpected such as job loss, illness, mental health issues, or rising housing or service costs create challenging circumstances for residents and their families.  Here is a snapshot of how our safety net services benefited individuals and families in 2019.  As we move from response to recovery from the COVID-19 crisis, we need to be prepared for many more residents utilizing these services as they work to rebuild and stabilizes their households.
You can learn more about public health closures here.
---
2020 Census has Begun -- MAKE SURE YOU ARE COUNTED!
Participation in the 2020 Census is still important. You can be counted even as you practice social distancing by responding online, over the phone or by email - all without having to meet a census taker. The collected data ensures adequate representation in government and that communities receive their fair share of federal funds for important programs for health care, housing, education and nutrition.
Currently, the planned completion date for data collection for the 2020 Census is July 31, 2020. However, that date can and will be adjusted if necessary as the COVID-19 situation evolves in order to achieve a complete and accurate count.
For additional information about how the U.S. Census Bureau is adapting 2020 Census operations in response to the COVID-19 outbreak, visit the U.S. Census Bureau newsroom.
For more information on the Census and Johnson County's Complete Count efforts, go to Count Me In JoCo.