UCS Releases 2019 Point in Time Count of Homelessness - Second Year Numbers Increase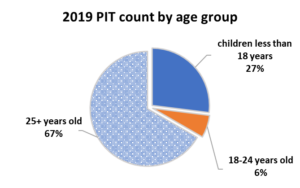 One hundred and eighty-nine persons were identified in Johnson County's 2019 point-in-time (PIT) count of homelessness - an increase in overall numbers for a second year. The number of unsheltered individuals remained essentially the same - but the number of households in emergency shelter doubled. Understanding who is experiencing homelessness and their permanent housing needs is critical in Johnson County's work to end homelessness in 2019 and beyond.
The median age of a person experiencing homelessness in Johnson County's 2019 count was 32 years, continuing a trend of fewer children and older adults in the annual count. Forty-two percent or two in five persons identified as homeless in the 2019 point-in-time count were in households with children under 18 years of age. No unaccompanied youth or children under 18 were counted as unsheltered.
Click here for the full factsheet.
---
The Picture of Health in Johnson County: 2019 County Health Rankings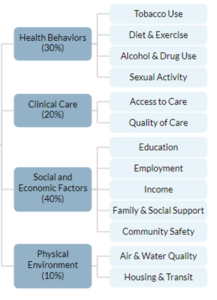 For the 4th year in a row, Johnson County is ranked as the healthiest county in Kansas, according to the 2019 County Health Rankings report released by the Robert Wood Johnson Foundation and the University of Wisconsin. With a strong emphasis on the social determinants of health, the report reviews approximately 39 measures to determine how healthy our communities are now, and how our health may be impacted in the future. Half of these measures relate to healthy behaviors and clinical care including: how much we exercise, how healthy our diets are, and the quality of healthcare we can access. The other half are related to our physical environment and social and economic factors such as where we live, educational attainment opportunities, social connection, and community safety.
The report groups its measures into six categories within the areas of health outcomes and health factors.  The six categories include:
Length of Life
Quality of Life
Health Behaviors
Clinical Care
Social and Economic Factors
Physical Environment
Johnson County has seen little change in its measures, ranking first or second of in each of six categories except physical environment since 2015. This year the County ranked 72 out of 102 counties in physical environment, compared to 86 in 2018 and 44 in 2015. Physical environment health measurements include looking at housing, transportation, and pollution data. Johnson County has a homeownership rate of 69%, and 9% of households in Johnson County experience severe housing cost burden -- spending 50% or more of their gross income on housing costs. The interconnection of health and housing is the focus of the UCS facilitated Johnson County Health Equity Network.
The Roberts Wood Johnson Foundation report highlights the role housing plays in health noting that when so much of a paycheck goes toward the rent or the mortgage, it makes it hard to afford to go to the doctor, cover utility bills, or maintain reliable transportation to work or school.
Here is a link to the full 2019 County Health Ranking report for Kansas: Kansas County Health Rankings 2019
Kansas Health Institute has developed individualized data sheets for each Kansas county. The Johnson County data sheet can be found here: Johnson County Health Rankings 2019
To find out more about the Johnson County Health Equity Network or become involved, contact Kristy Baughman at kristyb@ucsjoco.org.