Register NOW for UCS' 2021 Virtual Human Service Summit
Building Healthy Communities = Raising the Bar
Join UCS for the 2021 Virtual Human Service Summit. This year's Summit will focus on two key issues that impact the health and wellbeing of our community. UCS will unveil the Johnson County Municipalities Community Housing Toolkit and discuss implementation strategies following the recently released Johnson County Municipalities Community Housing Study, a part of a multi-year Healthy Communities Initiative addressing safe, stable, attainable housing across all ages and stages of life for those who live and work in Johnson County. The event includes a community conversation on racial equity, inclusion and belonging.
Event Details:
8:30 a.m. — 12:00 p.m.
Wednesday, June 16, 2021
Click here to register for virtual attendance.
The event will feature a presentation by the co-chairs of Governor Kelly's Commission on Racial Equity and Justice: Dr. Tiffany Anderson, Superintendent of Topeka Public Schools USD 501, and Dr. Shannon Portillo, Associate Dean for Academic Affairs KU Edwards Campus & School of Professional Studies. Our presenters will also be a part of a panel discussion which will include Sean Casserley, Director of the Johnson County Library which convenes Race Project KC, and Trey Williams, Race & Equity Editor for The Kansas City Star.
This is a unique, highly interactive opportunity to come together with representatives from various community sectors who care deeply about Johnson County. Our community's economic vitality and sustainability is only as healthy as those who live and work in it.

---
Housing for All Toolkit About to Launch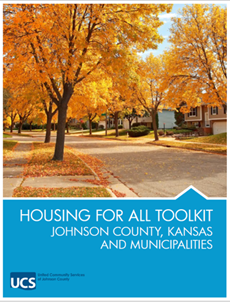 This week, UCS, in partnership with Johnson County and our cities, convened the last official meeting of the Housing Task Force to review the final draft of the Housing Toolkit. The Toolkit is the culmination of the work of the Housing for All Task Force, which came together for four workshops in February and March. After reviewing the Johnson County Community Housing Study, the Task Force identified key barriers, opportunities, and potential strategies related to addressing housing challenges in Johnson County. Shockey Consulting gathered Task Force contributions and combined them with recommendations included in the Housing Study and additional research to create the Toolkit.
Nearly 70 people participated in this week's virtual Task Force meeting, including elected officials, county and city administrators, service providers, educators, and impacted community members. The Task Force reviewed the goals and success measures included in the Toolkit and provided additional feedback and insight. The final version of the Housing for All Toolkit will be launched at USC's Human Service Summit on June 16, where participants will explore potential paths for distributing the Toolkit and strategy implementation.
---
Rental and Utility Assistance Available for Johnson County Residents
Kansas Emergency Rental Assistance (KERA) has over $18 million in funds for rental and utility assistance available to support Johnson County residents. Households can be eligible for up to one year of rental assistance (past due or future) and/or up to one year of late/past due utilities.
Apply online: https://kshousingcorp.org/emergency-rental-assistance/.
If you need help filling out the application, please call or email any of these agencies:
Jewish Family Services: Phone: 913-327-8250, E-mail: info@jfskc.org
Catholic Charities - Overland Park: Phone: (913) 384-6608, 9806 W. 87th, Overland Park, KS
Catholic Charities – Olathe: Phone: (913) 782-4077, 333 E. Poplar St., Olathe KS
Salvation Army – Olathe Corp: (913) 782-3640 - ask for social services; 420 E. Santa Fe, Olathe, KS
El Centro: Phone: (913) 677-0100, Website: Contact Us | El Centro
For more information, please see this flyer.
---
Health Partnership Clinic Offering ACA Enrollment Support
Health Partnership Clinic will take appointments to help people navigate the 2021 Special Enrollment period for individuals and families for Marketplace insurance coverage. The enrollment period runs now through August 15. To schedule an appointment call (913) 730-3653.  English Flyer  Spanish Flyer
---
Broadband Support Available Through American Rescue Plan
The Emergency Broadband Benefit is an FCC program to help families and households struggling to afford internet service during the COVID-19 pandemic. This new benefit will connect eligible households to jobs, critical healthcare services, virtual classrooms, and so much more. More information and application details can be found here.
---