COVID-19 Job Losses Occurring in Industries that Employ Nearly Half of Johnson County Workforce
Since the COVID-19 outbreak, Kansas has experienced record unemployment numbers. In the four weeks since Kansas issued a State of Emergency in response to the public health crisis, 65% of unemployment claims have been from workers in five industries.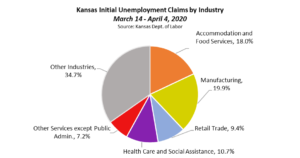 The following industries represent the largest share of unemployment claims in Kansas:
Accommodation and Food Services
Manufacturing
Retail Trade
Health Care and Social Assistance
Other Services except Public Administration (a U.S. Bureau of Labor Statistics category that encompasses a broad range of occupations including equipment and machinery repairing, promoting or administering religious activities, grantmaking, advocacy, and providing dry cleaning and laundry services, personal care services, death care services, pet care services, photofinishing services, temporary parking services, and dating services)
In Johnson County, more than 131,000 residents (or 48% of the workforce) is employed in one of these industries, according to data from the U.S. Census Bureau. The median annual earnings for each of these industries is well below the cost of living in Johnson County, and residents without employment may not have a personal safety net of savings to continue meeting basic needs.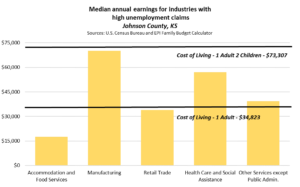 Resources are available for Johnson County residents facing unemployment due to COVID-19. To learn more, visit the UCS COVID-19 response page.
---
KC Regional COVID 19 Response and Recovery Fund Announces Round 1 Grants

The Advisory Board of the Kansas City Regional COVID-19 Response and Recovery Fund has announced its first wave of recipients. Over $2.6 million in aid will be sent to 56 area nonprofits for housing support, food assistance, access to healthcare, and other critical human services.
"Now more than ever it is imperative for our bi-state community to join together in this collaborative effort to provide a rapid response to the COVID 19 disaster," said Julie Brewer, UCS Executive Director and member of the fund's Advisory Board.
Thursday of this week, area media unite for One KC - an effort to help raise awareness and donations to the regional fund. Click here to learn more and donate now.
---
UCS Launches Community Organization Resource Exchange Facebook Group
United Community Services of Johnson County has launched a new Facebook group to connect human services organizations that have needs with other organizations that have goods available. This group is for the exchange of goods only, not for fundraising.  Please click here to list what your agency needs or how you can help.
---
ATF Pre-Proposal Meeting: Save the Date
Given uncertainty as to whether these meetings will be held in person or virtually via Zoom, all prospective attendees must RSVP directly to Christina Ashie Guidry, christinag@ucsjoco.org, by Wednesday, May 6. Please provide your name, title, and affiliated agency. After May 6, Ms. Guidry will send final meeting details, including the link to the virtual meeting, if applicable, and application and RFP materials directly to those who have RSVP'ed.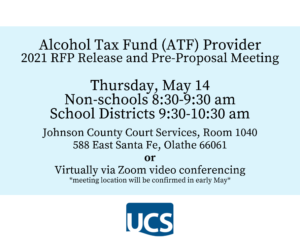 UCS administers the Alcohol Tax Fund allocation process for the jurisdictions that collect the tax, recommending funding for local organizations to support substance abuse treatment and prevention programs. The ATF supports programs that provide alcohol and substance abuse prevention, education, detoxification, intervention, treatment and recovery in accordance with KSA Section 79-41a04 (as amended). Applicants must be either recognized by the IRS under Section 501(c)(3) and provide health and human services programming as their primary mission, and be in good standing in Kansas or Missouri as a nonprofit corporation; or be a program of Johnson County, Kansas Government, the 10th Judicial District Court, or a Johnson County public school district.
A pre-proposal meeting for 2021 Alcohol Tax Fund (ATF) grants will be held on May 14, 2020 from 8:30-10:30 a.m. at Johnson County Court Services (588 E. Santa Fe, Room 1040, Olathe). If meeting in-person is prohibited due to COVID-19 mitigation efforts, the meeting will be held virtually.  The 2019 ATF Request for Proposal (RFP) and application will be reviewed from 8:30 to 9:30 for non-schools, and from 9:30 to 10:30 for public school districts.  The 2021 ATF RFP and grant application will be released a few days prior to the meeting.  For 2021 ATF Funding Priorities, click here.
ATF funding priorities are approved by the Drug and Alcoholism Council annually. Priorities approved for 2021 are based upon priorities developed in 2018 through a formal planning process that included input from key stakeholders, review of current literature, and analysis of indicator data in Johnson County. For the report from the 2018 planning process, click here.
---
Summary of COVID-19 Federal Legislation Available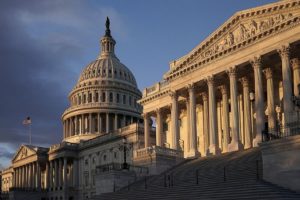 UCS has made available a summary of federal legislative responses to the COVID-19 pandemic. The summary includes a brief overview of health and human service-related elements of the most recent COVID-19 federal legislation. UCS is providing this summary as a reference tool, rather than a comprehensive guide to COVID-19 legislation. Full details on COVID-19 legislation can be found on official U.S. Congress websites here and here.
Click here for the UCS summary.
---

The 2020 Census officially kicked off on April 1, 2020. You should have received instructions for completing your Census at your home address. Don't miss your chance to be counted!
For more information on the Census and Johnson County's Complete Count efforts, go to Count Me In JoCo.