COVID-19 Impact on Employment: A Retrospective
The COVID-19 shutdown began around the week of March 21, 2020. In the first month of the pandemic, nearly 28,000 Johnson County residents filed for unemployment insurance. Unemployment remained highest in occupations with low median annual wages: accommodation and food services, and health care and social assistance. However, even higher-income occupations such as manufacturing and professional services have higher rates of unemployment than in the pre-COVID era. Overall, more than 124,000 initial unemployment claims were filed in the one-year period between March 2020 and March 2021.
See our latest fact sheet for a full retrospective review unemployment claims during the COVID-19 pandemic here.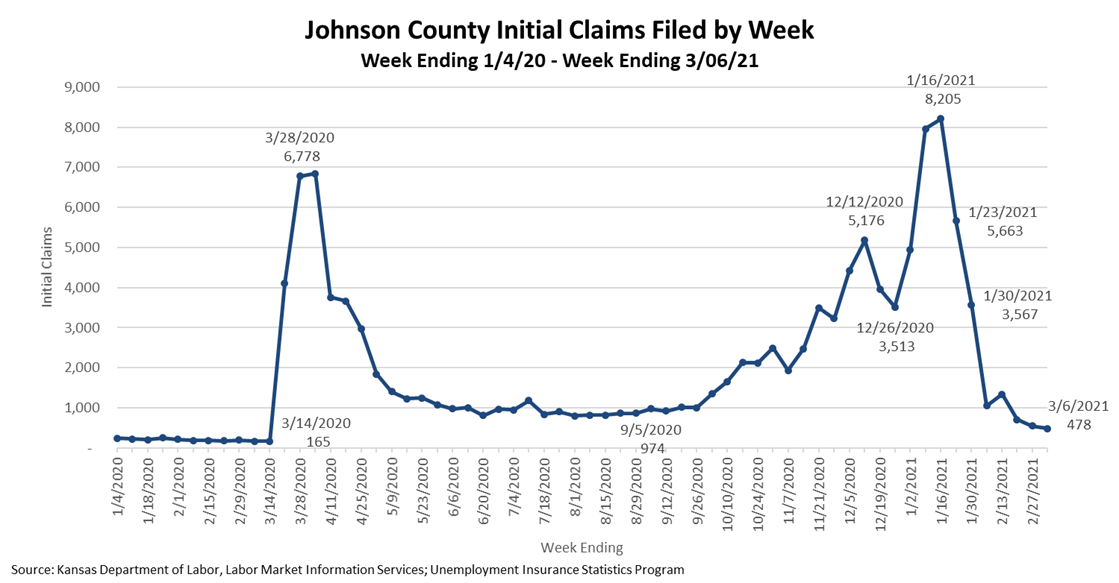 ---
UCS Welcomes New Director of Community Planning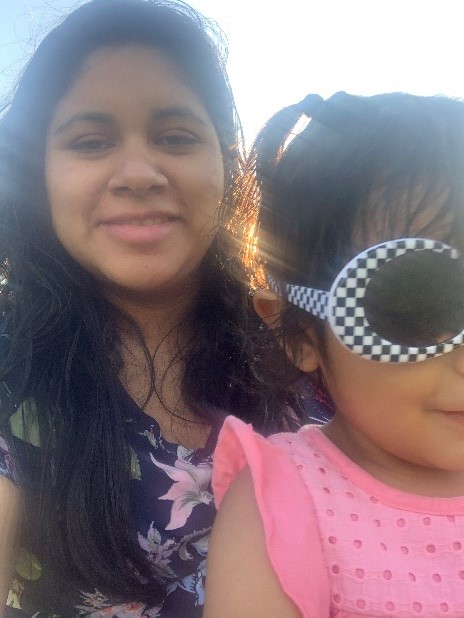 UCS is pleased to welcome to the team Erika Garcia Reyes as Director of Community Planning.
Erika was born in Veracruz, Mexico and immigrated with her family in 2003. She has lived in Johnson County since then. She received her bachelor's and master's degrees in public administration from the University of Kansas.
"Seeing my mother struggle to find the assistance to provide for us was impactful and inspired me to be part of the solution to ensure that families in Johnson County know about and can connect to human services."
Erika has spent over 10 years serving her community in various roles: as a volunteer for Latinos of Tomorrow (LOTs), a nonprofit organization serving more than 350 Hispanic students annually and connecting them to scholarships, colleges and universities, and careers; working with peers to create a support student club at Johnson County Community College, Latinos United Now and Always (LUNA), which provides members opportunities to develop leadership skills and connect back to their high schools to be role models; and most recently, as an employee at the Mid-America Regional Council (MARC), where she led the Government to University (G2U) Talent to Industry Exchange (TIE) committee to identify areas of opportunity to attract and retain talent in the public sector. Erika also managed the Government Training Institute (GTI), which provides professional development training opportunities to local governments and nonprofits in the region.
"After working for MARC, a leader in research, collaboration and convening, I was very excited to learn about the opportunity to do a similar job in my own community with UCS".
Erika and her family live in Shawnee, KS. She enjoys spending her time outside and finding activities to entertain her kids.
---
Rental and Utility Assistance Available for Johnson County Residents
Kansas Emergency Rental Assistance (KERA) has over $18 million in funds for rental and utility assistance available to support Johnson County residents. Households can be eligible for up to one year of rental assistance (past due or future) and/or up to one year of late/past due utilities.
Apply online: https://kshousingcorp.org/emergency-rental-assistance/.
If you need help filling out the application, please call or email any of these agencies:
Jewish Family Services: Phone: 913-327-8250, E-mail: info@jfskc.org
Catholic Charities - Overland Park: Phone: (913) 384-6608, 9806 W. 87th, Overland Park, KS
Catholic Charities – Olathe: Phone: (913) 782-4077, 333 E. Poplar St., Olathe KS
Salvation Army – Olathe Corp: (913) 782-3640 - ask for social services; 420 E. Santa Fe, Olathe, KS
El Centro: Phone: (913) 677-0100, Website: Contact Us | El Centro
To be eligible, households:
must be renting,
make less than 80% of Area Median Income (for example, $61,950/yr for a family of 3),
at least one member of the household must be experiencing a financial hardship directly or indirectly related to the COVID-19 virus (loss of employment, medical costs related to COVID, childcare costs, etc.),
at least one member of the household must have late or past due rent or utilities.
For utility assistance, households can apply directly for assistance through KERA and, if approved, utility providers will be paid directly. Utility assistance includes overdue utility charges, disconnect and reconnect fees.
For rental assistance, there are 2 parts to the application: one that the household/renter fills out and one that the landlord fills out. You can fill these out at the same time or separately. Rental assistance can be for back rent AND new rental charges. Payments are made directly to your account with your landlord.
For more information, please see this flyer.
---
Health Partnership Clinic Offering ACA Enrollment Support
Health Partnership Clinic will take appointments to help people navigate the 2021 Special Enrollment period for individuals and families for Marketplace insurance coverage. The enrollment period runs now through August 15. To schedule an appointment call (913) 730-3653.  English Flyer  Spanish Flyer