Unemployment Data Shows More Claims in Industries Dominated by Women
Recent data from the Kansas Department of Labor indicates that most initial unemployment claims from Johnson County residents in the weeks following the COVID-19 economic lockdown were made by women. In the first several weeks of 2020 (through March 14), only 35% of initial unemployment claims came from women. Since that time, 3 out of 5 initial claims have come from women.

The increase in claims from women may be related to the Johnson County industries that are experiencing the greatest instability in our region. In each of the five industries that have experienced an increase claims, women represent at least half of the workforce.

According to 2018 data from the U.S. Census Bureau, median earnings for women in Johnson County working full-time year-round were $50,015, compared to $69,820 for men working full-time year-round. Similarly, female-headed households with children earned a median income of $36,120 compared to male-headed households with children earning a median income of $49,769. The economic and employment experience of women, especially those who are single parents, may increase financial hardship for Johnson County women during the COVID-19 crisis.
For more information on the economic experience of women in Johnson County, see the fact sheet that UCS published in March 2020.
---
Johnson County COVID 19 Recovery Planning Task Force Finalizing Recommendations
Johnson County formed a planning recovery task force that began meeting last week to plan, strategize and recommend implementation of a phased approach to reopening the economy. The goal of the task force is to balance how to keep the workforce safe and healthy, while working to reopen the economy. The task force includes three members of Johnson County's Board of County Commissioners including the chair and vice chair, and representatives from a number of community sectors including public safety, healthcare, public health, business, city managers, area mayors, and health and human services. Julie Brewer, UCS Executive Director, is serving on the Task Force. Recommendations from the task force will be presented this week to the county commissioners for their consideration. Click here for more information and to view draft recommendations to-date.
---
Johnson County Publishes COVID-19 Statistics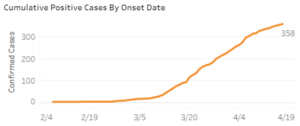 Johnson County Government has released a COVID-19 public data dashboard. The dashboard includes a real-time summary of COVID-19 infections and deaths in the county and summarizes demographic information (gender, age, race/ethnicity), occurrence by zip code, and pre-existing conditions and symptoms of COVID-19 patients. The system also reports on area hospital capacity and Med-Act emergency response activity.
---
UCS Welcomes New Director of Resource Allocation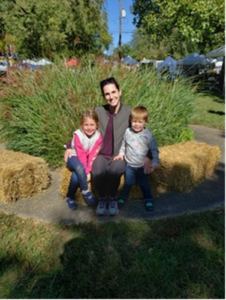 UCS is pleased to welcome to the team Christina Ashie Guidry as the Director of Resource Allocation. Christina is stepping into the role that Marya Schott, who retires this month, has held for 18 years. Born and raised in Texas, Christina received her B.A. and M.A. from Texas A&M University, and a J.D. from the University of Virginia. Christina's career has been in public service as a university lecturer, prosecutor, assistant county attorney, and policy analyst.
"Working as an attorney has given me a deep understanding of the way that federal, state, and local laws and regulations interact with our daily lives as citizens and affect our ability to adapt to the environment around us to address community priorities," says Christina.
Immediately prior to joining UCS, Christina served as Senior Policy Analyst and Title VI and Environmental Justice Coordinator for the Tennessee Department of Environment and Conservation where she had the privilege of supporting Tennessee communities build resilience in areas such as food access, education, water quality, energy efficiency, transit, and environmental justice, and managed multiple grant programs. She has a passion for building community resilience through collaboration.
"UCS' work is very exciting and innovative. My work has shown me that this type of collaboration allows organizations to assist communities in leveraging their combined resources and relationships to achieve optimum outcomes for the entire county."
Recent transplants to Kansas, Christina and her family love living in Johnson County. In her spare time, Christina enjoys races in the parks with her family, going to farmers' markets, and cooking.
---
Kansas City Regional COVID-19 Response & Recovery Fund Announces $3.2 Million in Second Round of Grants

The Advisory Board of the Kansas City Regional COVID-19 Response and Recovery Fund has announced its second wave of recipients. More than $3.2 million in aid will be sent to 72 area nonprofits for housing support, food assistance, access to healthcare, and other critical human services. Additional grants will be released on a rolling basis as fundraising continues and needs are identified throughout all phases of the crisis.
---
Alcohol Tax Fund Pre-Proposal Meeting on May 14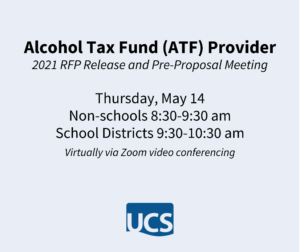 Two pre-proposal meetings for 2021 Alcohol Tax Fund (ATF) grants will be held on May 14, 2020. The 2021 ATF Request for Proposal (RFP) and application will be reviewed from 8:30 to 9:30 for non-schools, and from 9:30 to 10:30 for public school districts.
In accordance with COVID-19 mitigation efforts, this will be a virtual meeting on the Zoom platform. All prospective attendees must RSVP directly to Christina Ashie Guidry, christinag@ucsjoco.org, by Friday, May 8. Please provide your name, title, and affiliated agency. After May 8, Ms. Guidry will send final meeting details, including the link to the virtual meeting, an application and RFP materials directly to those who have RSVP'ed.
The 2021 ATF RFP and grant application will be released a few days prior to the meeting. For 2021 ATF Funding Priorities, click here.