UCS Releases a Fact Sheet on Young Children in Johnson County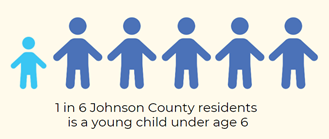 During the Week of the Young Child, UCS hopes to raise awareness of our youngest generation of Johnson County residents. A new fact sheet provides a snapshot of the current state of young children in Johnson County. The early years of child's life are the foundation of their future development. From birth through age 3, the brain develops most of its neuropathways. Through age 8, children's experiences provide the base for social, emotional, and cognitive development. Ensuring that children have access to quality, supportive environments in their early years is critical.
---
Notice: Emergency Food & Shelter Program Grant Availability
Johnson County, Kansas has been awarded federal Emergency Food and Shelter Program funds from the Kansas State Set-Aside Committee. Johnson County has been allocated $81,634 in Phase 39 and $236,757 in Phase ARPA-R to supplement emergency food and shelter programs locally.
A Local Board made up of local representatives of the national organizations participating in the program, including American Red Cross, Catholic Charities, USA, National Council of the Churches of Christ in the USA, The Jewish Federations of North America, The Salvation Army, and United Way Worldwide, along with several other local representatives, will determine how the funds awarded are to be distributed among the emergency food and shelter programs run by service agencies in the area. The Local Board is responsible for recommending agencies to receive these funds and any additional funds made available under this phase of the program.
Under the terms of the grant from the National Board, local agencies chosen to receive funds must: 1) be private voluntary non-profits or units of government, 2) be eligible to receive Federal funds, 3) have an accounting system, 4) practice nondiscrimination, 5) have demonstrated the capability to deliver emergency food and/or shelter programs, and 6) if they are a private voluntary organization, have a voluntary board. Qualifying agencies are urged to apply. Applicants will be assessed on experience/track records as an emergency assistance provider, hours of operation, staff and funding capacity and the program's accessibility to the people it serves.
Agencies interested in applying for Emergency Food and Shelter Program funds should contact Rita Carr at United Community Services of Johnson County at ritac@ucsjoco.org or 913-438-4764 to request an application. Applications must be received by 4pm on Friday, April 15th, 2022. 
---
U.S. Department of Housing and Urban Development (HUD) Continuum of Care Awards Announced
Last month HUD announced $2.65 billion in awards for Continuum of Care grants across the country including $888,125 for programs in Johnson County, KS (HUD Announces $2.6 Billion in Awards to Help People Experiencing Homelessness | HUD.gov / U.S. Department of Housing and Urban Development (HUD)). UCS serves as Johnson County's Continuum of Care on Homelessness (CoC) lead agency and writes the collaborative application annually on behalf of local members. The HUD CoC funds will support 7 programs that provide Rapid Rehousing and Permanent Supportive Housing, the lead agency that manages Johnson County's Homeless Management Information System (HMIS), and a CoC Planning grant to UCS for its work as the lead agency (FY2021_KS_Press_Report.pdf (hud.gov)). In its role as CoC lead agency, UCS is responsible for conducting regular meetings of the CoC membership and board, managing the CoC Rank and Review process, and providing educational/best practices opportunities for all entities involved in serving our county's homeless population.
---
Parent Connect Event with Johnson County Mental Health on April 28
Join the Parent Connect series for information and learning opportunities from parenting experts and community presenters. For the April 28th session, three members of the LGBTQ community will join us to support caregivers gain insight into their children's experiences. A safe space for caregivers to ask those questions that might not come across well, but are well intended. Presenters include members of the gay and trans communities.
April 28th, 2022 at 5:00pm
Zoom Link: Click Here
Questions? Contact Rachael.McDonald@jocogov.org or 913-715-7718
---