Human Service Fund Grant Cycle and Pre-Proposal Meeting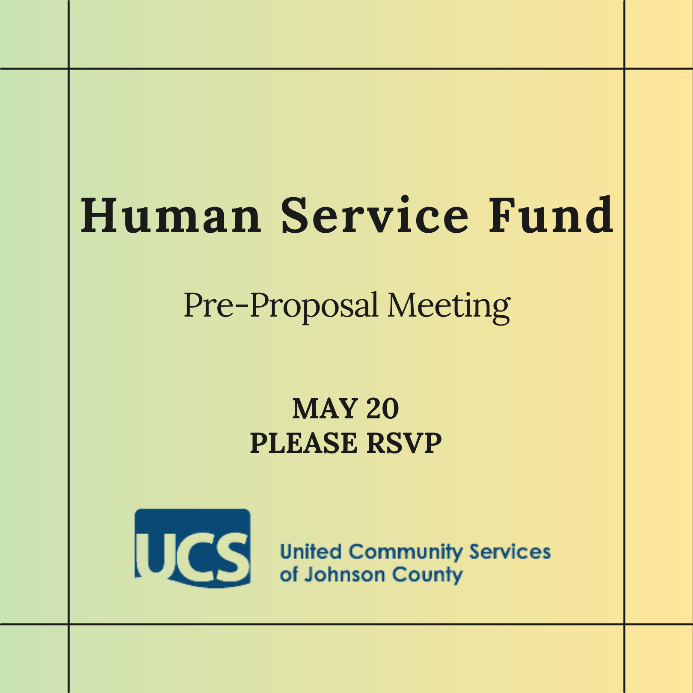 The 2022 Human Service Fund (HSF) grant cycle is now open! Applications are due July 8, 2021 by 4:00 p.m. For the first time, HSF will be offering small grants through a Small Grants Pool RFP in addition to the regular HSF RFP.
HSF provides grants to nonprofit agencies in support of human service programs that promote the well-being, personal safety and self-sufficiency of Johnson County residents. Approximately $435,000 is anticipated to be awarded in 2022 grants through the regular HSF application and the small grants application. For more information about UCS or HSF, please UCS' website.
The 2022 HSF Pre-Proposal Meeting will be held virtually via Zoom:
May 20, 9:00-9:50 a.m. for the regular HSF RFP and
May 20, 10:00-10:50 a.m. for the Small Grants Pool RFP
RSVP to Christina Ashie Guidry, christinag@ucsjoco.org, with your name, title, and affiliated agency by May 17th for the Zoom invite; you will need an invitation to enter the meeting.
It is strongly recommended that all current and potential HSF applicants attend the May 20 pre-proposal meeting; there are significant updates to the structure of the application and budget as well as a Small Grants Pool for new HSF applicants.
2022 HSF Grant documents, including the Request for Proposals (RFP) for regular and small grant applicants, the 2022 HSF Applications for regular and small grant applicants, the 2022 HSF regular and small grants budget, and the 2022 regular and small grant Agency Standards are on the UCS website.
---
Marathon Overland Park Homebuying Experience Includes Surprising Twist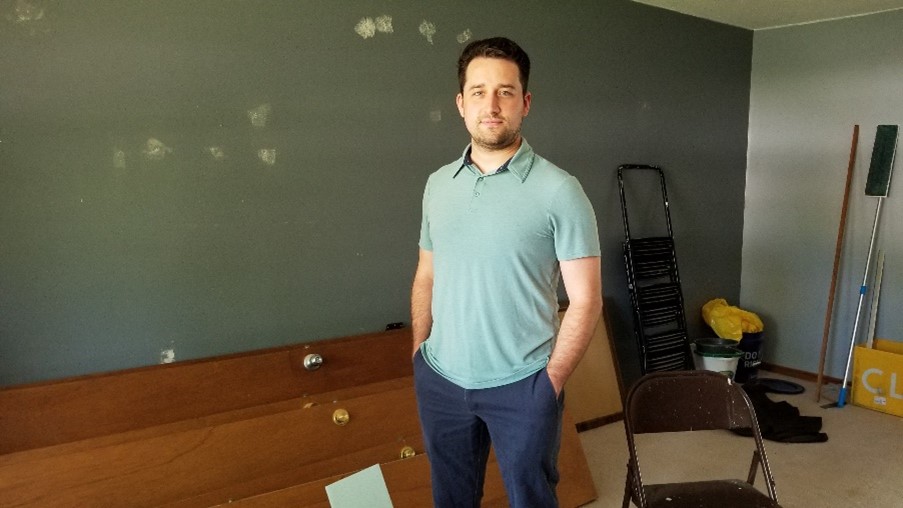 For Logan Heley, the third time wasn't the charm. Nor was the fourth, the fifth, the sixth … or anything near that.
It actually took Heley 13 tries during about three months to finally secure the winning bid for a home in northern Johnson County. He paid $10,000 over asking for one side of a 52-year-old duplex just west of downtown Overland Park.
Heley is 28 years old, a graduate of Shawnee Mission East High School and the University of Southern California, and works as the community engagement manager for Harvesters —The Community Food Network.
His saga is not unusual in Johnson County's red-hot housing market, but the kicker with Heley is that he is an Overland Park city councilman struggling to break into homeownership in his own district.
As someone who came from a comfortable upbringing, Heley knows he is not the poster child for affordable housing challenges in Johnson County. His experience is instructive, nonetheless.
"If I am having issues as a middle-class, college-educated white male, then the challenges for many people in our community are beyond where we want them to be, to have a healthy, affordable, sustainable Johnson County," he said.
Heley served on the Housing for All task force, which developed implementation recommendation strategies from the Johnson County Municipalities Community Housing Study. The collaborative city/county study was released by UCS in February.
Among the study's findings were that the county needs more options for first-time homebuyers and that there is a shortage of duplexes, townhomes and other options that fall between large apartment complexes and single-family homes — the so-called "missing middle."
Heley represents Ward 1, which encompasses all parts of Overland Park north of 87th Street as well as the Round Hill neighborhood. The mean household income in one of its main ZIP codes is approximately $74,000 a year, according to census data.
Heley views the district, and his new neighborhood, as a vital enclave for the frontline workers we have all come to appreciate, recognize, and count on during the COVID-19 pandemic. Their presence makes for a more vibrant community, he said. "Diversity is a good thing."
Heley's homebuying experience illustrates the challenges in maintaining enough affordable housing options for these workers.
He repeatedly lost out to cash offers — his final unsuccessful try falling short even though they came in way above list and agreed to pay $10,000 above the final appraised value.
He plans to move in along with his partner later this month — transitioning from their one-bedroom apartment located a little to the west. They plan to invest another $15,000 or so for painting, floor work and other improvements.
The duplex sits along a tidy lane near Santa Fe Drive. Starter ninebark, lilac and witch hazel bushes sit in pots on the small deck off the kitchen, growing from seedlings handed out during a city giveaway in April.
The challenges of finding the place are in the past. "I think it will be a nice next move," Heley said.
Learn more about housing opportunities and challenges at our upcoming Human Service Summit on June 16!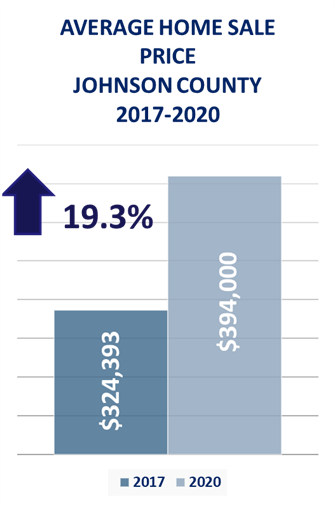 ---
Register NOW for UCS' 2021 Virtual Human Service Summit
Building Healthy Communities = Raising the Bar
Join UCS for the 2021 Virtual Human Service Summit. This year's Summit will unveil the Johnson County Municipalities Community Housing Tool Kit and will discuss implementation strategies following the recently released Johnson County Municipalities Community Housing Study, a part of a multi-year Healthy Communities Initiative addressing safe, stable, attainable housing across all ages and stages of life for those who live and work in Johnson County. The event includes a community conversation on racial equity, inclusion and belonging.
Event Details:
8:30 a.m. — 12:00 p.m.
Wednesday, June 16, 2021
Click here to register for virtual attendance.
The event will feature a presentation and discussion with co-chairs of Governor Kelly's Commission on Racial Equity and Justice: Dr. Tiffany Anderson, Superintendent of Topeka Public Schools USD 501, and Dr. Shannon Portillo, Associate Dean for Academic Affairs KU Edwards Campus & School of Professional Studies. Our presenters will also be a part of a panel discussion which will include Sean Casserley, Director of the Johnson County Library which convenes Race Project KC.

Dr. Tiffany Anderson
Superintendent of Topeka Public Schools USD 501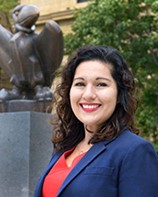 Dr. Shannon Portillo
Associate Dean for Academic Affairs
KU Edwards Campus & School of Professional Studies
This is a unique, highly interactive opportunity to come together with representatives from various community sectors who care deeply about Johnson County. Our community's economic vitality and sustainability is only as healthy as those who live and work in it.

---
Rental and Utility Assistance Available for Johnson County Residents
Kansas Emergency Rental Assistance (KERA) has over $18 million in funds for rental and utility assistance available to support Johnson County residents. Households can be eligible for up to one year of rental assistance (past due or future) and/or up to one year of late/past due utilities.
Apply online: https://kshousingcorp.org/emergency-rental-assistance/.
If you need help filling out the application, please call or email any of these agencies:
Jewish Family Services: Phone: 913-327-8250, E-mail: info@jfskc.org
Catholic Charities - Overland Park: Phone: (913) 384-6608, 9806 W. 87th, Overland Park, KS
Catholic Charities – Olathe: Phone: (913) 782-4077, 333 E. Poplar St., Olathe KS
Salvation Army – Olathe Corp: (913) 782-3640 - ask for social services; 420 E. Santa Fe, Olathe, KS
El Centro: Phone: (913) 677-0100, Website: Contact Us | El Centro
To be eligible, households:
must be renting,
make less than 80% of Area Median Income (for example, $61,950/yr for a family of 3),
at least one member of the household must be experiencing a financial hardship directly or indirectly related to the COVID-19 virus (loss of employment, medical costs related to COVID, childcare costs, etc.),
at least one member of the household must have late or past due rent or utilities.
For utility assistance, households can apply directly for assistance through KERA and, if approved, utility providers will be paid directly. Utility assistance includes overdue utility charges, disconnect and reconnect fees.
For rental assistance, there are 2 parts to the application: one that the household/renter fills out and one that the landlord fills out. You can fill these out at the same time or separately. Rental assistance can be for back rent AND new rental charges. Payments are made directly to your account with your landlord.
For more information, please see this flyer.
---
Health Partnership Clinic Offering ACA Enrollment Support
Health Partnership Clinic will take appointments to help people navigate the 2021 Special Enrollment period for individuals and families for Marketplace insurance coverage. The enrollment period runs now through August 15. To schedule an appointment call (913) 730-3653.  English Flyer  Spanish Flyer
---
Broadband Support Available Through American Rescue Plan
The Emergency Broadband Benefit is an FCC program to help families and households struggling to afford internet service during the COVID-19 pandemic. This new benefit will connect eligible households to jobs, critical healthcare services, virtual classrooms, and so much more. More information and application details can be found here.