Characteristics of Children Staying at Home During COVID-19
The COVID-19 crisis and subsequent stay-at-home order in Kansas has generated a new normal in Johnson County: children are staying at home. Public schools have been ordered to close, and many of them will remain closed until the end of the current academic year and through the summer. Many childcare centers and out-of-school programs have also closed temporarily and are evaluating how to reopen safely while maintaining social distancing protocols, which may result in fewer available slots. In Johnson County, there are more than 145,500 children under the age of 18. 97% of children live with at least one parent in the labor force. 73% live with two parents who are in the labor force.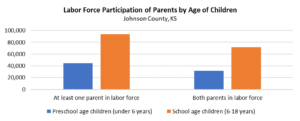 The economic experiences of these children vary significantly based on their household living arrangement. The median household income for married-couple families is $126,543, compared to $56,888 for male-headed households and $41,477 for female-headed households. Inadequate household income increases the risk for food insecurity and housing instability, which may be exacerbated by the current unemployment conditions.
Managing the care, education, and safety of minor children as workplaces reopen and ensuring housing stability for community members whose income has been impacted by the COVID-19 disaster are priorities as Johnson County moves into recovery.  It will take collaboration amongst multiple sectors to create solutions.
For more information, view our most recent fact sheet.
---
More Resources Needed for Childcare Relief in Kansas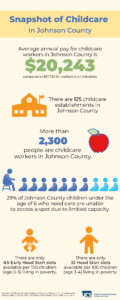 Childcare is an essential part of our economy that prepares children for the future and enables parents and caregivers to work, all while employing a large workforce. In light of the COVID-19 disaster, this sector of the economy is struggling. Across the country, many providers have been forced to close their programs or are staying open to provide emergency care for the children of essential workers. A snapshot of Johnson County's childcare economy and capacity indicates that challenges already existed before COVID-19 and may be exacerbated by the economic fallout of the virus.
The Coronavirus Aid, Relief, and Economic Security Act (CARES) Act, which provided $3.5 billion of much-needed relief for childcare, was far from sufficient to meet the significant need. According to national The Center for Law and Social Policy (CLASP), an infusion of at least $50 billion in childcare (including more than $450 million for Kansas alone) is essential in the next coronavirus relief package to ensure programs are able to stay in business, families are provided relief from payments while they aren't able to use care, and essential workers can access the care they need.
To learn more, check out the analysis from CLASP here.
---
Johnson County COVID-19 Community Organization Resource Exchange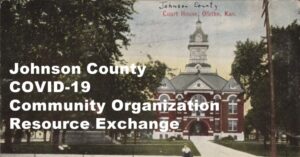 The COVID-19 disaster has put a strain on the supply of goods that human service organizations need to help our community. Other organizations have some of those goods on hand and can offer them to those that need them. UCS has created the Johnson County COVID-19 Community Organization Resource Exchange to connect those organizations who have needs with those organizations who have goods available. To participate in this exchange, visit our Facebook group.
---
Be Counted! Complete the 2020 Census today!

The 2020 Census officially kicked off on April 1, 2020. You should have received instructions for completing your Census at your home address. Data from the Census Bureau indicates that approximately 3 in 4 Johnson County residents has responded to the Census, and the majority have done so online.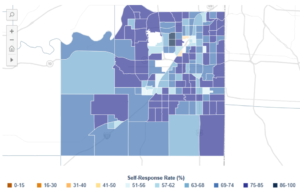 Data collected in the U.S. Census brings the right amount of federal money to our local community for local programs that help you and your neighbors, such as taking care of our roads or funding Medicare. Approximately $800 billion in federal funding is distributed to communities each year based on the population totals collected by the Census.
For more information on the Census and Johnson County's Complete Count efforts, go to Count Me In JoCo.
---
UCS Office is Moving!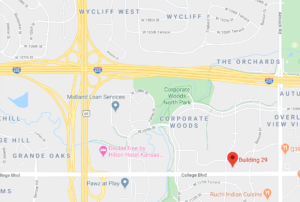 UCS is in the process of packing up our office and moving to our new location May 18-29. We will be situated in our new office at 9001 W. 110th St., Suite 100, Overland Park, KS, 66210 on June 1. Phone numbers will remain the same.