When We Show Up: A Reflection Hope and Connectedness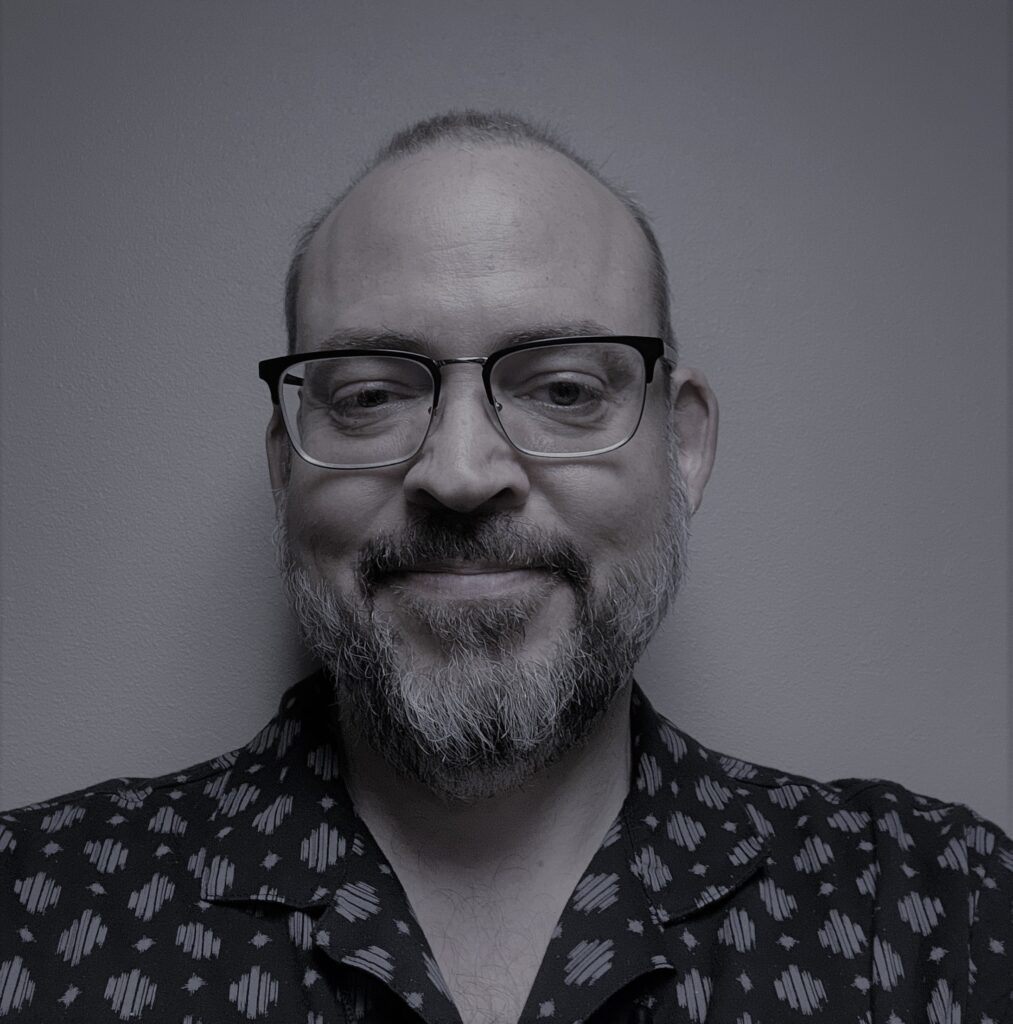 This is often my reply when asked about the work we do at Johnson County Mental Health Center. As a stand-alone statement, it may seem like a vague answer or an empty platitude, but it's not meant to be an answer to a question. It's intended to start a conversation.
So, let's begin that conversation by asking, "what does it mean to be a provider of hope?" There are infinite ways to provide hope to others. As a mental health center, we focus on providing hope for recovery from mental illness and substance use disorders. We deploy a wide variety of skills and interventions to help others, but they have this in common–they happen in the context of human connection and relationships.
"We are in the relationship business" is another frequent phrase of mine. In a helping profession such as ours, relationships and human connection are the essential tools of our practice—they are the channels through which hope can flow. But it can be challenging to build those relationships when people are coping with poverty, homelessness, trauma, symptoms of an illness, or all the above. Many of the folks we serve have had negative experiences with "the system" and are distrustful of government agencies offering help.
With so many barriers, how can we build a connection and foster hope? Just like family or friendship relationships, it starts with showing up for others. "Showing up" for someone experiencing homelessness often starts with addressing the most immediate basic needs for survival such as food, shelter, and safety. Showing up for someone experiencing a mental illness can mean taking time to listen in a way that makes them feel heard, understood, and cared for. For people with trauma and/or difficulty trusting others, you may need to keep showing up for a long time before they feel safe enough to connect.
Here's the thing: showing up does not guarantee you will get the outcome you want. That's because showing up is inherently an act of hope! Your very presence has value of its own and it creates possibilities. As an act of hope, we must have faith that showing up makes a difference, even if the impact isn't visible to us. That's why it's important to keep doing it.
When we show up for people, when we are truly and fully present to establish that connection, it communicates to them that they matter, and they are not alone.
When we show up by treating people with dignity and respect, it communicates to them that they are worthy of it. 
When we show up by being curious about their hopes, dreams, and goals, it shows our belief in their ability to reach them.
When we show up by being persistent and refusing to give up on people, it shows they are valuable to us.
When we show up by sharing stories of recovery, it shows that recovery is possible.
When we show up by recognizing resilience in others, we acknowledge the difficulty of the journey they've survived.
When we show up by listening without judgment, we show that we are open to understanding their experiences.
We strive to do all of this in our work at the mental health center, but we are just a small part of a big picture. Fortunately, anyone can do these things if they are intentional and thoughtful in their relationships. As members of this community, we are all connected to some degree by default, all of us stakeholders. So, it starts with us. Acting with intention to build and nurture those connections is how we shape our community together. In that sense, we are ALL in the relationship business and we owe it to each other to show up. In doing so, we become providers of hope.
---
Register Today for June 21 Human Service Summit
Our 2023 Human Service Summit will bring attention to one of Johnson County's most complex issues: homelessness. Participants will explore the realities of homelessness in our community and hear about the collaborative solutions that are already making a difference. Register today for this important conversation and learn how you can show up to support people experiencing homelessness in our community.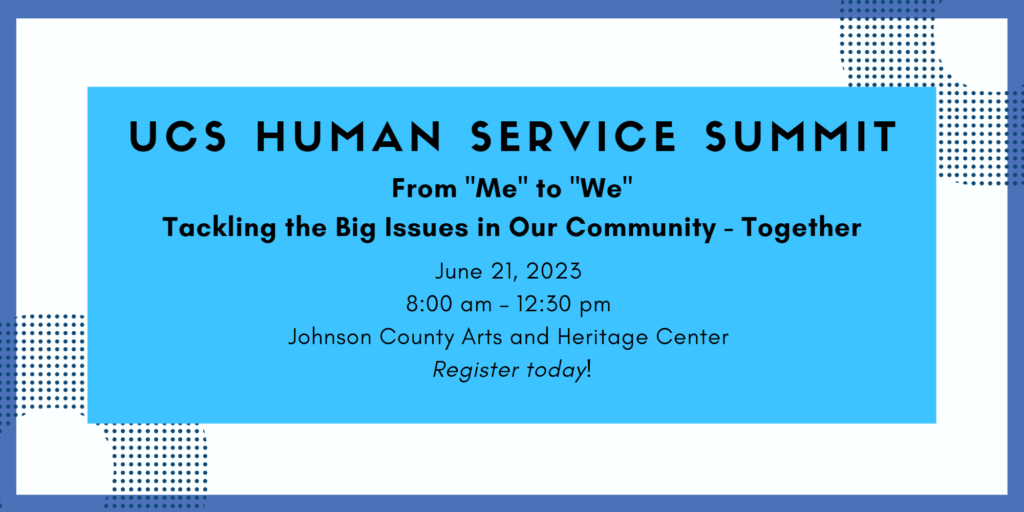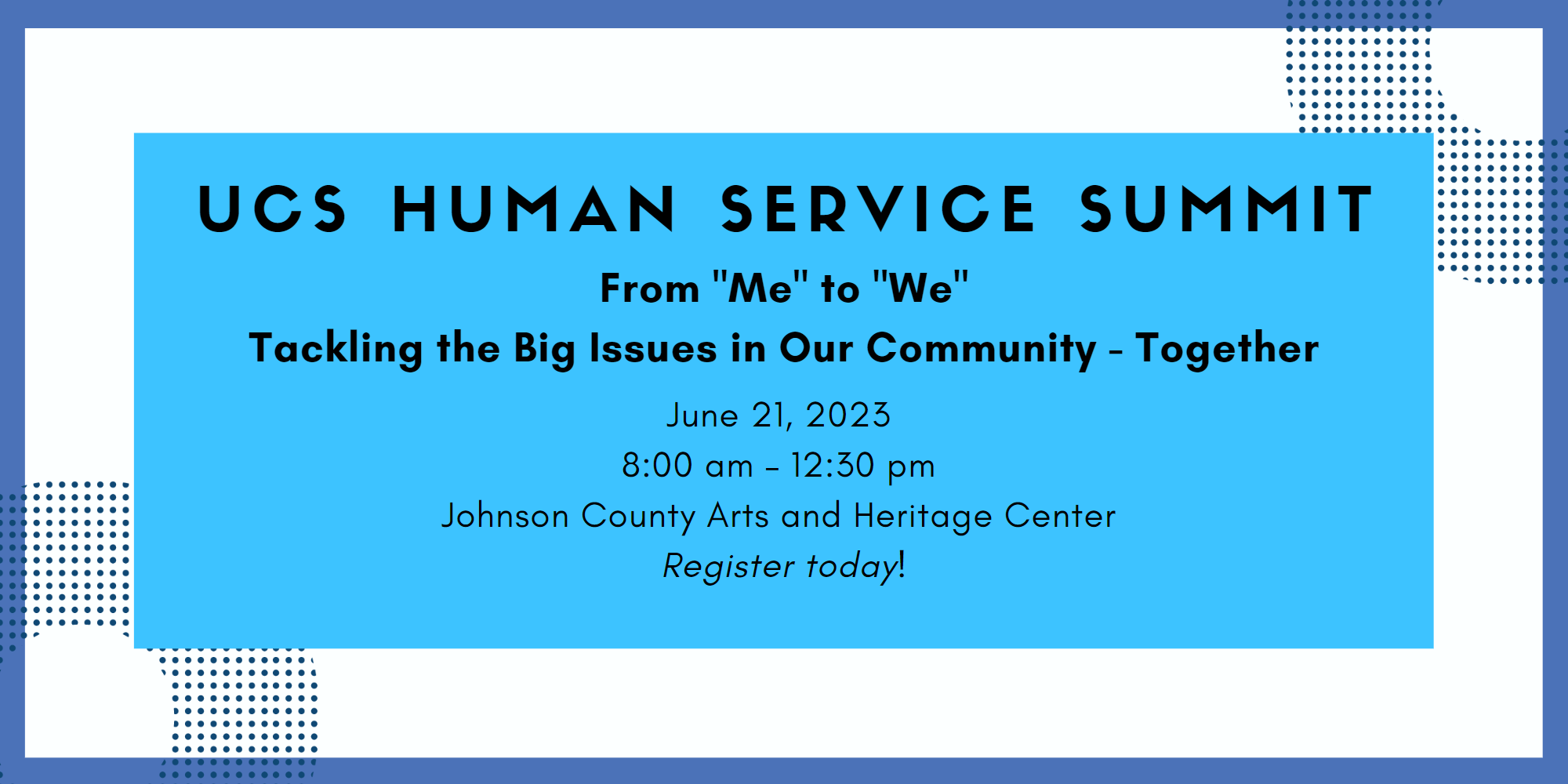 The event will feature two robust and engaging panel discussions.
The first panel discussion focuses on understanding the reality of homelessness and housing instability in our community and the impact it has on workforce, health and mental health. You will hear from human service providers, the business community, and personal stories of lived experience how addressing homelessness benefits our community. Panelists include:
Lee Jost, Executive Director of NCircle
Jarrod Sanderson, CoO of Nautical Manufacturing and Fulfillment
Robert Welch, Sales and Team Manager, Select Quote Insurance Company
Tim DeWeese, Executive Director of Johnson County Mental Health Center
Rita Carr, Director of Community Planning at UCS and CoC lead
The second discussion will center on solutions, including case studies highlighting the benefits of a community supported response continuum. Panelists include:
Joe Karlin, Co-Founder and Executive Director of Dignity Project
Heather Bradley-Geary, Director of Supportive Housing at The Vecino Group
Megan Foreman, Housing Coordinator at Johnson County, KS Government
Lindsay Hicks, President & CEO at Habitat for Humanity of Kansas City
We recognize that the key to addressing homelessness and other big issues is to do it together. We each have a role to play in making our community a better place for all. Attendees at the 2023 Human Service Summit will participate in activities and discussions that will equip them to take action together.Save your spot for the 2023 Human Service Summit.
---
Perspectives on Homelessness: Heather Bradley-Geary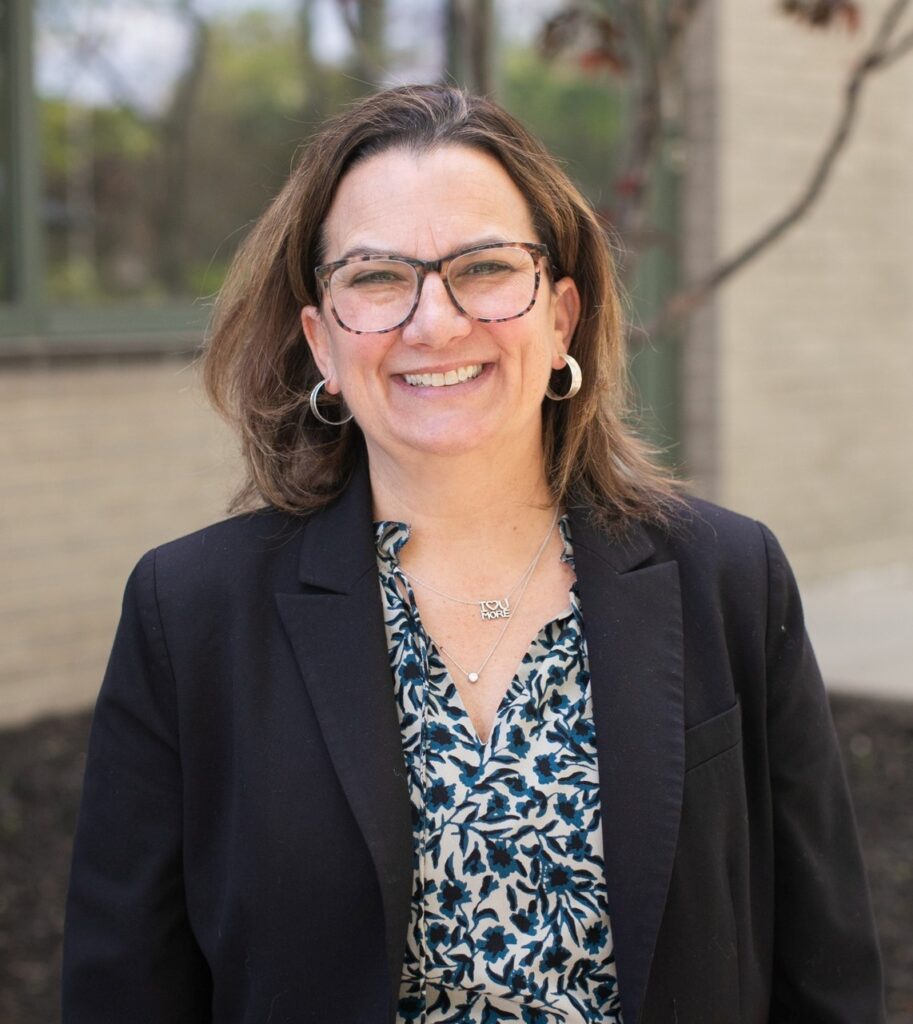 "The crux of community and the economy is always housing," said Heather Bradley-Geary, a Johnson County resident. "People can't succeed in our country without an address–you can't get a job, social security card or photo ID without an address. I believe it's my job to make housing a human right."
Heather works for The Vecino Group, a national supportive housing developer working to end homelessness. Their developments provide residents with additional supportive services–and they can live there permanently. "We need to ensure folks have all the support to be able to stay housed," Heather shared. "We need to make sure we're not screening people out of housing. A lot of management companies have a lot of rules to even get into housing. We're working to screen people into housing."
Vecino Group partners with local non-profits and neighbors to discover what is best for a community. The group does not currently have a development in Johnson County, but Heather believes it would be beneficial. "To be honest, homelessness is solvable in Johnson County," she shared, citing that compared to other locations, the amount of people who need permanent housing in the county is attainable.
"I want us to understand that not everybody comes from wealth in Johnson County, and I don't want it to be a negative thing to talk about affordable housing. I would love to have affordable housing where I live," she shared. "To serve the whole community, we have to talk about supportive housing and affordable housing. My dream is to have real conversation about that and for it to be about community. Good community is inclusive of everyone." Join Heather and other community voices at our Human Services Summit on June 21st.
---
An Update from the Dignity Project
The consulting team for the Dignity Project, iBossWell, has conducted more than 20 interviews since the planning grant launched, meeting with service providers and housing providers locally and regionally. Some emerging themes include:
Lack of affordable housing is causing some agencies to become housing generalists, providing everything from emergency shelter to supportive housing.
Lack of public transportation has caused some agencies to start their own transportation supports for program participants, adding costs and logistical considerations to programs.
The mental health needs of the chronically homeless create a significant case management "lift" for agencies.
Many agencies have adopted a "campus" approach where multisector support services are made available in one place, eliminating barriers, and streamlining access to services.
The importance of early engagement, with supporters to leverage positive interactions and with opponents, to identify and respond to resistance.
Public private partnerships are essential to funding sustainable solutions to address the ongoing need for resources to provide supportive services.
Read more updates from the Dignity Project here.