Register Today for June 21 Human Service Summit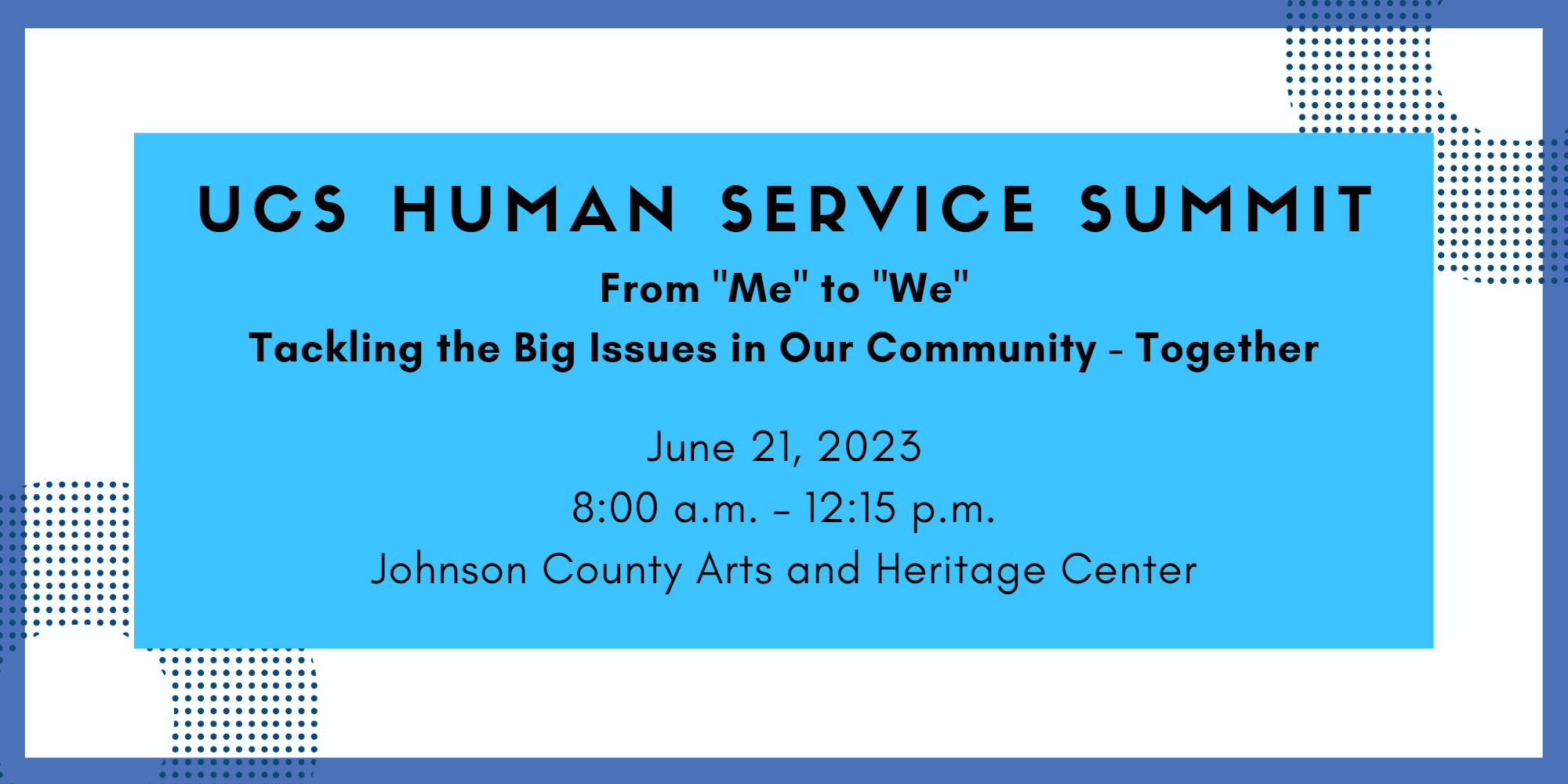 Our 2023 Human Service Summit will bring attention to one of Johnson County's most complex issues: homelessness. Participants will learn about the realities of homelessness in our community and about the collaborative solutions that can help make a difference. Register today for this important conversation.
Participants will learn about a planning initiative to address gaps and meet the needs of the unhoused in our community and innovative approaches to strengthen our housing continuum. Attainable housing is the best prevention to homelessness.
We recognize that the key to addressing homelessness and other big issues is to do it together. We each have a role to play in making our community a better place for all. Attendees at the 2023 Human Service Summit will participate in activities and discussions that will equip them to take action together.
Save your spot for the 2023 Human Service Summit.
---
UCS Releases Impact Report from the Racial Equity in Communities (REIC) Pilot
United Community Services of Johnson County (UCS) launched the Racial Equity in Communities pilot in April 2021. Racial Equity in Communities (REIC) is a six to eight-month program that provides a customized series of workshops and technical assistance to a community of practice that includes residents, staff, and elected officials from jurisdictions in Johnson County, KS. The goal of REIC is to support implementation of culturally-responsive systems change in Johnson County jurisdictions that want to move beyond a symbolic awareness of racial equity towards substantive analysis, action, and accountability.
UCS engaged 45 residents, staff, and elected officials from five Kansas jurisdictions in the inaugural REIC community of practice. Those jurisdictions included Johnson County Government and the cities of Lenexa, Mission, Prairie Village and Roeland Park. The intended impact of Racial Equity in Communities was to see evidence of improved racial equity culture in jurisdictions engaged in the program.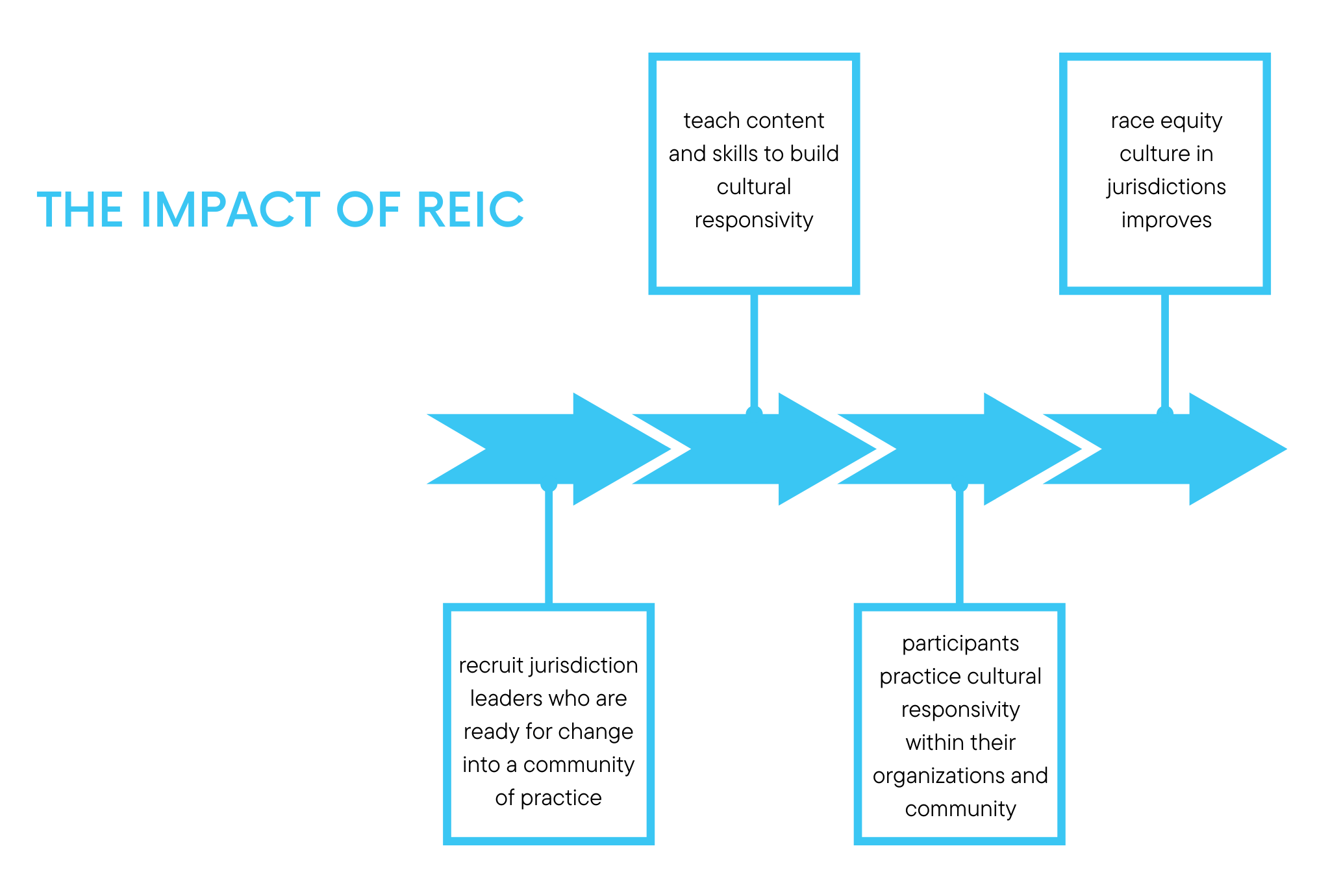 UCS hosted two Ripple Effects Mapping (REM) gatherings in November 2022, eight months after the REIC pilot workshops concluded. REM is a participatory evaluation process that engages program participants and other community stakeholders to reflect upon and visually map intended and unintended changes. We chose this evaluation approach so that REIC participants and their stakeholders could make sense of the impacts they see "rippling" through their systems. REM participants observed the impacts of REIC within their jurisdictions and identified "community capitals" that need to be further developed to achieve racial equity systems change.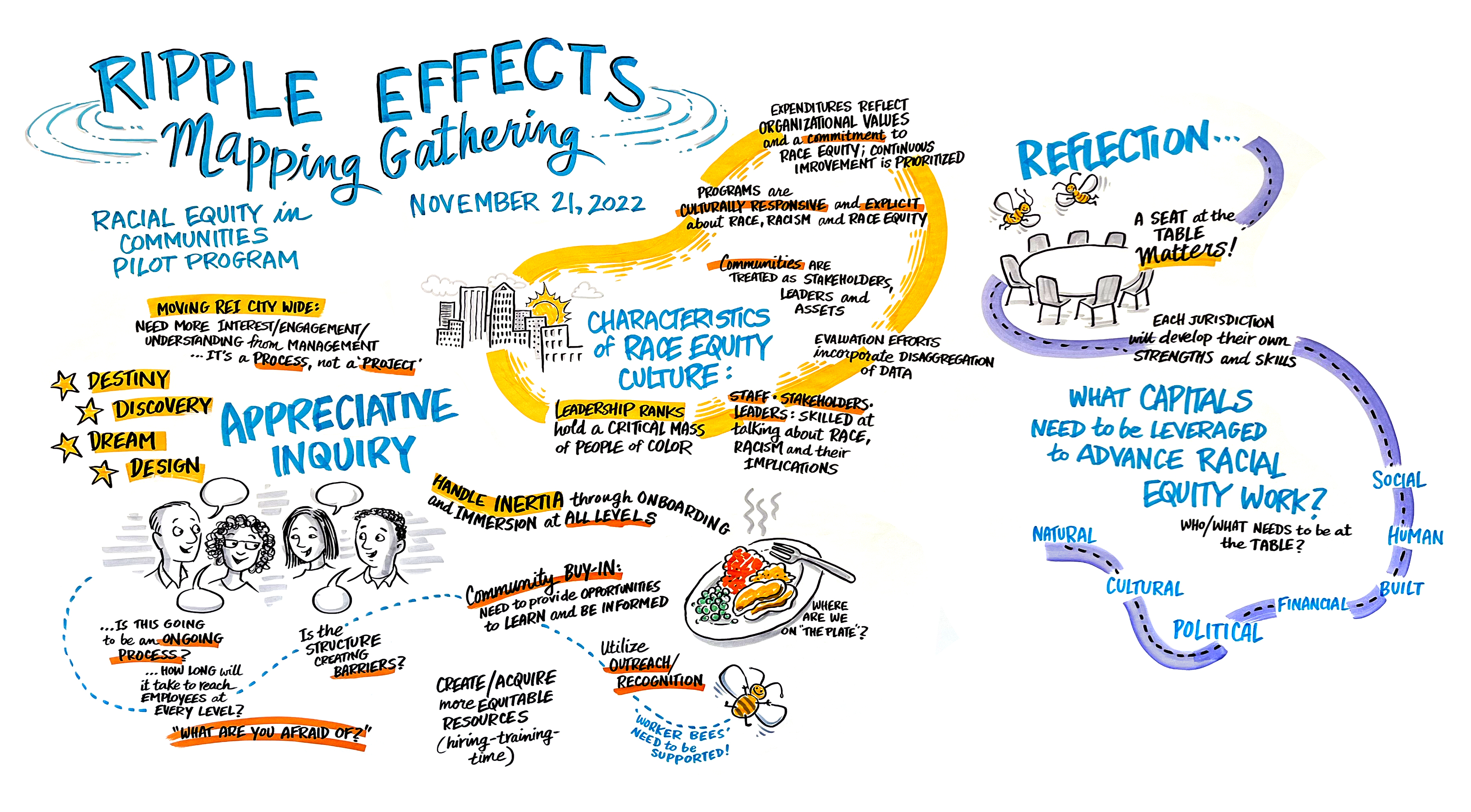 More insights into the REIC program and highlights from ripple effects mapping can be found in our latest report. The Ripple Effects Mapping (REM) gatherings and this Impact Report were made possible with funding from the Health Forward Foundation.
If you are a leader in a Johnson County jurisdiction who is interested in participating in a future iteration of REIC, please contact kathryne@ucsjoco.org for more information.
---
The 2024 Substance Use Continuum of Care Fund (SUF): Joint Alcohol Tax Fund (ATF) and Opioid Settlement Fund (OSF) Grant Cycle is Now Open!
On behalf of the Drug and Alcoholism Council of Johnson County (DAC), UCS is pleased to announce the launch of the Substance Use Continuum of Care Fund (SUF). The annual SUF grant process will allow applicants to apply for both Alcohol Tax Funds (ATF) and new Opioid Settlement Funds (OSF) in a single application. With multiple special revenue, special purpose funding sources, SUF can extend the scope of its support to the substance use continuum of care to fill existing gaps in services, to address root causes leading to substance use, and to provide robust recovery and reintegration.
All potential applicants, please join UCS for the 2024 SUF Pre-Proposal Meeting on May 11th at 9:30 a.m. via zoom. RSVP to Christina Ashie Guidry, christinag@ucsjoco.org, with your name, title, and affiliated agency by May 10th to receive the Zoom invite. 
The 2024 SUF Request for Proposals, grant application, and agency standards are available as of May 4, 2023 on our website. Applications are due August 2 by 12:00 p.m.
ATF is collected from a state tax on liquor by the drink; part of the revenue generated is returned to the city/county where it was collected and must be used for services or programs "whose principal purpose is alcoholism and drug abuse prevention and education, alcohol and drug detoxification, intervention in alcohol and drug abuse or treatment of persons who are alcoholics or drug abusers or are in danger of becoming alcoholics or drug abusers." KSA Sec. 79-41a04 (as amended).
OSF are special purpose, special revenue funds distributed by the Kansas Attorney General's Office to municipalities that joined the statewide opioid settlement agreement. Pursuant to state statute and a Memorandum of Understanding, funds are distributed based on each municipality's population and must be used for "projects and activities that prevent, reduce, treat, or mitigate the effects of substance abuse and addiction or to reimburse the State or Political Subdivisions for previous expenses related to substance abuse mitigation or arising from covered conduct." KSA 75-775—781.
The Drug and Alcoholism Council (DAC), a program of United Community Services of Johnson County (UCS), coordinates a review and recommendation process that allows eligible programs to access the SUF from the Board of County Commissioners and ten cities. The DAC submits funding recommendations to participating jurisdictions, which have ultimate authority and responsibility for determining which programs receive SUF grants. For more information about UCS or SUF or to access the application materials online, please visit UCS' website.
---
Medicaid Enrollment Ending for Some Kansans; Resources Available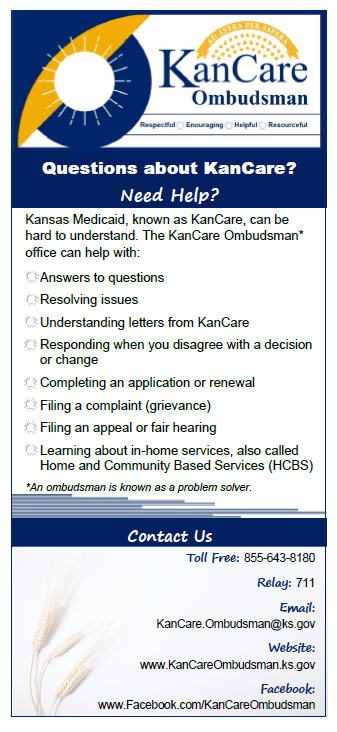 Nearly 50% of all Johnson County KanCare (Medicaid) recipients are at risk of disenrollment due to upcoming eligibility reviews—the first review since prior to the COVID-19 pandemic. During the pandemic, the federal declaration of a public health emergency effectively added tens of thousands of people to the state's KanCare Medicaid program, but with the end of the public health emergency, this coverage may now be at risk for those who no longer qualify or those who do not complete the eligibility review. This number includes thousands of children who comprise 62% of KanCare enrollees.
Experts and healthcare advocates recommend that all Kansans on Medicaid:
Update KanCare member contact information with the state (go to ks.gov to update contact information online through the chatbot or call 1-800-792-4884).
Watch for, open, and respond to mail from the state by the requested deadlines.
Johnson County residents enrolled in KanCare can connect to the following resources for guidance:
The KanCare Ombudsman
855-643-8180
KanCare.Ombudsman@ks.gov
El Centro
913-677-0100 (ask for "Health Navigation")
For more information and answers to questions about this process, see this FAQ document from Kansas Department for Children and Families.