EXPLORE THE IMPORTANCE OF EARLY CHILDHOOD EDUCATION - JOIN US FOR "NO SMALL MATTER" SCREENING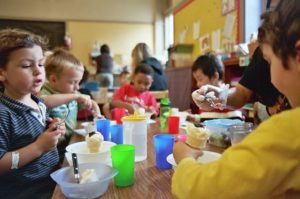 Kansas Action for Children, UCS and community partners will be hosting a reception and film screening of No Small Matter, a feature-length documentary film that explores the most overlooked, underestimated, and powerful force for good in America: early childhood education.  Research shows that students perform better in primary and secondary school when they have access to educational opportunities before they start Kindergarten - unfortunately, high cost and low provider pay means that these opportunities are unavailable for too many Kansas kids. Making sure every child has access requires family/child friendly policies and people working together.
The film and reception will be held at the Blue Valley Hilltop Learning Center in Overland Park on Wednesday, June 26th at 6:30 PM. The event is free, and attendees are eligible to receive a KDHE Clock Hour Certificate for 1.67 hours. You can find details and RSVP here.
---
OFFICE OF MANAGEMENT AND BUDGET (OMB) IS CONSIDERING CHANGES TO HOW INFLATION IS CALCULATED FOR POVERTY THRESHOLDS
Public comment is open until this Friday, June 21, to weigh in on the federal government's Office of Management and Budget (OMB) potentially changing how the Census poverty thresholds are updated each year for inflation to a slower growing measure. Currently OMB uses the Consumer Price Index for All Urban Consumers (CPI-U).
The proposed change raises a number of concerns regarding the potential impact on the Federal Poverty Level (FPL) since this measure of poverty developed by the U.S Department of Health & Human Services is based on the OMB guidelines. The domino effect of this change could impact numerous federal, state and local government programs including access to Medicaid, CHIP, Child Care and Early Education, SNAP, WIC, and School Meals through the free and reduced lunch program.
Ultimately, the greatest impact would be to the more than 45 million Americans living below the current federal poverty level, almost one-third of whom are children (Source: U.S. Census Bureau's 2017 1-years ACS estimates). Choosing a slower rate of inflation may change the poverty threshold, but it will not change the reality, needs or vulnerabilities of those who experience poverty in the United States every day.
Recent studies indicate that inflation is increasing at a faster rate for low-income households than for households overall. Inflation measures such as the CPI-U do not adequately account for the fact that low-income households pay a higher proportion of their incomes on necessities such as housing and child care than higher income households. The costs of these expenses have risen dramatically the past several decades - much faster than wages - making it extremely difficult for working families to get ahead and be financially self-sufficient. Lowering the calculation of poverty further, using another slower growth inflation measure such as the Chained Consumer Price Index for All Urban Consumers (C-CPI-U) or the Personal Consumption Expenditures Price Index (PCEPI), would make the assessment of need even less accurate.
Like most parts of the country, in Johnson County a household's income level makes a difference in a family's ability to manage the cost of housing. Low-income families are significantly more likely to be housing cost-burdened. In the past decade, the likelihood of being cost burdened has increased by as much as 30% for households earning less than $50,000 annually.
According to the Center on Budget and Policy Priorities (CBPP), moving to a chained CPI would adversely impact numerous federal programs and the people they serve. Within a decade CBPP predicts:
Over 250,000 senior citizens and people with disabilities would no longer be covered under Medicare's Part D Low-Income Subsidy Program. As a result, they would face high premiums in order to access their medications and would have to pay more out of pocket.
More than 150,000 seniors and people with disabilities would have to pay premiums over $1,500 per year to maintain their Medicare physician coverage.
More than 300,000 children would lose medical coverage through Medicaid and the Children's Health Insurance Program (CHIP).
As an organization that provides data analysis around poverty trends and current and emerging health and human service issues covering a six-county region including Johnson County, UCS noted in its comment on this proposed change that thorough research and analysis need to occur before any proposed change to how the poverty threshold is calculated. Additionally, extensive public comment on the potential impact to low- and moderate-income households should be solicited. Until a full examination of how poverty is calculated and what meaningful measures should be included in the current formula, UCS supports staying with the current price index, CPI-U, for adjusting the poverty thresholds.
If you would like to provide comment on this proposed change, please click here for the link.