43,000 Kansans Lose Health Insurance During COVID-19
The COVID-19 pandemic and the resulting economic downturn has caused the greatest health insurance losses in American history, according to a newly published report by Families USA. At least 43,000 Kansas residents have become uninsured due to job losses that occurred between February and May 2020. Currently, more than 1 in 7 Kansas residents do not have health insurance - a 20% increase from 2018. Kansas ranks in the top 20 states with the highest uninsured rates. Of those states, only 8 have expanded Medicaid.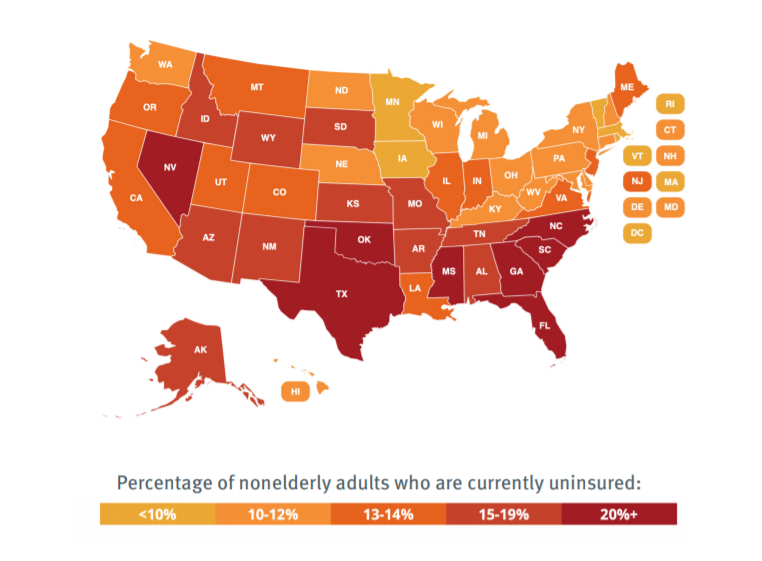 As of July 2020, Kansas is one of only 14 states that has opted not to expand KanCare, the state's Medicaid program. KanCare eligibility currently provides no coverage options for adults without a disability and without children under the age of 18, or for adults with children who earn more than 38% of the Federal Poverty Level (FPL). Thirty-eight percent of poverty for a family of three is an annual income $8,253. At the same time, the Affordable Care Act (ACA) Marketplace only offers premium tax credits to households earning at least 138% of FPL, or $29,973 per year for a family of three. Thus, there is a "coverage gap" for some of Johnson County's lowest income residents -- those who make too much to qualify for KanCare, yet not enough to afford a Marketplace policy without the help of a subsidy. Based on U.S. Census Bureau data for 2018, KanCare expansion would offer a path to coverage for more than 10,400 uninsured Johnson County residents with incomes below 138% of poverty - and potentially thousands more who have lost income due to the economic impacts of COVID-19.
Expanding Medicaid can not only close the "coverage gap", it can also help ensure that unpredictable job losses do not result in devastating loss of health insurance coverage for Kansas residents. In neighboring states like Missouri and Oklahoma, Medicaid Expansion can be accomplished through a ballot initiative. In Kansas, the decision must be made through the state legislature. To learn more about Medicaid Expansion and why it is important to the health of Kansas residents now and in the future, visit Alliance for a Healthy Kansas.
---
UCS Human Service Summit is going Virtual - Register Today!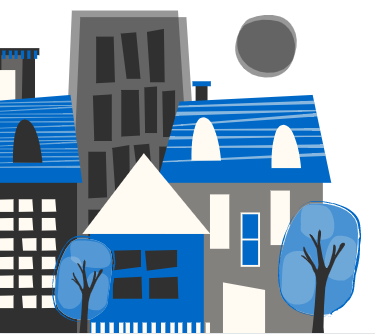 Join UCS for the 2020 Human Service Summit - Build Our Housing Future.  Be a part of the community conversation on housing, get an early look at housing data and survey insights from the Housing Study, and learn how you can participate in the Housing Task Force.
UCS' annual Summit is on Wednesday, August 26, 8:30 a.m. - 12:30 p.m.
Due to COVID-19 safety measures, this year's Summit will be held virtually via Zoom for all attendees. (Note: If you have already registered for the in-person option, your registration has been moved to the virtual option. No other action is needed)
This year's Summit will focus on the 2020 Johnson County Municipalities Community Housing Study/Task Force that is currently underway. The cities, county and UCS recently launched a community wide housing market and needs assessment, the findings of which will be used for a 10-year outlook on housing that local officials can use to make policy decisions in the future.
This is a unique opportunity to come together with representatives from various community sectors who care deeply about Johnson County and take part in a Housing Study listening session.  Our community's economic vitality and sustainability is only as healthy as those who live and work here.
Click here to sign up for virtual attendance.
---
Complete Your Johnson County Housing Survey Today!
The cities, county, and United Community Services of Johnson County (UCS) are seeking community input on the County's housing market in a newly released housing survey. The survey is part of a county wide housing study currently underway and provides an opportunity for people who know the communities in Johnson County best to share their insights. To date, nearly 2,500 survey responses have been collected. Overland Park, Olathe, Shawnee, Prairie Village, and Lenexa are leading in the total number of responses collected in their communities.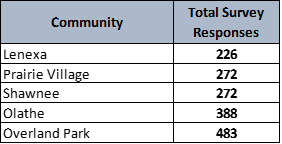 The survey will collect information about Johnson County residents' experiences with housing, as well as their opinions about the status of housing in the county, and what housing options are important to residents across all ages and stages of life. The findings from the survey will be released as part of the 2020 Johnson County Housing Market Study report and will be used to draft a 10-year outlook on housing that local officials can use to make policy decisions in the future.
Responses will be collected through the end of July 2020.  Click on one of the links to take the survey online (Survey is available in English and Spanish):
https://www.surveymonkey.com/r/JoCoHousing
https://www.surveymonkey.com/r/JoCoHousingSpanish
UCS is also asking your help in promoting the survey at your workplace and through your social networks.  Pleas share the survey links and informational flyers in English and Spanish about the survey and housing study. 
If you have questions, would like to learn more about how you can participate in other housing study activities, please contact Kristy Baughman, UCS, at kristyb@ucsjoco.org or 913-438-4764. Paper copies of the survey can be found in these locations: