What Matters Most to Employees? Engagement.
By Janet Barrow
Director of Human Resources and Administration, WaterOne
Board Member, UCS
Since March 2020, the world has been on the change roller coaster. Employment status, work location, redefining work-life balance, and a myriad of safety precautions have polarized every workplace.
We have gone full circle concerning unemployment rates prior to the pandemic. In 2019, the nation was experiencing the lowest unemployment rates for more than two decades. With the onset of the COVID-19 pandemic, unemployment rates mirrored post-recession rates. Within the prior couple of months, the U.S. Bureau of Labor Statistics listed Kansas as having the seventh lowest unemployment rate in the US at 2.4%. Specifically, the Kansas City metro area had an unemployment rate of 3.3% in January 2020 which rose to a high of 11.9% in April 2020, only to decline to 2.7% as of May 2022.
In 2021, the labor market saw the onset of The Great Resignation, a trend where increasingly larger numbers of employees voluntarily resigned. The reasons ranged from pandemic safety concerns, early retirement, growing opportunities for remote or gig employment, or a need to move their life in a different direction. It is still too early to know if this trend will continue. Fast forward to 2022, and the job market has shifted to now more vacancies than viable candidates.
What can employers do to bridge this gap? Engagement – connecting with your employees to understand what they value in a workplace is more important now than ever before.
Establishing an atmosphere of two-way communication and respect goes a long way. Employers must focus on enhancing the employee experience.
Are compensation and benefits competitive?
Is the work atmosphere welcoming and inclusive?
Do employees feel engaged, appreciated and recognized?
Is there an understanding and respect for work-life balance?
These factors and more contribute to an employee's (or candidate's) decision concerning joining or continuing with an employer. People must feel that they are receiving from the employer an appropriate return on their contributions of time, labor, and commitment.
For example, one component of the employee experience is inclusion or enhancement of remote and/or hybrid schedules. At the onset of the pandemic, employers and employees had to decide how to proceed. Even though telework was not new, many organizations embraced it for the first time for the sake of business continuity. A recent finding from the U.S. Bureau of Labor Statistics stated that depending on the size and industry of the business, between 33 and 50 percent of establishments increased telework during the pandemic. Along with telework, the prevalence or opportunity for alternative or flexible schedules also increased. The value of flexible schedules has proven to outlive the rapid response to the pandemic. The Great Resignation included many individuals that left workplaces that were unable or unwilling to flex schedules or work locations. It is critical that employers continue to innovate work practices that are important to employees.
As an HR professional, I believe this is an exciting time. I love the new concepts being introduced and the speed of innovation that is not only improving our workplaces, but making people excited to show up to work and contribute to a common goal. I can't wait to see the workforce of the future…which is closer than you think.
Source cited: US Bureau of Labor Statistics, Monthly Labor Review, March 2022, Telework During Covid-19 Pandemic: Estimates Using the 2021 Business Response Survey
---
Data Indicates Disparate Opportunities for Remote Work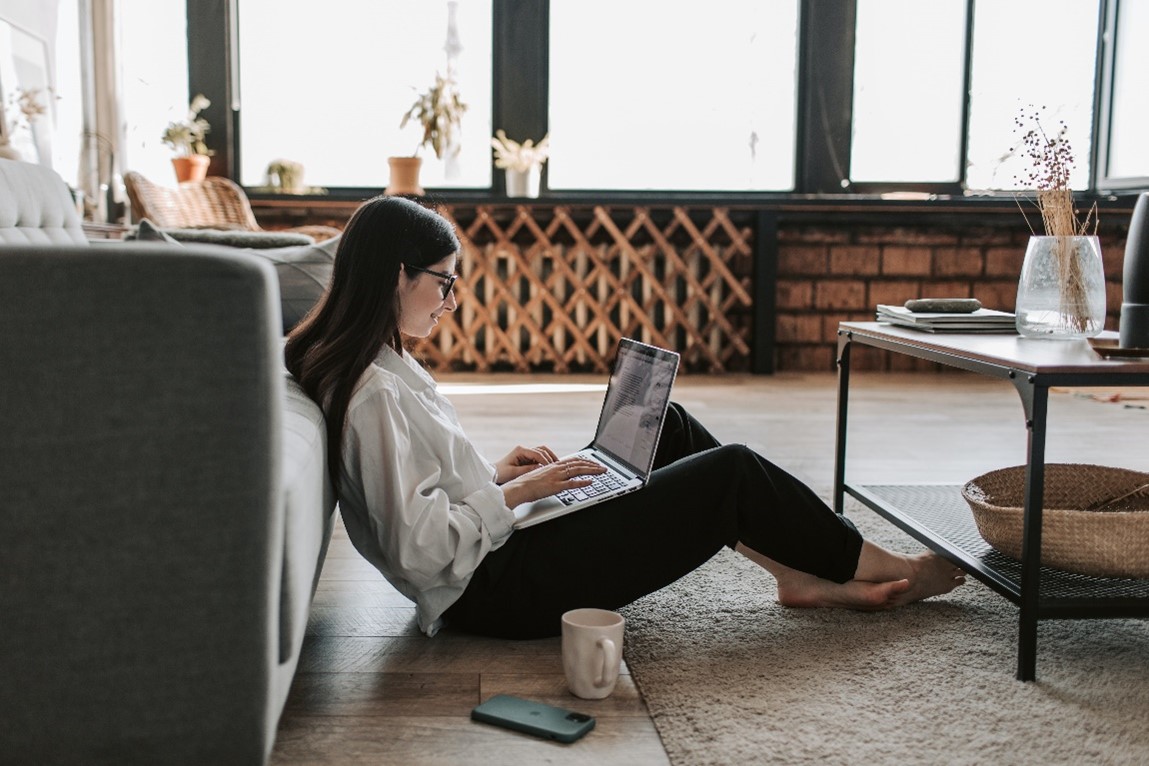 Approximately 30% of Kansas workers telework or work from home, according to recent data from the Household Pulse Survey. The Household Pulse Survey is administered by the U.S. Census Bureau, designed to quickly and efficiently deploy data collected on how people's lives have been impacted by the coronavirus pandemic. Survey data is collected periodically with a two-weeks on, two-weeks off collection and dissemination approach.
According to the most recent survey data for the period of June 29 – July 11, 2022, women work from home slightly more frequently than men. Among those with children in the household, approximately 37% are working remotely. Younger workers aged 18-24 are up to five times as likely to remote work than workers who are age 65 and older. Among racial groups surveyed, 1 in 3 White workers works remotely compared to 1 in 10 Black workers and approximately 1 in 8 Hispanic/Latino workers. Workers with high incomes are significantly more likely to telework at least once per week compared to those with lower incomes.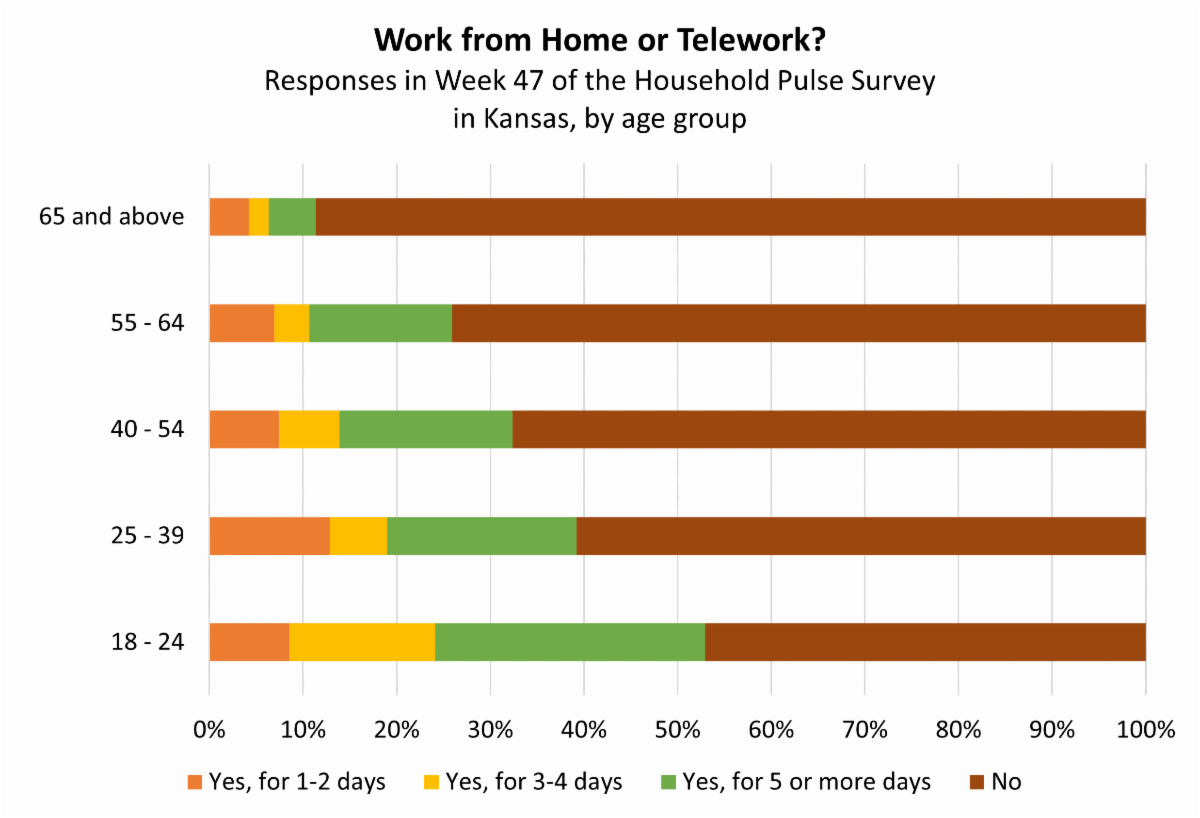 ---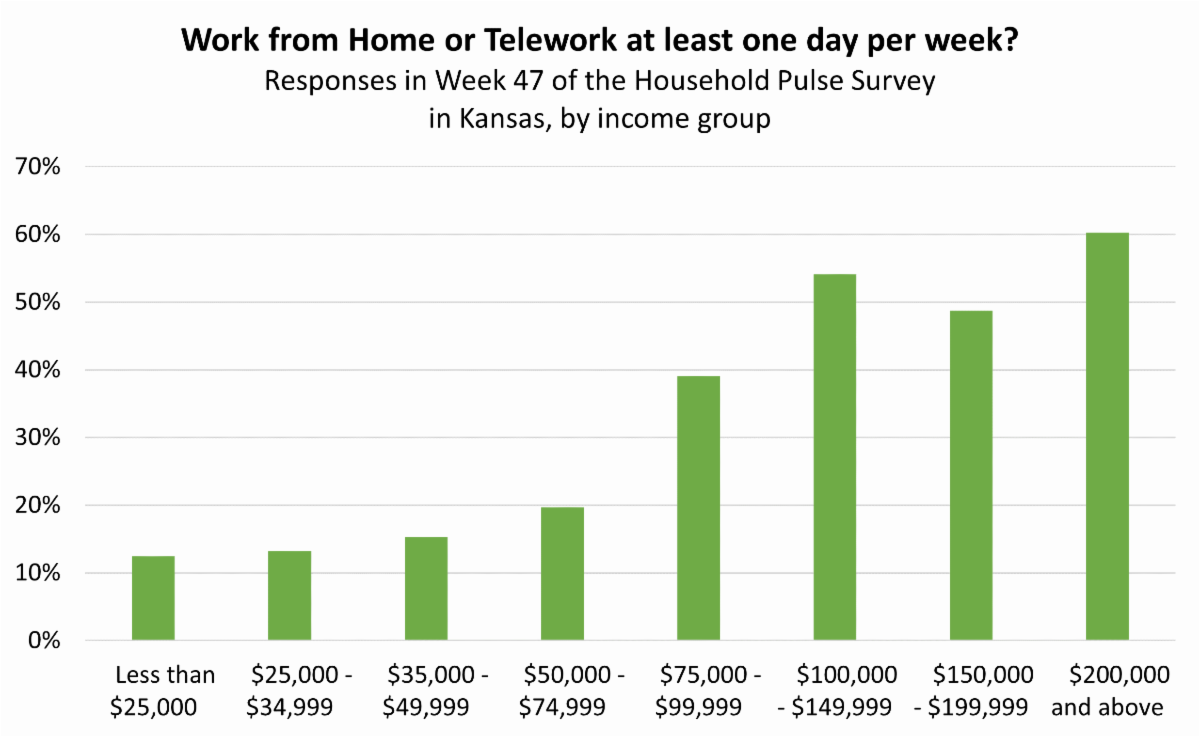 ---
Registration open for first Annual Health Summit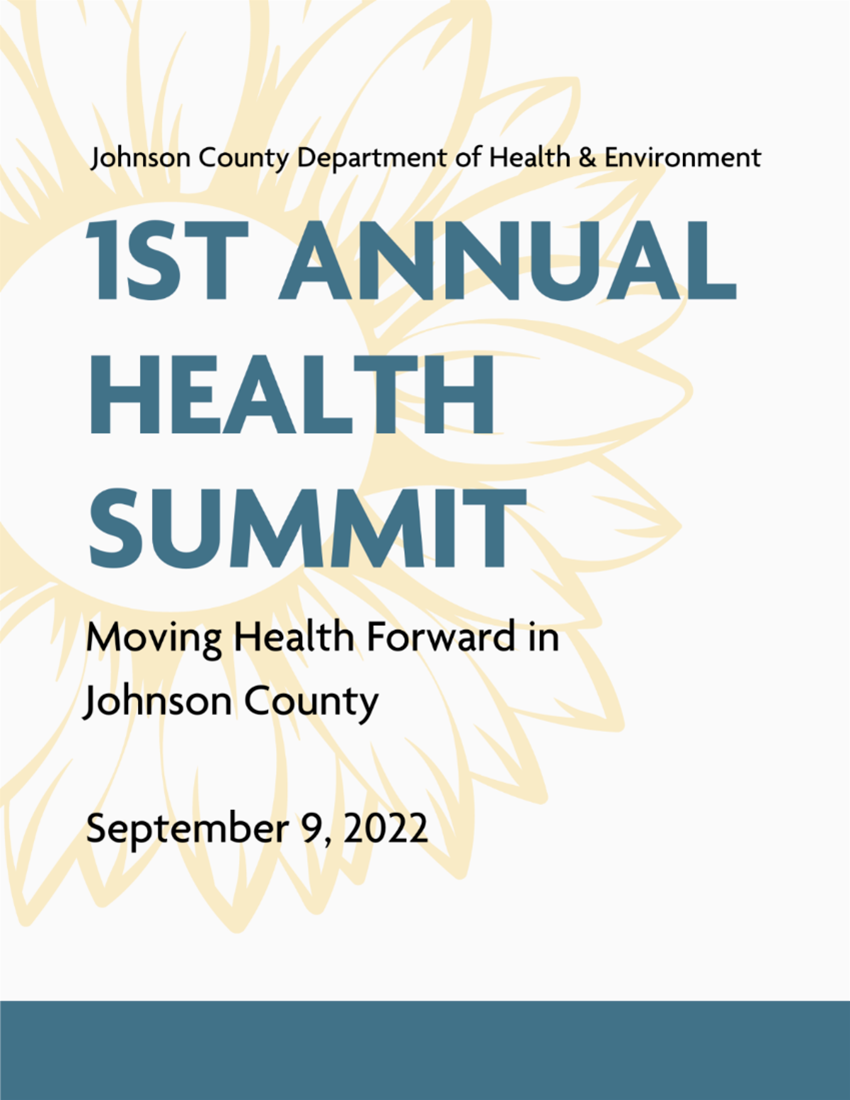 Johnson County Department of Health and Environment will host an exciting day of learning about Moving Health Forward in Johnson County. This summit is a first step towards building bridges with all parts of our community. Learn more and register here by August 29.
---
The Kansas Homeowner Assistance Fund (KHAF) program is open for applications!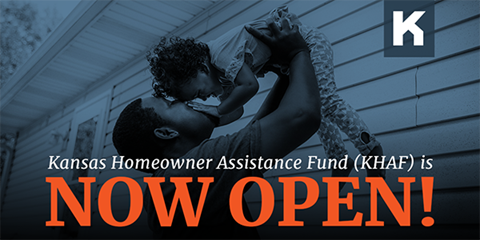 Don't wait, apply today! Funds are limited.
The Kansas Homeowner's Assistance Fund (KHAF) program's goal is to aid homeowners in avoiding foreclosure by assisting with homeownership related expenses.
Applicants must be at least 30 days past due on their mortgage or property taxes/charges to qualify for assistance types.
Habitat for Humanity is offering application assistance for residents. Contact:
Kylie Navarro, knavarro@habitatkc.org, (816) 924-1096 X 1040 OR
Shawn Brantley, sbrantley@habitatkc.org, (816) 924-1096 X 1041
For other questions or to apply on your own, reach out to:
KHAF Call Center at 855-307-KHAF (5423) or complete the KHAF Contact Us Form.
Qualifications
The household gross income must not be more than 150 percent (150%) of the area median income (AMI) for the County in which the property is located or 100% US Median Income. See KHAF Income Chart.
The property must be located within the state of Kansas.
The property must be the applicant's primary residence.
The applicant must be the owner of the property.
Applicants must be at least 30 days past due on their mortgage or property taxes/charges to qualify for assistance types.
There must be a pandemic-related financial hardship after January 21, 2021 (loss of income or increase in expenses).
Original mortgage amount must be within conforming loan limits.

Eligible Properties
Owner Occupied, Primary Residences (second homes and investment properties are not eligible for assistance).
Single Family Residences, One to Four Unit Dwellings, Condos, Manufactured Homes (affixed and unaffixed) and Townhomes.

Assistance Terms
$60,000 Max Assistance Amount (this is a combination of up to $50,000 in mortgage reinstatement and payment assistance plus up to $10,000 in property charges and utility/internet/broadband assistance) provided as a grant up to $25,000 and a two-year forgivable, no-interest loan for mortgage related assistance more than $25,000.

Assistance Types 
Mortgage Reinstatement Assistance
Mortgage must be past due by at least 30 days.
Assistance up to $50,000.
Reinstatement assistance must bring the mortgage current by curing all past-due amounts.
This assistance covers past due primary mortgage, second mortgages, reverse mortgages, and even non-traditional loans such as land contracts (contract for deed) or manufactured homes. 

Mortgage Payment Assistance
Must have current mortgage delinquency.
Combined assistance (including reinstatement) up to $50,000.
Up to six (6) months of forward payment assistance paid directly to mortgage servicer.

Property Charges Assistance
Property charges and/or taxes must be past due by at least 30 days.
Assistance up to $10,000 maximum (inclusive of utility/internet/broadband assistance when applicable).
This assistance covers past due property charges including property taxes, insurance premiums (including homeowner's insurance and flood insurance), homeowner association fees, condominium association fees, cooperative maintenance, and common charges.

Utility/Internet/Broadband Assistance
Must have mortgage or property tax/charge delinquency to qualify.
Assistance up to $10,000 maximum (inclusive of property charges assistance when applicable).
This assistance covers past due electricity, water, wastewater, gas, home energy, internet, and broadband.

How do I Start?
For questions, please contact the KHAF Call Center at 855-307-KHAF (5423) or complete the KHAF Contact Us Form.