A Profile of Johnson County's Older Adults
More than 93,000 seniors call Johnson County home, representing 15.3% of the population who are age 65 and older. One in four seniors live alone, a trend that is more common in the United States than in many other countries, according to Pew Research Center. Among other challenges, the cost burden of housing affects 23% of homeowners and a striking 64% of renters. Our latest fact sheet emphasizes the need for support networks, housing options, and community services to enhance the health and well-being of older adults in our community.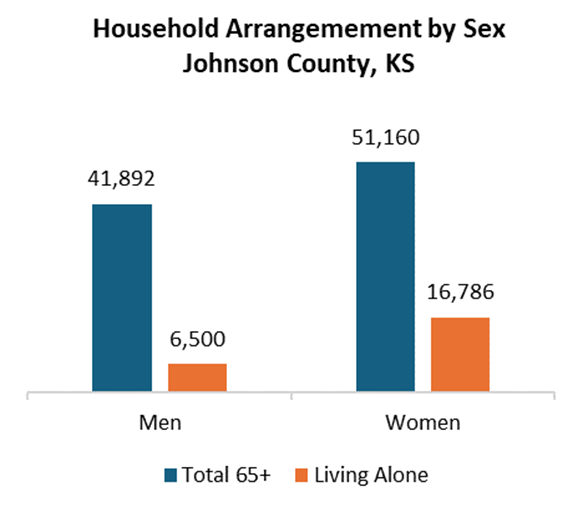 ---
Editorial: Livable Communities for All Ages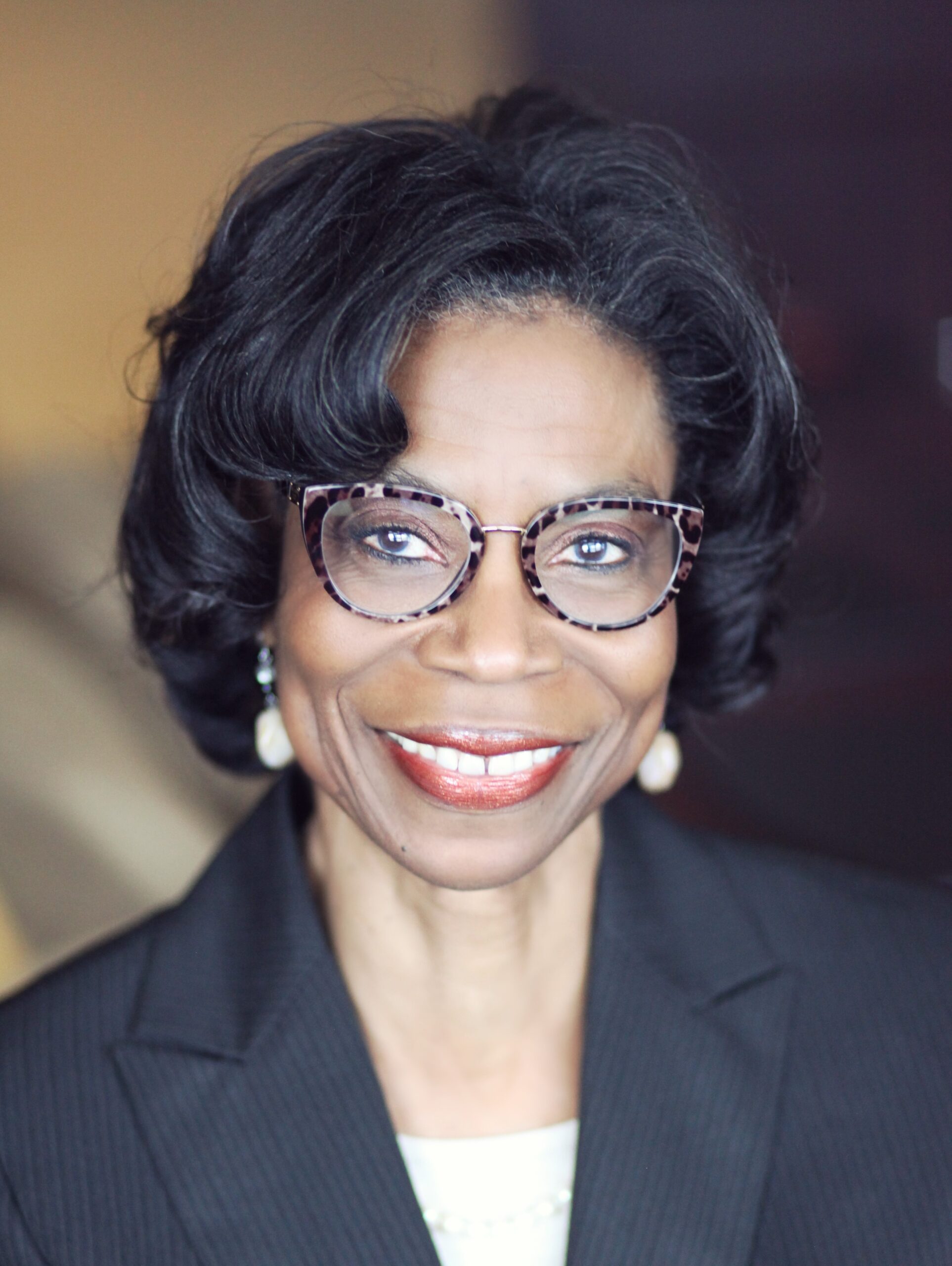 Glenda DuBoise, State Director
AARP Kansas
One out of three Americans is age 50 or older. By 2030, one out of every 5 people in the United States will be 65 or older. By 2035 there will be more people over the age of 65. Will your community be ready?
The vast majority of people age 65 or older want to remain in their current home or community as they age. The formula for what makes a community livable isn't particularly complex. For the most part, the features and needs are fairly simple. In a livable community, people of all ages can go for a walk, cross the streets, ride a bike, get around without a car, live safely and comfortably, work or volunteer, enjoy public places, socialize, spend time outdoors, be entertained, go shopping, buy healthy food, find the services they need—and make their city, town or neighborhood a lifelong home.
In too many communities, it can be impossible to get around if you don't have a car. In too many communities, sidewalks are few and far between. For too many years, transportation policies have mostly served people using fast-moving vehicles rather than public transit, bicycles or their own two feet. But a street that's safe for a 70-year-old to cross to shop is safe for a 7-year-old walking to school. Complete, smartly planned streets and transportation options are great for people of all ages.
Living in a place that requires having a car for every errand or outing can be a difficult place to live if you don't have a car or can't drive. Living in a place without access to outdoor spaces, good schools and healthy food isn't very livable, especially for young families. Living in a community that isn't safe, or offers few activities, can be isolating for people regardless of age.
Affordable housing options that enable people to live safely, comfortably, and independently for as long as possible are also extremely important. That's why AARP encourages communities to welcome housing options and develop homes that are accessible to residents and guests of all ages and abilities. Smart, age-friendly homes are great places for people of all ages.
A livable community is livable for people of all ages and life stages. Boomers and millennials alike share an affinity for places that offer a shorter commute, proximity to shops and services, a mix of homes, a mix of incomes, and robust public transit options. That is why AARP Kansas is working in communities like Johnson County, Wichita and across the state to make Kansas a livable state for all ages.
AARP Kansas works to educate and inspire elected officials, local leaders, planners, and citizen activists about how to identify their community's specific needs and then create and implement the programs, policies and projects that will help meet those needs. Toward achieving that goal, we create and manage programs, tool kits, how-to guides, and a collection of easy-to-use and understand printed and online materials to engages volunteers and residents so they can support positive changes that make their communities even better places to live for all. For more information about our work and free resources, visit www.aarp.org/livable.
---
Perspectives on Homelessness: Robert Welch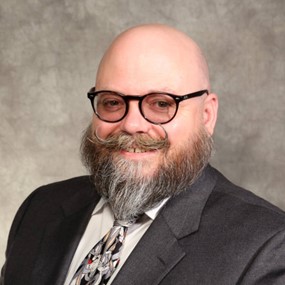 "For every person experiencing homelessness you see on a corner, there are four others you do not see," said Robert Welch, who is a board member of Dignity Project and works at SelectQuote Insurance Company. "Many are working. It is hard to be productive at work, or even show up on time, when you do not know where you are sleeping. If employment is lost due to these issues, the ability to exit homelessness is nearly impossible."
In his twenties, Robert experienced homelessness in the Wichita area. Early intervention helped him maintain employment and was crucial to his future success. "I share my experience to help change the conversation about who those experiencing homelessness are and what their potential is. It is easy to look away or ignore this group. When we do, we are pushing out a group of people with the potential to make our lives, our businesses and our community better."
The longer we wait to support people, Robert explained, the deeper the problems become. "They just need a way to stop falling, and most can get themselves out," he continued, sharing that a year-round, individual shelter in Johnson County would help provide a needed resource at just the right time, before people experiencing homelessness fall too deep. Robert would like to see people from across the community learn more since people experiencing homelessness are right here in our county. "They are your friends, your family members, your co-workers, and workers in the offices, stores, restaurants, and warehouses where you do business," Robert shared. "I hope people understand the human needs behind the issue. Hopefully we will start to identify where we have gaps and find resources to fill those needs either from government, non-profit, religious or business entities."
---
2023 Johnson County Community Health Assessment Survey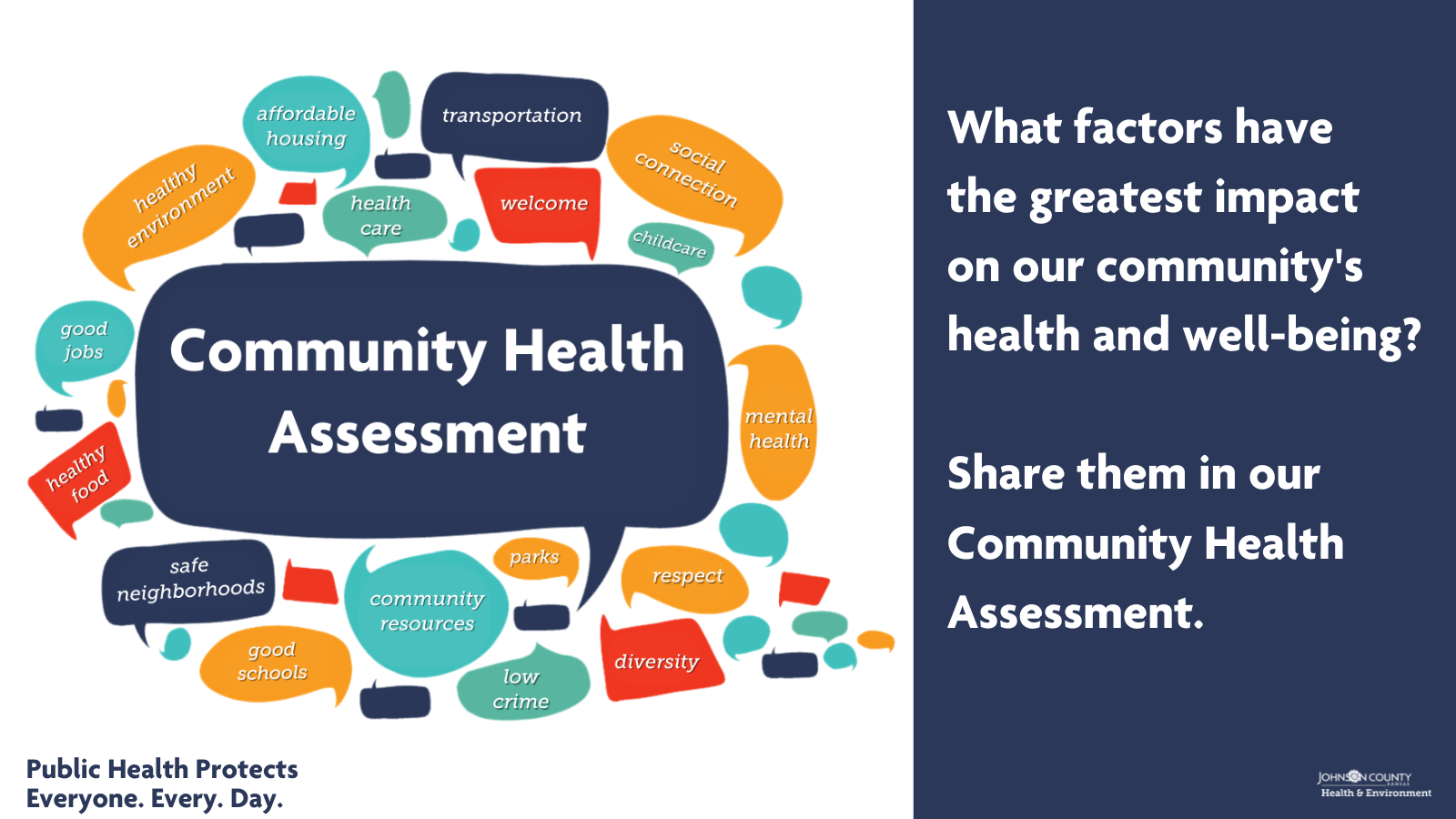 In partnership with Johnson County Department of Health and Environment (DHE), UCS encourages you to participate in this year's community health assessment by clicking on https://tinyurl.com/JoCoCHA23.
Johnson County depends on community responses to assure that its health improvement planning process is grounded in local priorities and informed by local assets and barriers to health and well-being. DHE conducts a survey every 3-5 years as part of its commitment to assessing and monitoring the population's health.
Your participation assures that future planning reflects the Johnson County community's perspective, and survey responses combined with other data will act as the foundation for the upcoming health improvement plan. Please take 15-20 minutes to share your insights and play a part in Johnson County's future.
For additional questions about the survey and how data will be used, please contact Valorie Carson at valorie.carson@jocogov.org.
Click here for more information about the Community Health Assessment: https://www.jocogov.org/department/health/community-health-network.