Summary Report
2020 UCS Human Service Summit — Build Our Housing Future
UCS' 2020 Human Service Summit was unique in many aspects this year. The Summit gathered the approximately 170 attendees on a highly interactive virtual platform that included small breakout sessions, interactive Q&A, and participant polls. Additionally, the Summit featured an early look at the Johnson County Municipalities Community Housing Study – the first study of its kind for the county since 2004. Finally, the event gave an overview of the soon to be launched Housing Task Force which is tasked with moving the study's findings and recommendations to the planning and implementation phase.
Amy Haase and Charlie Cowell of RDG Planning and Design, the consultants leading the housing study, provided an early look at the data from the study and the recently completed resident survey. More than 4,500 Johnson County residents and employees completed the survey, sharing their thoughts on issues such as availability of attainable housing and rental options at various price points, thoughts on current housing conditions and which types of housing solutions and options would be most appealing. The RDG consultants also conducted approximately 19 virtual listening sessions throughout the county across multiple community sectors. Click here for the Summit Presentation Materials and Program.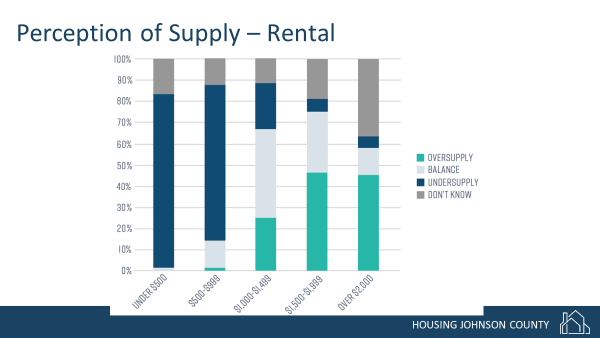 The event also was an opportunity to introduce the next phase of the effort to address safe, stable, and attainable housing needs in Johnson County. The next step will be to form a multi-sector Housing Task Force. This work will be led by Sheila Shockey of Shockey Consulting. The Task Force will be comprised of representatives throughout the nineteen cities and the county, representing a wide variety of sectors to leverage a broad range of lived experiences, perspectives, and interests to build community support for the implementation of housing strategies. If you are interested in learning more and participating in the Housing Task Force, please click here to sign up.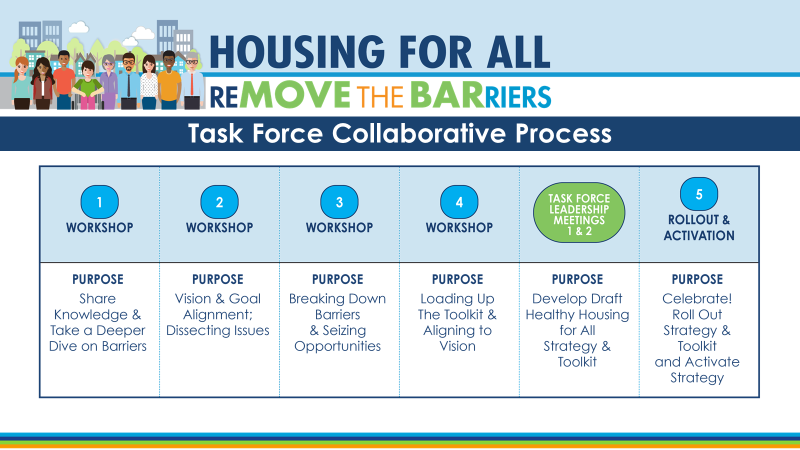 The Summit included a multi-sector panel discussion on housing, moderated by Steve Kraske, host of KCUR's Up to Date. Panelists included:
Mayor Eric Mikkelson, City of Prairie Village
Qiana Thomason, President/CEO, Health Forward Foundation
Dennis Strait, AIA, ASLA, NCARB, LEED AP - Principal at Gould Evans
Maria Zuluaga, The Zuluaga Real Estate Group
Will Ruder, Executive Vice President, Homebuilders Association of Greater Kansas City
The panelists discussed a wide range of issues including how local municipalities can help lower the cost to build attainable housing; what role healthcare should have in responding to social issues that impact health—such as housing; what we are missing in our market that would help create more affordable options; and what the housing options are like for young professionals, seniors, young families, and the pool of what has become known as essential workers.
Attendees participated in small breakout listening sessions, discussing who they are most concerned about when it comes to finding stable, attainable housing in Johnson County; what options currently exist in their communities for lower income families and seniors; what role they think their community is willing to play in addressing housing demand by lower income households; and how the pandemic has changed or reinforced their opinion on ensuring availability of a variety of housing options for families across all income levels. The listening session discussions will be used as a component of the housing study's research and report.
UCS appreciates all the Summit participants and were thrilled with the level of participation and engagement from attendees for the four-hour virtual event. Many thanks to this year's Summit sponsors: Roxann Kerr Lindsay, Tom Herzog, Maury and Angie Thompson, Johnson County Community College, MARC, REACH Healthcare Foundation and United Way of Greater Kansas City. To learn more about the Johnson County Health Equity collaboration with the cities and the county to address housing needs, please go to: https://ucsjoco.org/health-equity-network/
---
TAY Planning Project Speaker Series
UCS is in its third year partnering with area agencies to implement the Transitional-Age Youth (TAY) Planning Project thanks to ongoing support from the REACH Healthcare Foundation. The goal of this project is that every at-risk transitional-age youth in Johnson County will enter adulthood successfully. An important component of this work is engaging the community and raising awareness of the issues impacting transitional age youth in Johnson County.
In 2018, UCS and the TAY Leadership Team launched a speaker series aimed at engaging and educating the community around the needs of the TAY population in Johnson County. The series has included a homeless youth simulation presented by ReStart, presentations on Screen-based Addiction and on Recognizing and Responding to Human Trafficking of Minors and Transitional Age Youth, and a half-day training on Advocating for LGBTQ Youth Affected by Trauma.
As part of this continuing effort, UCS and the TAY Planning Project will present a three-part virtual workshop focusing on Best Practices to Effectively Partner with Youth. Each session will last for 90 minutes and will cover a different component. These dynamic training sessions will cover research-based best practices, outline tips for implementation, and promote transparent conversation to learn from one another. Anyone working with young people or anyone with a young person in their lives will benefit from this three-part series.
Positive Youth Development: September 24, from 3:30pm – 5:00pm
Adultism
Power & Control
Growth Mindset/Fixed Mindset
Trauma-Informed Care: October 1, from 3:30pm – 5:00pm
Trauma & Brain Development
Strengths-based Approach
Empowering Relationships (Include discussion around how Covid-19 regulations and Black Lives Matter impact relationship building)
Harm Reduction: October 8, from 3:30pm – 5:00pm
Power of Choice
Acceptance versus Judgement
Cycle of Behavior Change
Wrap-up Activity where we apply all three approaches
These sessions will be presented by Cynthia Hoffman and Ash R Allee, LMSW. Since 2013, Cynthia has worked with homeless and at-risk teens in a school setting, transitional living program, and street outreach program. Cynthia has more than 10 years of experience providing positive youth development programs, strategies, and trainings. Ash is a licensed social worker, professor, queer activist, and consultant. For the past decade, Ash has organized and facilitated numerous community events focused on raising awareness of the LGBTQ community. Ash is the co-creator and lead advisor of Transformations, a non-profit organization that provides programming and support to trans and gender-expansive young people in Kansas City.
The sessions are free thanks to grant support. To register, visit these links:
Part 1: Positive Youth Development