Celebrating Hispanic Heritage Every Day
By Erik Erazo
Executive Director of Student & Community Engagement, Olathe Public Schools
Board Member, UCS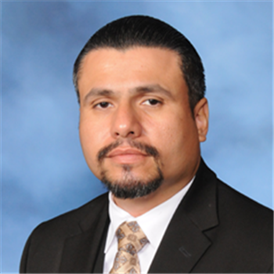 Welcome to Hispanic Heritage Month. This month represents the important history and contributions Hispanics have made to this country. It has been celebrated in the United States for more than 50 years, since 1968. Although there have been many well-known people who have paved the way for Hispanics, such as Caeser Chavez (labor leader and civil rights activist) and Ellen Ochoa (an astronaut and engineer who was the first Hispanic woman to go to space), to me Hispanic Heritage Month is about celebrating the contributions, small and large, of everyday, hard-working Hispanic men and women in our communities. Hispanic Heritage Month represents family values, courage, strong work ethic, and bravery. It is about grit. I see these traits every day in the community and those qualities solidify what I think about my culture.
My parents, Griselda and Elias, came to the United States in 1981. My dad found work as a custodian at a bakery in downtown San Francisco. He learned every job in the bakery, because he knew that without certain skills, he could not advance. Fourteen years later in 1995, my dad bought the bakery that he once took care of as custodian. This showed me at a young age that if I want anything in my life in the United States, I must work for it. Similarly, in my current role as the Executive Director of Student and Community Engagement for the Olathe Public Schools, I see this same grit that my father exemplified portrayed by Hispanic families in our communities. Seeing this every day inspires me and makes me want to keep advocating for our Hispanic families.
As we celebrate Hispanic Heritage Month, it is important to highlight the "invisible worker." The "invisible worker'' is the worker who works behind the scenes whose contributions often go unnoticed but are extremely vital to making the country operate – workers like my dad. They truly embody the American Dream. These workers are showing their children what it takes to be successful. It is a blessing that their work ethic will create children who become teachers, lawyers, doctors, veterans, and so much more.
As the county takes time to recognize Hispanic Heritage month, I celebrate the Hispanics who have gone before me and made it possible for my family to come to this country. I celebrate my parents who came here and show me that their contributions matter. I celebrate the Hispanics who are currently making this community operate on a daily basis so that we can enjoy our life in Johnson County. I celebrate future generations who will carry our stories and legacies forward. It is amazing to think about the opportunities that will come to these future generations because those who came before us cared enough to pave the way.
---
Job and Resource Fair for Johnson County Families on September 28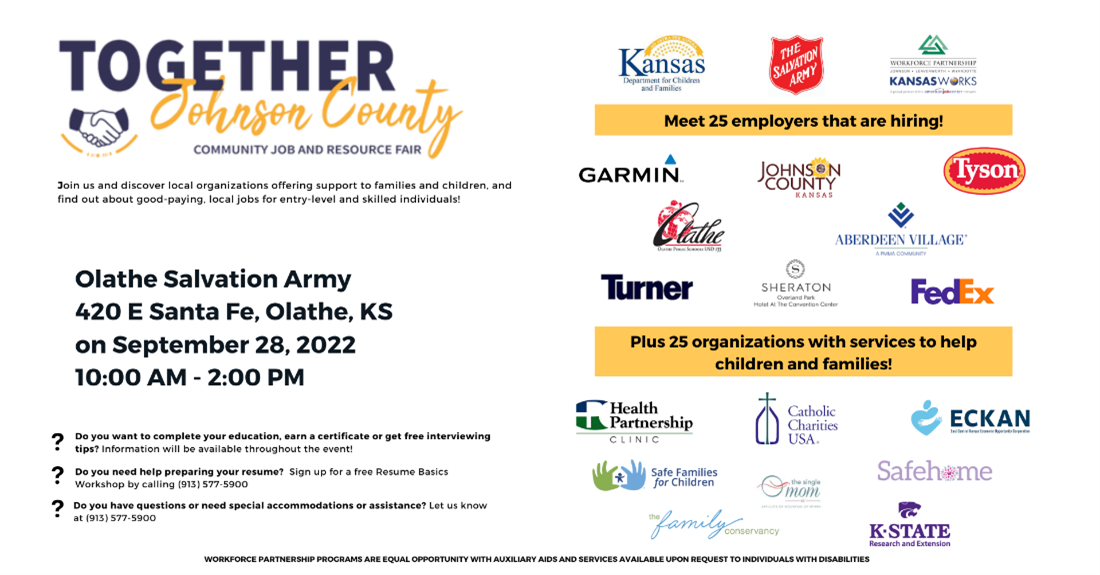 Workforce Partnership is partnering with DCF and Olathe Salvation Army for a unique event that brings together jobs and resources for families and children.
Together Johnson County Job + Resource fair
September 28, 2022
10:00 a.m. – 2:00 p.m.
Olathe Salvation Army
420 E Santa Fe Road, Olathe, Kansas 66061
This event is free, open to the public, and features 50 employers and community organizations offering assistance to families and children.
---
Digital Equity Workshops Aim to Improve Access to Reliable Internet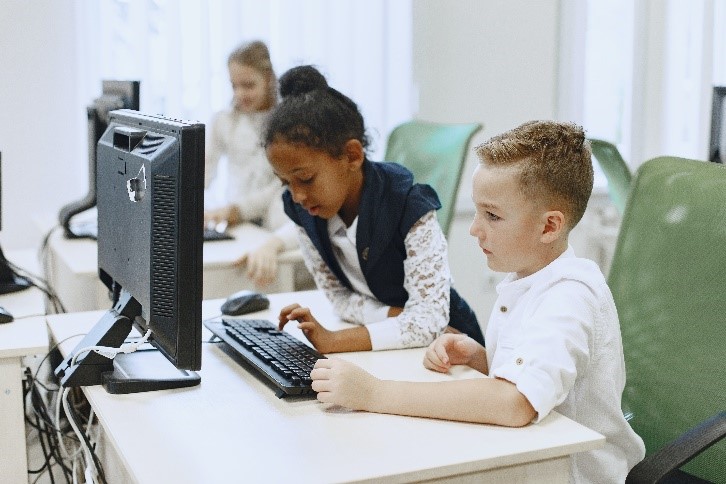 As part of the Kansas City Regional Digital Equity Action Strategy, KC Rising, the Federal Reserve Bank of Kansas City, the Mid-America Regional Council and other community organizations are joining forces to ensure affordable, reliable, high-speed internet is available to everyone across the region.
Upcoming Digital Equity Workshops are an opportunity to share opinions on the biggest issues affecting access to and use of the internet. During the workshop, participants will be able to review detailed information about the availability of broadband internet in their community. They will also brainstorm and identify potential broadband projects to improve internet access across the region.
Learn more here and see below for information on the Johnson County workshop.
LOCATION
Johnson County Central Resource Library, Carmack Room
9875 W. 87th St.
Overland Park, KS 66212
DATE AND TIME
October 6, 2022
5:30pm - 7:00pm
---
Take One Small Step with UCS
Why does it feel like it's so hard to connect with those around us, especially those who have different views?
Perhaps we just need more practice. Perhaps it's as simple as a conversation.
That is why UCS is launching a new project that's all about bringing our community together just to talk. The One Small Step project pairs strangers with different beliefs for a 50-minute conversation about their lives and the things they share.
We're looking for Johnson County residents who are inspired and energized by the idea of connecting with people who have different views. Click here to join us!
---
The Kansas Homeowner Assistance Fund (KHAF) program is open for applications!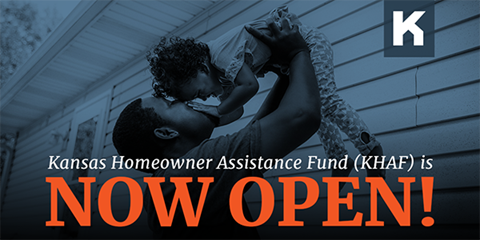 Don't wait, apply today! Funds are limited.
The Kansas Homeowner's Assistance Fund (KHAF) program's goal is to aid homeowners in avoiding foreclosure by assisting with homeownership related expenses.
Applicants must be at least 30 days past due on their mortgage or property taxes/charges to qualify for assistance types.
Habitat for Humanity is offering application assistance for residents. Contact:
Kylie Navarro, knavarro@habitatkc.org, (816) 924-1096 X 1040 OR
Shawn Brantley, sbrantley@habitatkc.org, (816) 924-1096 X 1041
For other questions or to apply on your own, reach out to:
KHAF Call Center at 855-307-KHAF (5423) or complete the KHAF Contact Us Form.
Qualifications
The household gross income must not be more than 150 percent (150%) of the area median income (AMI) for the County in which the property is located or 100% US Median Income. See KHAF Income Chart.
The property must be located within the state of Kansas.
The property must be the applicant's primary residence.
The applicant must be the owner of the property.
Applicants must be at least 30 days past due on their mortgage or property taxes/charges to qualify for assistance types.
There must be a pandemic-related financial hardship after January 21, 2021 (loss of income or increase in expenses).
Original mortgage amount must be within conforming loan limits.

Eligible Properties
Owner Occupied, Primary Residences (second homes and investment properties are not eligible for assistance).
Single Family Residences, One to Four Unit Dwellings, Condos, Manufactured Homes (affixed and unaffixed) and Townhomes.

Assistance Terms
$60,000 Max Assistance Amount (this is a combination of up to $50,000 in mortgage reinstatement and payment assistance plus up to $10,000 in property charges and utility/internet/broadband assistance) provided as a grant up to $25,000 and a two-year forgivable, no-interest loan for mortgage related assistance more than $25,000.

Assistance Types 
Mortgage Reinstatement Assistance
Mortgage must be past due by at least 30 days.
Assistance up to $50,000.
Reinstatement assistance must bring the mortgage current by curing all past-due amounts.
This assistance covers past due primary mortgage, second mortgages, reverse mortgages, and even non-traditional loans such as land contracts (contract for deed) or manufactured homes.

Mortgage Payment Assistance
Must have current mortgage delinquency.
Combined assistance (including reinstatement) up to $50,000.
Up to six (6) months of forward payment assistance paid directly to mortgage servicer.

Property Charges Assistance
Property charges and/or taxes must be past due by at least 30 days.
Assistance up to $10,000 maximum (inclusive of utility/internet/broadband assistance when applicable).
This assistance covers past due property charges including property taxes, insurance premiums (including homeowner's insurance and flood insurance), homeowner association fees, condominium association fees, cooperative maintenance, and common charges.

Utility/Internet/Broadband Assistance
Must have mortgage or property tax/charge delinquency to qualify.
Assistance up to $10,000 maximum (inclusive of property charges assistance when applicable).
This assistance covers past due electricity, water, wastewater, gas, home energy, internet, and broadband.

How do I Start?
For questions, please contact the KHAF Call Center at 855-307-KHAF (5423) or complete the KHAF Contact Us Form.