U.S. Census Releases 2021 1-Year American Community Survey Data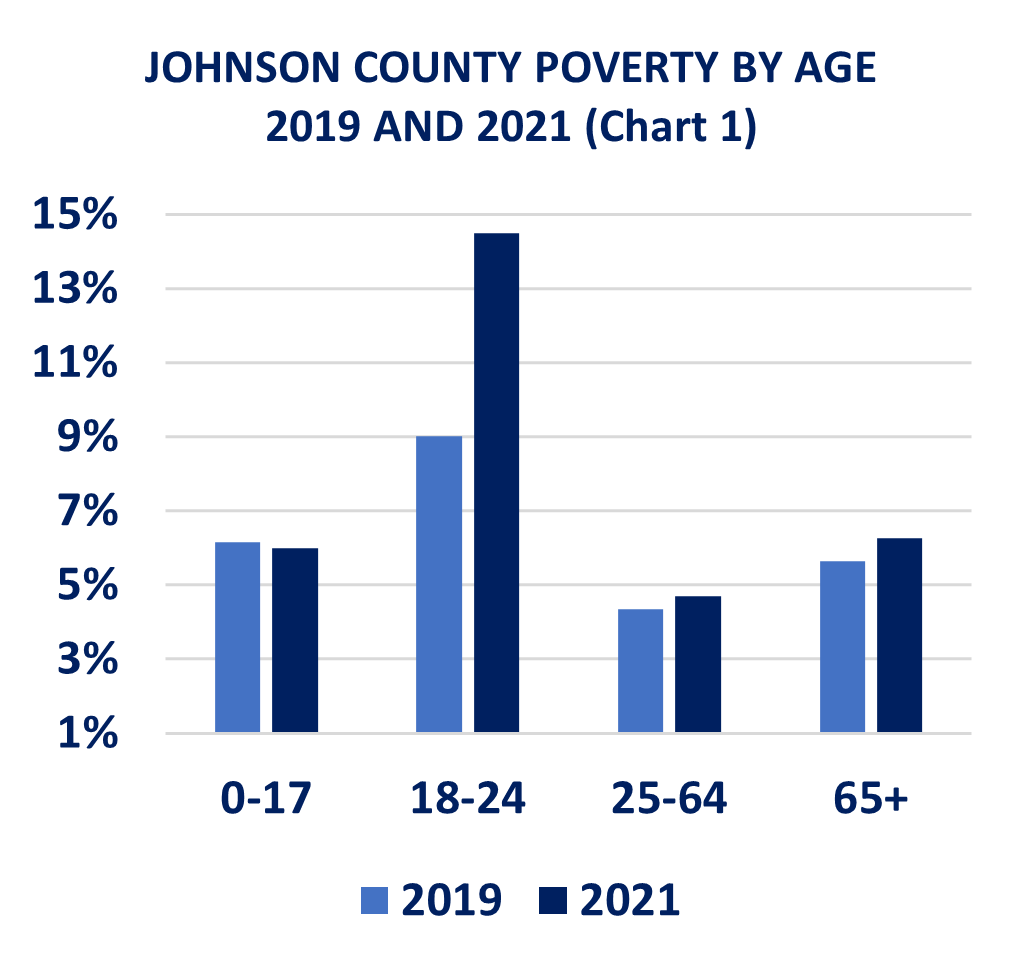 Earlier this month the U.S. Census Bureau released the 2021 1-year American Community Survey (ACS) data. This is the first 1-year data from the ACS since 2019 data was released. One-year data was not released from 2020 due to an overall low survey response rate that year. According to the newly released data, 36,492 people in Johnson County were living at or below the poverty line ($21,960, or $1,830 per month for a family of three) in 2021. Nearly 15% (90,341 people) of Johnson County residents were living at or below 200% of the federal poverty level in 2021. For a family of three, 200% of the Federal Poverty level was $43,920, or $3,360 per month. As chart 1 shows, the poverty level in Johnson County varied by age in 2021, with those in the 18 – 24 age group experiencing the highest levels of poverty.
Supplemental Poverty Measure: How Public Assistance Impacts Poverty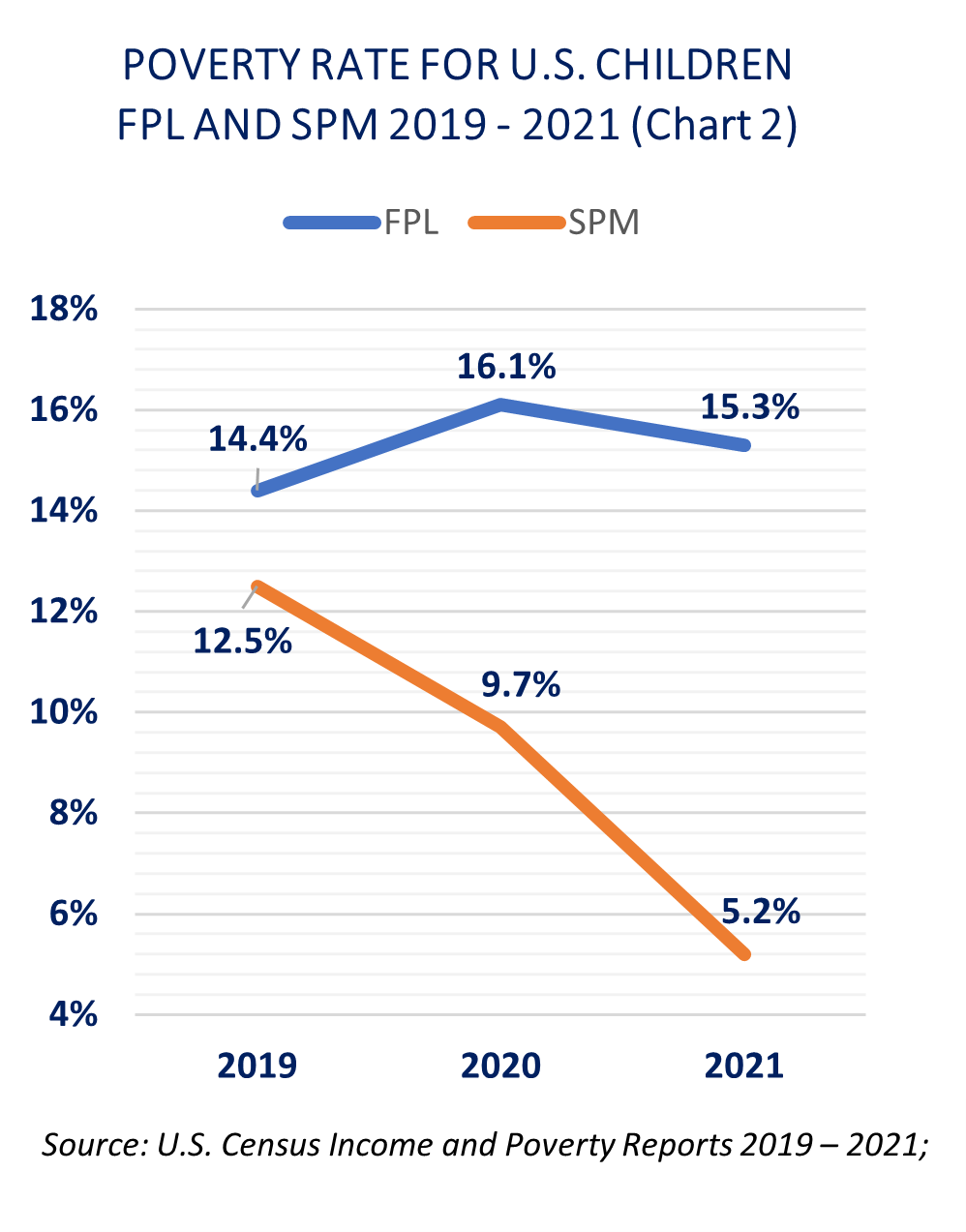 UCS fact sheets, presentations, and online interactive maps related to poverty are based upon the Federal Poverty Level (FPL) which is updated annually by the U.S. Department of Health and Human Services. According to this measure, individual or family pre-tax incomes that fall below the FPL are considered "in poverty".
Beginning in 2011, the U.S. Census Bureau began publishing data based on the Supplemental Poverty Measure (SPM). The SPM includes pre-tax income and adds the value of public assistance resources such as refundable tax credits, nutritional assistance, subsidized housing, and home energy assistance. In addition, the SPM subtracts the value of expenses such as income and payroll taxes, medical out-of-pocket expenses, and childcare expenses.
Public assistance programs have the potential to help low-income families meet the cost of basic needs and provide a bridge to long term stability. The SPM provides valuable insight to the impact of public assistance on children and families. For example, as shown in chart 2, the 2021 poverty rate for U.S. children using the SPM was nearly 10% lower than the poverty rate using the FPL.
However, equating public assistance with household income can be problematic as public assistance does not reflect the wages individuals or families actually earn. Additionally, public assistance programs have time and eligibility limitations that make these supports temporary and sometimes difficult to sustain. It is also important to note that the FPL, based on individual and family cash income, is the measure that government agencies use to calculate eligibility for public assistance programs.
---
Digital Equity Workshops Aim to Improve Access to Reliable Internet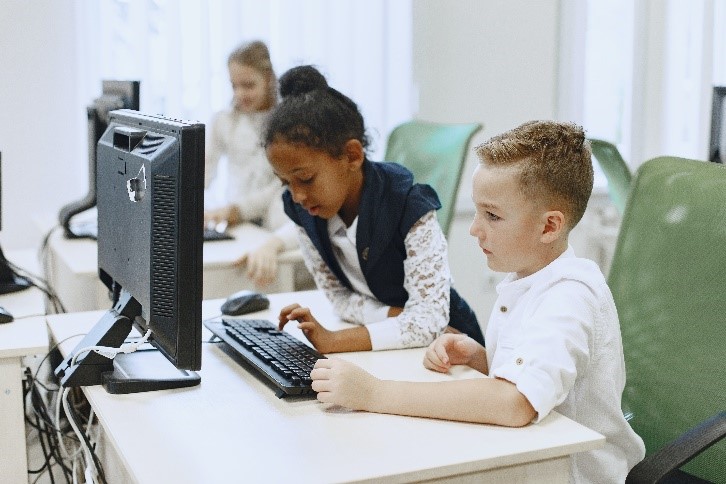 As part of the Kansas City Regional Digital Equity Action Strategy, KC Rising, the Federal Reserve Bank of Kansas City, the Mid-America Regional Council and other community organizations are joining forces to ensure affordable, reliable, high-speed internet is available to everyone across the region.
Upcoming Digital Equity Workshops are an opportunity to share opinions on the biggest issues affecting access to and use of the internet. During the workshop, participants will be able to review detailed information about the availability of broadband internet in their community. They will also brainstorm and identify potential broadband projects to improve internet access across the region.
Learn more here and see below for information on the Johnson County workshop.
LOCATION
Johnson County Central Resource Library, Carmack Room
9875 W. 87th St.
Overland Park, KS 66212
DATE AND TIME
October 6, 2022
5:30pm - 7:00pm
---
The Kansas Homeowner Assistance Fund (KHAF) Program is Open for Applications!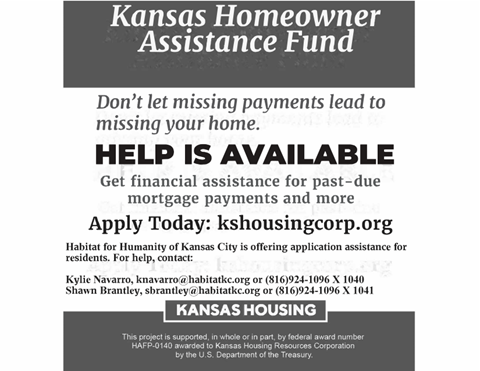 Help for Kansas Homeowners – Don't Wait
If the pandemic has created financial stress causing you to miss mortgage and/or property tax payments, you may qualify for the Kansas Homeowner Assistance Fund (KHAF), a program for low- to moderate-income homeowners. Learn more and apply here: https://kshousingcorp.org/kansas-homeowner-assistance-fund #homeownership #mortgageassistance #avoidforeclosure
Help for Kansas Homeowners – Apply Now
If you're behind on mortgage or property tax payments, help is here. The Kansas Homeowner Assistance Fund is helping homeowners across the state who have fallen behind on payments. Apply today.
https://kshousingcorp.org/kansas-homeowner-assistance-fund
Help for Kansas Homeowners – Funds won't last long.
Don't wait to ask for help if you need it. The Kansas Homeowner Assistance Fund can help you pay your past due bills:
Mortgages
Property taxes
Homeowner association fees
https://kshousingcorp.org/kansas-homeowner-assistance-fund
The purpose of the KHAF program, is to prevent foreclosures on homeowners suffering pandemic-related financial hardship.
Homeowner submits an online application.
* Application is processed to ensure all eligibility criteria are met.
* If approved, funds are paid directly to the service provider(s), who apply to the homeowner's account(s).
Applicants must meet all of the following criteria:
You own your home in Kansas and are at least 30 days past due on mortgage or property taxes.
The property (a single-family home, one-to-four-unit dwelling, condo, townhome, or manufactured home) is your primary residence.
Your recent income did not exceed 150 percent of your area's median income.
Your household has experienced financial hardship during the COVID pandemic and attests to this hardship.
For help with your application or understanding the process, Habitat for Humanity of Kansas City is providing assistance. Reach out to:
Kylie Navarro, knavarro@habitatkc.org or (816)924-1096 X 1040
Shawn Brantley, sbrantley@habitatkc.org or (816)924-1096 X 1041