Housing Affordability in Johnson County
Safe, stable, and affordable housing is the foundation on which families build healthy and sustainable futures. Housing also represents one of the largest expenses in a household budget, and where one lives can impact access to schools, jobs, and community resources. Housing influences both individual and community health and well-being in significant ways. Rising property values can displace low- and fixed-income home owners unable to keep up with property taxes. The number of homes valued at less than $250,000 declined by 20,000 between 2007 and 2017, while the number of homes valued between $250,000 and $399,999 grew by 17,000, and homes valued above $400,000 increased by nearly 13,500. For families living in Johnson County, jobs that are foundational to our community's well-being - paramedics, police officers, and elementary teachers to name a few - may not provide adequate wages to meet the cost of living. To read the complete factsheet please click 
here
.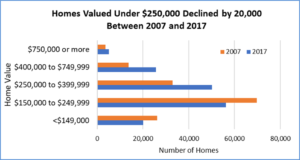 ---
Kansas Action for Children Releases 2018 Kids Count Data
KIDS COUNT provides an annual snapshot of how Kansas children are doing in Johnson County and statewide. Click 
here
 to see this year's Kids Count Data for Johnson County.
---
UCS' Kansas Public Policy Forum Tomorrow
Join us for UCS' annual Public Policy Forum as we prepare for the 2019 Kansas Legislative Session. We will look at the upcoming session, learn more about the work of the Child Welfare Task Force and Joint Legislative Transportation Vision Task Force and discuss the role of public policy in healthy communities. The event includes a reception for legislators and attendees after the presentations and legislative panel.