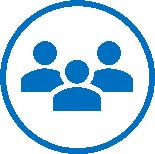 UCS is partnering with area agencies to implement the Transitional-Age Youth (TAY) Planning Project. The goal of this project is that every at-risk transitional-age youth in Johnson County will enter adulthood successfully. The project is being guided by a Leadership Team consisting of decision-makers from agencies that serve at-risk TAY, including youth who age out of the foster care system without a permanent home, exit the juvenile corrections system, are experiencing homelessness, or who have severe and persistent mental illness. Following a year-long planning process the Leadership Team is now implementing a plan that coordinates best practices, protocols, and evaluation measures to ensure responsive and adequate delivery of services and supports for at-risk TAY.
Raising community awareness of issues facing the TAY population is critical to the success of this project. UCS and the TAY Leadership Team are launching a speaker series aimed at engaging the community in the needs of the TAY population in Johnson County. Events in the series will take place monthly through spring 2019 and will address key issues for TAY support and service providers. Below is information on the first two events in the series. Look for information on additional TAY Speaker Series event dates in upcoming eNews editions. This speaker series has been made possible thanks to grant support from the REACH Healthcare Foundation.
October 26, 1:00-2:30 p.m.: Homeless Youth Simulation
Presented by reStart.
Young people involved in the child welfare or juvenile justice system must often navigate numerous public systems to access the services and support they need. Many have experienced high levels of trauma, violence, instability and loss. This simulation will increase participants' awareness and understanding of the journey many TAY face.
Location: Carmack room at the Johnson County Central Resource Library, 9875 W 87th St., Overland Park, KS 66212
Space is limited. Please register for this free session here by October 19, 2018.
November 15, 9:00-10:30 a.m.: "Screen-Based Addictions"
Presented by Susan Dunaway, MS, LCPC, of Amend Neurocounseling.
This presentation will explore behavioral addictions with an emphasis on screen-based addictions from a brain-based perspective. It explores how screen-based services are engineered for addictive use. We discuss what to do in order to prevent addiction as well as steps to take if digital addiction may be affecting you or your family, including when to seek professional help. 
This event is presented by the Providers of Substance Abuse Services in Johnson County: Alcohol Tax Fund (ATF).
Location: Court Services, Room 1040, 588 East Santa Fe, Olathe, 66061
Space is limited. Please register for this free session here by November 8, 2018.