Summary Report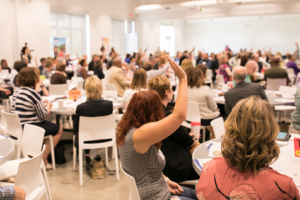 "Building the public and political will necessary to transform the systems that shape the future of our communities is one of the most critical challenges of our time," Dr. Tiffany Manuel shared with an audience of 200 at this year's Human Service Summit.  The summit gathered elected officials and community members from across sectors including business, public safety, education, health and human services, government, faith community, and funders at the Johnson County Arts and Heritage Center to discuss the need for attainable housing solutions in Johnson County.  Most recent Census data shows that 1 in 4 households in Johnson County are burdened by the cost of housing (cost-burdened is defined as housing costs that exceed 30% of a household's income).  A link to the event's presentation materials can be found here.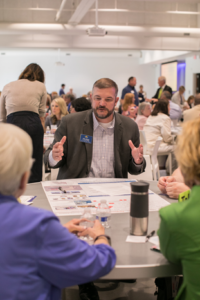 Dr. Tiffany Manuel, President and CEO of TheCaseMade, served as the keynote speaker and a panelist. Dr. Manuel is a thought leader and author on the issues of community development, social change and cross-sector partnerships. Her work includes You Don't Have to Live Here-Why Housing Messages Are Backfiring and 10 Things We Can Do About It and her recently published book Backfires, Backpacks and Bedtime Stories: The Urgency to Build Public Will and Fix What is Ailing America.
UCS Executive Director, Julie Brewer, and Johnson County Department of Health and Environment Epidemiologist, Elizabeth Holzschuh, shared progress that the Johnson County Health Equity Network has made since the last summit to address the priority health issue of housing. This work is being funded in part through grant support from the Kansas Health Foundation and REACH Healthcare Foundation.
Brewer and Holzschuh also provided a data presentation featuring newly released community health assessment data for the county and the impact that rising housing costs has had on residents across all ages and stages of life. The event showcased the work of a storytelling campaign to lift up community voices around the issue. Follow these links to hear community voices on this issue: Employer 1, Realtor 1, Employer 2.
---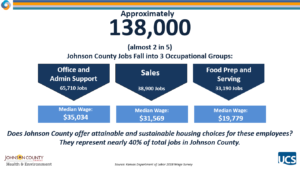 ---
The summit included a multi-sector panel discussion on why accessible housing choices matter, moderated by Steve Kraske, host of KCUR's Up to Date. Panelists included:
Mary M. Beverly, MPH, Deputy Director, Johnson County Department of Health and Environment
Tom Herzog, COO of Netsmart, member of Forward OP Steering Committee and UCS Board
Dr. Tiffany Manuel, Ph.D., President and CEO of TheCaseMade
Kirk McClure, Ph.D., Professor of Urban Planning, School of Public Affairs and Administration, University of Kansas
Laura Smith, City Administrator, Mission, and Lead Agency with MARC and Gladstone, MO on National League of Cities' First Suburbs Council Economic Development Pilot Project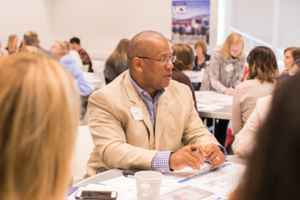 Panelists discussed the impact that the lack of attainable housing has on health and creating toxic stress, social connectedness, employees and employers, and ultimately the long-term growth and sustainability of the community. The panel explored a number of themes Dr. Manuel covered in her keynote address, focusing on the importance of telling the story of us. Can we afford to lose people who can't afford to live here such as those who care for us, respond to our emergencies, and educate us? The panel discussed recent city strategic planning efforts around the community and other new collaborations that are emerging with a focus on creating housing solutions across income levels. Housing affordability as a national crisis and the importance of addressing wages as they relate to meeting housing costs were highlighted.
Attendees participated in table level breakout sessions. The top responses are highlighted below. The participants also discussed big opportunities or activities coming up at the national, state and local level that could help move the priority issue of housing forward. The summit concluded with a call to action and next steps for participants.