UCS released its 2022 policy priorities at the annual Public Policy Forum, hosted virtually and in partnership with United Way of Greater Kansas City. Follow this link to view the forum and this link to view the slide presentation. On November 23, 2021 more than 100 community members including elected officials, nonprofit agency partners, and civic leaders came together to learn more about UCS' local, state and federal policy priorities for the upcoming year. UCS advocates for policies and positions that invest in our most vital resource - our residents.
UCS supports health equity for all Kansans through public policy advocacy, recognizing that everyone should have a fair and just opportunity to be as healthy as possible. Health equity requires that we remove institutional obstacles to health, like disparities in access to housing, education, employment, and health services.​ For more information on UCS policy priorities, view the Public Policy Platform. Economic stability, healthcare, and housing are just a few of UCS' public policy priorities. This year's platform also focuses on redistricting and the use of 2020 Decennial Census population data to draw district lines in an equitable way. Below is just a sample of the data shared at the forum that informs UCS' public policy priorities.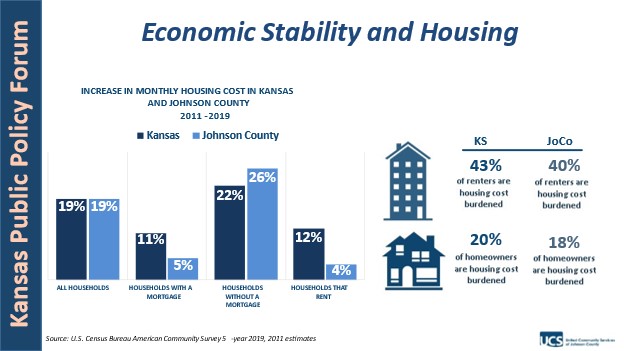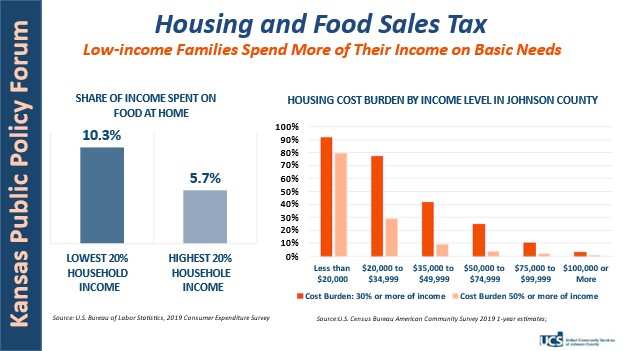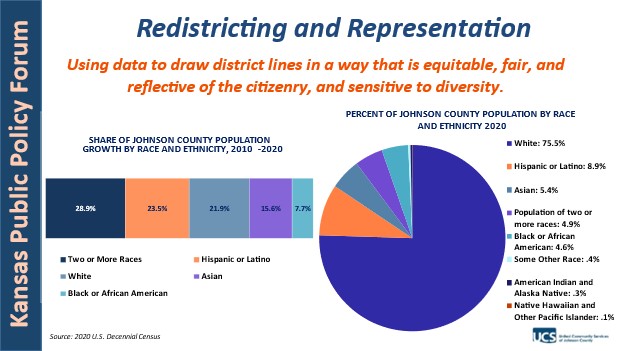 Following the presentation on policy priorities, participants received a deeper dive into the challenges and opportunities facing access to quality childcare for working families in Kansas from Melissa Rooker of the Kansas Children's Cabinet and Trust Fund, and John Wilson of Kansas Action for Children. They discussed a collaborative statewide effort called All in For Kansas Kids, which has a vision that all children will have their basic needs met and have equitable access to quality early childhood care and educational opportunities, so they are prepared to succeed in kindergarten and beyond. Ms. Rooker and Mr. Wilson provided an overview of the initiative including the strategic goals, historic investments, and opportunities for the 2022 legislative session.
A legislative panel followed the presentation and included Sen. Ethan Corson and Rep. Chris Croft. UCS board member Patty Markley facilitated this discussion. Each panelist provided a "look ahead" to what they think will be key issues for the 2022 Legislative Session. Eliminating the food sales tax was a clear priority issue for the panel. In addition, Rep. Croft, Chair of the House Committee on Redistricting, spoke about the hearings for public input on district mapping and encouraged the audience to participate in the process. Sen. Corson mentioned that Johnson County is expected to gain seats in the state house and senate and spoke to the potential benefit for Johnson County residents of having more legislative representation. The panel also received questions from the audience on state employee compensation, state minimum wage, affordable housing, and vaccine mandates.
Closing remarks came from Todd Jordan, Chief Community Engagement Officer at United Way of Greater Kansas City.