UCS' Annual Kansas Public Policy Forum — Public Policy & Healthy Communities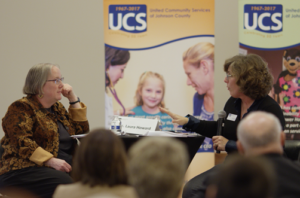 DECEMBER 31, 2019 — Last month's Kansas Public Policy Forum, presented by UCS and United Way of Greater Kansas City with support from the REACH Healthcare Foundation, brought together state legislators, local elected officials, county and city staff, health and human service agencies, health foundation grant makers, community advocates, educators, and residents to discuss the upcoming 2020 legislative sessions and issues impacting the well-being of residents.
The forum featured a conversation with Secretary Laura Howard of the Kansas Department for Children and Families (DCF) and the Kansas Department for Aging & Disability Services (KDADS). Secretary Howard discussed the work in both agencies to address concerns and improve outcomes for clients. She discussed how DCF is implementing recommendations from the Legislature's Child Welfare Task Force report released at the beginning of 2019, implementation of the Families First Prevention Services Act, infrastructure investments within the agencies, and roll out of DCF's Team Decision Making program. Additionally, Secretary Howard discussed the importance of Medicaid expansion and the priority issue of behavioral health, providing an overview of the Mental Health Task Force recommendations.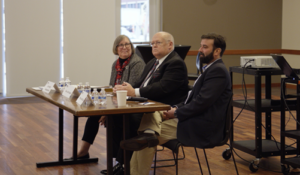 The forum included a panel of experienced legislators including Senator Molly Baumgardner, Senator John Skubal, and Representative Jarrod Ousley. The panel shared a look ahead to the 2020 session, including a discussion of the competing bills around Medicaid expansion.
Click here to view presentation slides from the November 26, 2019 forum.
---
UCS Public Policy Platform
Read UCS' Public Policy Platform: