By Mike Sherry, OnPoint Communications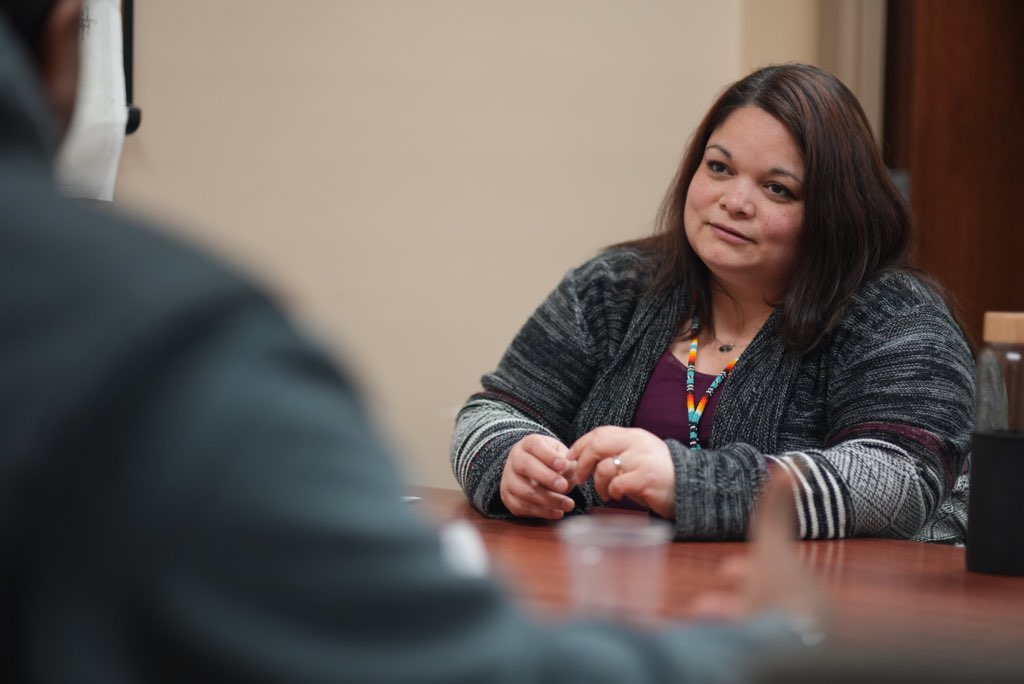 Andrea Generaux meets with the director of a local youth organization to discuss a potential multi-generational program involving neighborhood leaders.
Viewers of a certain age can remember nosy neighbor Gladys Kravitz from the TV series "Bewitched," who was constantly flummoxed by the mysterious goings on in the Stephens household during the show's run in the 1960s and 1970s.
There's actually a real-life lesson in there, said Andrea Generaux, a neighborhood official in Wyandotte County: Rather than getting mad at the snoop, recruit them for your neighborhood watch.
She explained the broader point is that offering people specific volunteer opportunities that fit their skills is a key way to helping build cohesive, connected neighborhoods.
For instance, she said, maybe neighborhood leaders can provide cards and stamps to the elderly shut-in Mrs. Johnson, so she can send birthday wishes and condolences. And then there's the guy down the street who is a master baker.
"Hey John," Generaux said in opening up the fictional encounter. "You make some really great chocolate cookies. We are having a bake sale to support the neighborhood. Would you make a dozen?"
John is a lot more likely to say yes to that, she said, whereas a vague ask to volunteer some time might seem overwhelming.
"The work that our volunteer neighborhood leaders are doing is not short-term work," Generaux said. "It's not like we are going to paint the swings at this park, and then we are done."
Generaux serves dual roles as the director of the Livable Neighborhoods Division within the Unified Government of Wyandotte County and Kansas City, Kansas, and as executive director of the Livable Neighborhoods Taskforce. The 16-person taskforce is a separate nonprofit that represents the 70 organized neighborhoods within the city and the eight other independent nonprofit Neighborhood Business Revitalization Organizations.
"Cooperation amongst neighbors can bridge divides," Generaux said.
"You are able to see the guy down the street, who maybe doesn't believe what I believe politically," she said, "but we can both still work on cleaning up the park together. … So if I can do that with that guy down the street who I disagree with, what else can we do together?"
Interaction between neighborhood groups can also help unify different parts of the city, Generaux said.
For instance, residents in relatively safe areas can understand the challenges of living in high-crime neighborhoods, and the two groups can share ideas about common problems, such as maintaining neighborhood cleanliness.
More discussions might also help avoid the perennial hot potato of street repair, Generaux said.
One area might learn, for example, that another neighborhood has been waiting even longer to get their streets paved than they have. So a leader in that first neighborhood can say:
"You know, they might get it before me, and I am OK with that, because now I understand the process, now I understand that Bob who works down at public works is not some jerk who doesn't (care) about my neighborhood, but that he is an actual person. He also lives in this community, and he is just doing his job."