Make Your Gift Today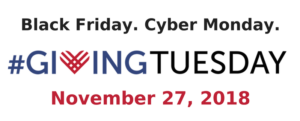 Goodbye Cyber Monday - Hello Giving Tuesday, November 27!
Are you a part of #GivingTuesdayKC? It's a global day of giving, happening right here in Kansas City!
Your gift today to UCS allows us to continue our mission of education and advocacy, mobilizing and planning, and targeted resource allocation.  UCS strives to create greater public understanding of needs and enhanced community advocacy.  Additionally, UCS works to make measurable improvements in the health and human service system, and ensure alignment between resources and needs.
UCS is a leader in collaborative planning and believes convening and facilitating work around such issues as poverty, homelessness, substance abuse, children and families, and Trauma Informed Care, enhances the availability and delivery of health and human services.  UCS believes our impact is greatest when we work together to find solutions.
Be a part of the solution and make your online gift today to UCS during
#GivingTuesdayKC!
---
Mark your calendars to attend UCS' Kansas Public Policy Forum
Join us for UCS' annual Public Policy Forum as we prepare for the 2019 Kansas Legislative Session. We will look at the upcoming session, learn more about the work of the Child Welfare Task Force and Joint Legislative Transportation Vision Task Force and discuss the role of public policy in healthy communities.
The event includes a reception for legislators and attendees after the presentations and legislative panel. Please let us know if you plan to join us by clicking here.