By Mike Sherry, OnPoint Communications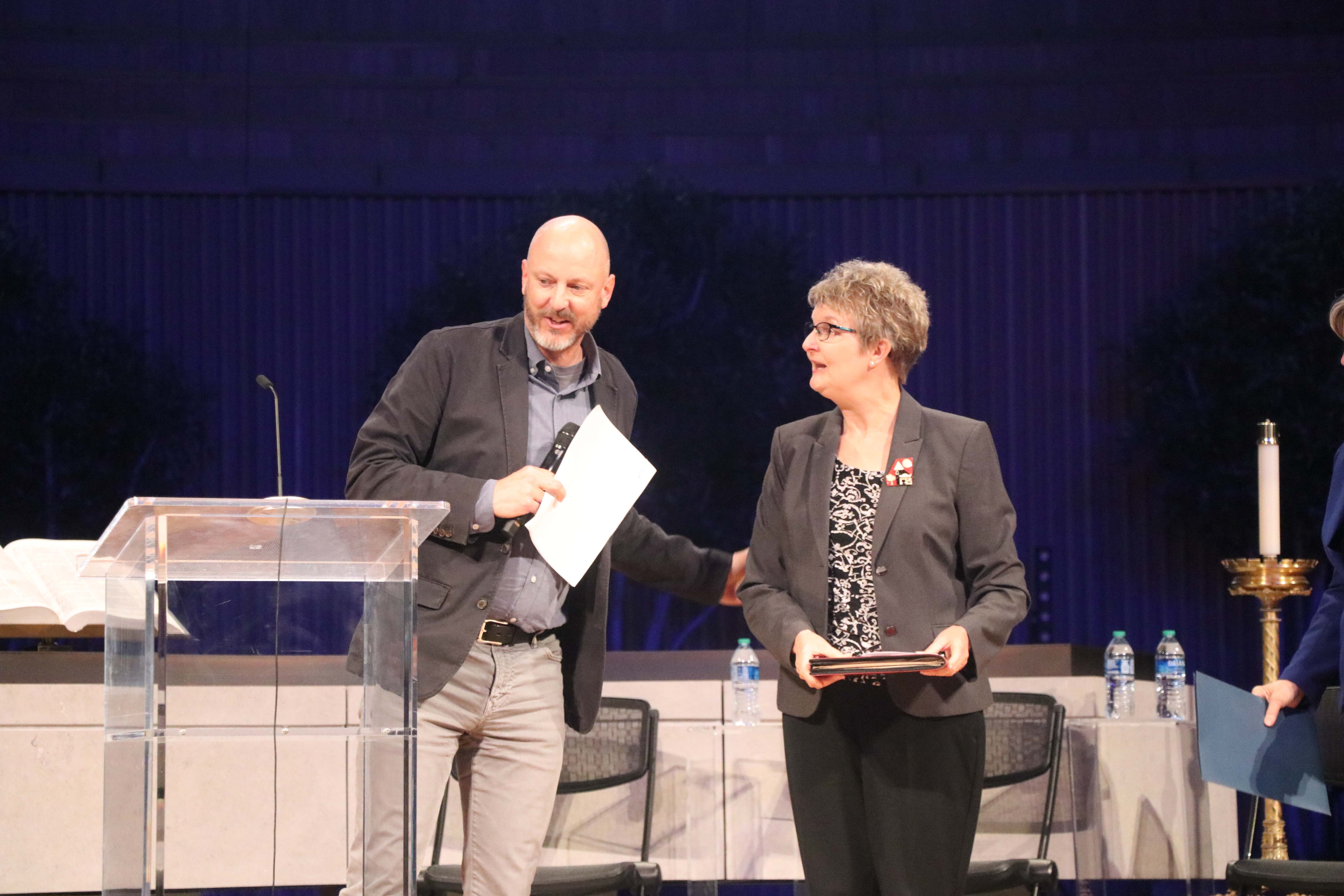 Pastor Tim Suttle talks with Johnson County Commissioner Janeé Hanzlick during the Good Faith Network's Nehemiah Conference, held May 3, 2022, at the United Methodist Church of the Resurrection in Leawood. (Photo Credit: David Burke, Great Plains United Methodist Conference)
Leaders of a newly formed interfaith group in Johnson County put a simple — yet powerful — question to their congregants a year ago as they developed their initial policy agenda.
"We just said, 'What are the problems of justice that keep you up at night?,' and then we just listened and kept on talking," said Tim Suttle, senior pastor of Olathe's Redemption Church, who is co-vice president of the new group, called the Good Faith Network.
The 20 member congregations held dozens of small-group meetings, involving approximately 500 participants, and in a winnowing process last fall, the Good Faith Network chose to advocate for solutions to homelessness and untreated mental illness.
"We are trying to raise awareness to the fact that not everyone in Johnson County has been cut in on the good life we have here … so we are responsible for how things work for them and for the system we build as we organize our common life together," said Suttle, 53.
Among the solutions the network is advocating for Johnson County government leaders to put in place are the establishment of a year-round emergency homeless shelter and implementation of a mental health crisis-care system that can serve as a better alternative than emergency rooms or jails.
The network estimates its congregations have more than 25,000 members combined, and more than 1,300 people attended the network's first Nehemiah Assembly, held in May at the United Methodist Church of the Resurrection in Leawood.
Suttle has increased his connectedness through the Good Faith Network, he said, by crossing "all kinds of boundaries that I was not crossing before" through introductions to service providers and others.
In addition, Suttle plans on having his other co-vice president, Rabbi David Glickman of Congregation Beth Shalom, come speak to his congregation about the Old Testament book of Leviticus.
Suttle also intends to take up the offer of a tour from the Islamic Center of Johnson County.
"I am going to take my whole staff over there and see what we can learn about how our Christianity looks to them," Suttle said, "It is that crossing borders thing that is just so powerful."
The network as a whole, he said, has a three-pronged strategy of strengthening relationships between congregations, forging bonds between the faith community and front-line agencies, and in the process "building relationships through our congregations with those on the margins."
In explaining further, Suttle said: "Congregations are great at mercy. We can run the heck out of a food pantry or whatever. We are not very good at justice. It is interfacing with the powers, with policies. It requires a whole level of expertise we don't generally have, and so we have banded together to create a voice for justice."
The intent is to be forceful but collaborative.
"That is part of why we chose (the name) Good Faith Network," Suttle said, "because we want to work in good faith with our marginalized neighbors, but also with our leaders. We want to build a long-term relationship where we work together."