By Mike Sherry, OnPoint Communications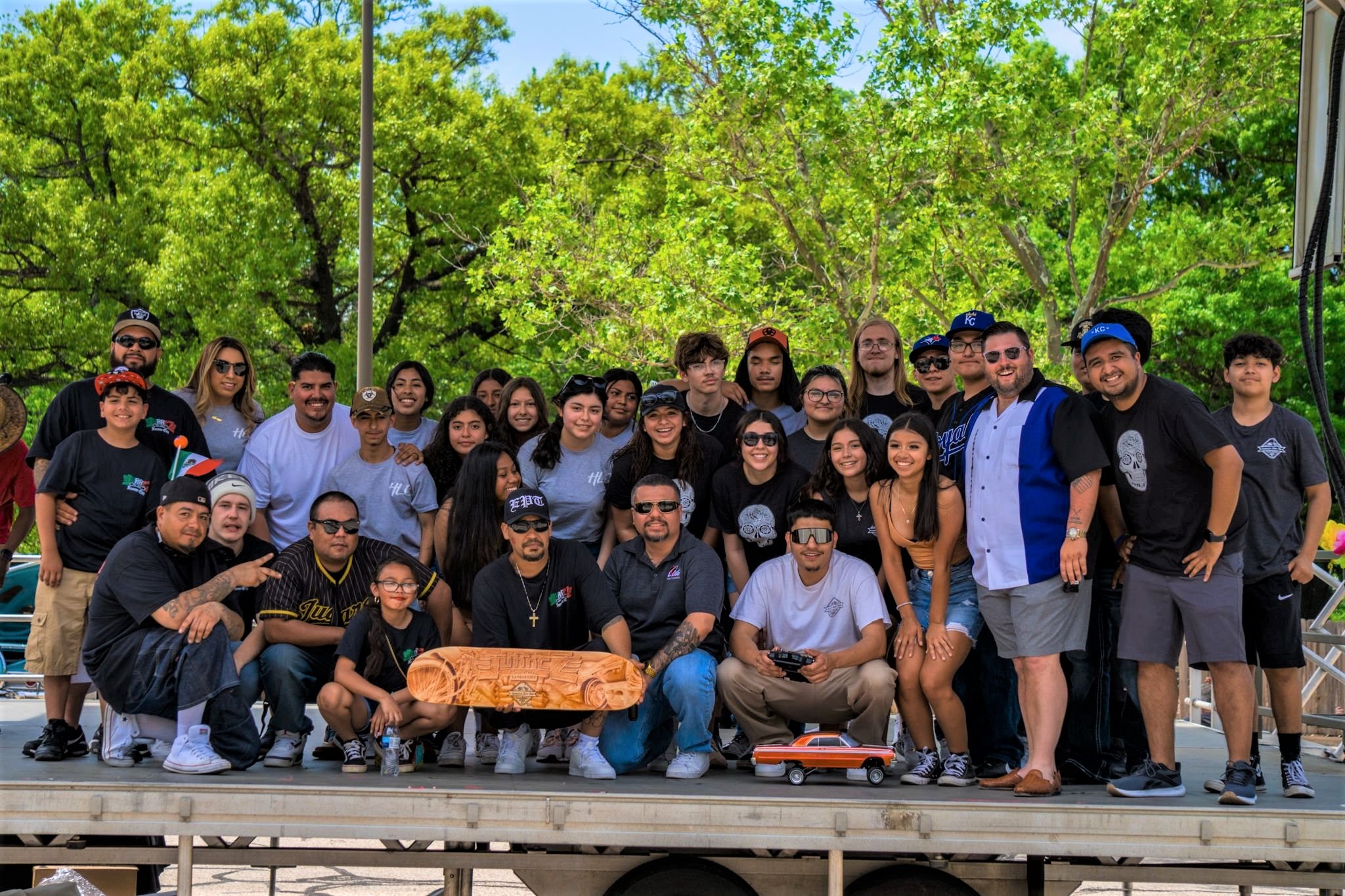 Erik Erazo (kneeling in front row at right of man with ball cap) joins with members of the Olathe Leadership Lowrider Bike Club and the KC Juarez Car Club during the Olathe Culture Fest on May 14, 2022. Students in the lowrider club presented a customized skateboard (held by the man next to Erazo) to the car club as a thank you for its support of Erazo and his students.
When Erik Erazo began working as a security guard at Olathe North High School in 2004, he considered it only a temporary gig until he could get on as a Hummer mechanic. But he could not ignore the early warning signs of gang activity among the marginalized Hispanic students.
In his early 20s at the time, Erazo was not much older than some of the students, so he initially resisted the entreaties of school counselors to talk with the kids.
Eventually he started having conversations with the students, including a newly arrived middle schooler from Texas. The student exuded the "you don't know what you are talking about" attitude until Erazo relayed his life story: smart kid, started hanging with the wrong crowd in middle school to be a tough guy, kicked out of school in the ninth grade, fathering a child at age 16.
"And he listened to me – he legit listened to me," said Erazo, 40. "I mean he was sitting there focused, paying attention."
Erazo began to feel that his childhood tribulations and challenges had not been for nothing. He switched career goals and went on to earn bachelor's and master's degrees in vocational education.
Erazo, who is executive director of diversity and engagement with the Olathe school district, recalls a unique upbringing.
Both of his parents are Guatemalan, and after landing his first job in the U.S. as a custodian in a San Francisco bagel shop, Erazo's father ultimately purchased one of the stores in the bagel chain. Erazo's half-brother and a few cousins worked for his dad, and Erazo followed them to Johnson County after they were lured by the low cost of living and found work in bagel shops.
His value of community integration has driven Erazo to create opportunities for minority students through his job with the district.
One of the key ways he does this is through the Olathe Leadership Lowrider Bike Club, which he started in 2017 for high school students. Club members are predominantly Hispanic and split evenly between boys and girls.
After refurbishing damaged bikes provided by the Olathe police department and other donors, club members donate them back to kids and adults throughout the metropolitan area. Club members can earn bikes of their own, which they customize with paint jobs, handlebars, seats, wheels and other personal touches that express their identity and culture.
The Hispanic club members build relationships that make them feel part of the community, Erazo said. "These kids will go to bat for the city and the police department," he said. "They feel like this is home."
Erazo said the bike club is a positive way to build the relationships and sense of belonging that attract kids to gangs. The club's success, he said, provides a broader lesson about the importance of talking and listening to others.
"I think that is where we are falling flat a lot of times," he said. "People are not giving each other the opportunity to learn from each other, and once you do that, you will realize you have a lot in common with other groups in the community."