UCS Reflects on a Year of Challenges and Celebrates a Strong Community
Approximately 150 community members participated in the 2020 UCS Annual Meeting on December 4, where the theme was Stronger Community Together. The event was an opportunity to reflect on the ways in which UCS uniquely responded to the COVID-19 pandemic by engaging partners, providing information and resources, and responding to emerging needs. From working with community partners to find a "shelter in place" solution for community members experiencing homelessness who may have tested positive or were waiting for COVID test results, to serving on the KC Regional COVID-19 Response and Recovery Fund advisory board, to assisting with the COVID-19 Recovery Funds $35 million allocation process across six priority areas – UCS was here to help.
Other highlights of 2020 include:
Ongoing work on the countywide Housing Study, including a resident survey which garnered nearly 5,000 responses, leading to the launch of the community-wide Housing Task Force will send you Task Force PDF.
Addressing the needs of Transitional-age youth through a Speaker Series and interactive "Feast and Feedback" sessions with youth.
Forming a board-led Racial Equity and Inclusion Committee leading to a comprehensive Theory of Action outlining internal and external activities and practices to address racial equity.
Welcoming a new staff member, two new advisors, and three new board members.
The keynote presentation came from Ed O'Malley, founding President and CEO of the Kansas Leadership Center. Mr. O'Malley spoke to the importance of working together to effectively achieve our shared goals.
"We are faced with multiple pandemics – the COVID-19 pandemic, social and racial injustice, distrust of our political system. It takes a lot more people exercising a lot more leadership to reach the aspirations that we have for Johnson County, for our state, for our nation," said Mr. O'Malley. "The future of our work requires us to have more people more active at mending our civic fabric."
An inspiring awards ceremony followed the keynote. Each year, UCS presents the Human Service Awards to recognize the profound impact we have in improving the human condition when we make the effort to care, to help, and to connect with those around us.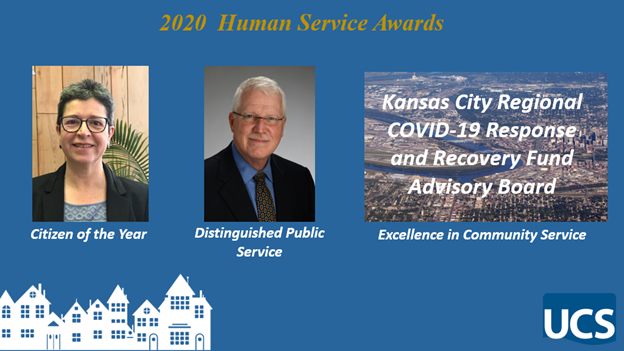 The UCS Citizen of the Year Award recognizes an individual who has provided lasting contributions that enhance the wellbeing of Johnson County residents. This year, we honored Pastor Sylvia Romero, whose leadership and service as the director of Center of Grace in Olathe has created positive impact in our community. She is a longtime advocate, working quietly and tirelessly for the past 20 years, as a champion for equity and inclusion and serving the needs of vulnerable populations, especially within the Latino community.
We recognized Secretary of the Kansas Department of Health and Environment, Dr. Lee A. Norman, who represents the ongoing COVID-19 response effort of all our state and local public health departments with the 2020 Distinguished Public Service Award. Public health officials such as Dr. Norman have played a vital role in the wellbeing of our community throughout the COVID-19 pandemic.
For the 2020 Excellence in Community Service Award, we celebrated collaboration and the impact that can be made when collective effort is prioritized above individual credit. This year's award goes to the many organizations and individuals responsible for the Kansas City Regional COVID-19 Response and Recovery Fund and its great success.
The entire annual meeting can be viewed online here.