UCS Board Members Meet with Johnson and Wyandotte Counties' Council of Mayors to Discuss Housing Needs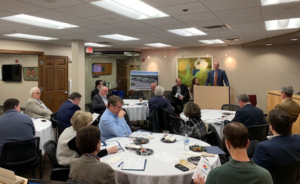 UCS Board President Kate Allen and board members Rick Worrel and Tom Herzog presented at the March meeting of the Johnson and Wyandotte Counties' Council of Mayors. UCS board members shared research and data pointing to the vital need to create home ownership and rental options that fully reflect where residents are - at all ages, life stages, and income levels -throughout Johnson County.
The discussion focused on work done by the UCS led Johnson County Health Equity Network's Leadership Team, a multi-sector group of more than twenty representatives from healthcare, mental health, human services, education, business, city and county government, the deaf community, and the faith community. The Leadership Team's priority is safe, stable, affordable housing as the foundation for a healthy community.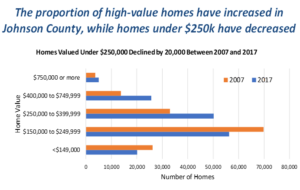 The presentation laid out the challenges facing cities across Johnson County including:
Home choice options that leave too many people behind
Data showing that more than 1 in 3 households in Johnson County are single heads of households (one income)
Employee recruitment and retainment in the face of rising home costs (whether residents are renting or owning)
UCS and Johnson County Health Equity Network members have been raising awareness of this issue over the last eighteen months, discussing among other priorities, the need to ensure access for those in our community who care for us, respond to our emergencies, and educate our children. (Click here to see the December 2018 UCS KS Public Policy Forum presentation highlighting some of this data.)
According to the Shawnee Mission Post, a recent Livability survey on what Millennials want in a place to call home, 46% of male respondents and 66% of female respondents cited "lack of affordable housing options" as a factor that would prevent them from "relocating to a new city for a promising job opportunity."
UCS board leaders reminded the Council of Mayors that Johnson County and its cities have a history of proactively responding to challenges and opportunities. They encouraged city leaders to use that forward thinking and creativity to effectively address this challenge. The Johnson Health Equity Network and UCS' goal is to work collaboratively with the County and cities to create an intentional response that aligns housing choice options with their economic development vision of the right mix of office, industry, retail, dining, entertainment, and education, infrastructure and support services. Home options should reflect the different wage level this employment mix represents.
Grant Application Meetings for 2020 Human Service Fund
The Human Service Fund provides grants to nonprofit agencies in support of human service programs that promote the well-being, personal safety and self-sufficiency of Johnson County residents. UCS administers the Human Service Fund on behalf of Johnson County government and contributing cities.
A pre-proposal meeting for 2020 Human Service Fund (HSF) grants will be held on May 7, 2019, from 3:00-4:00 at United Community Services, 12351 W. 96th Terr., Suite 200, Lenexa, KS. The 2020 Human Service Fund Request for Proposal and grant application will be released on May 3. Approximately $365,000 is anticipated to be awarded in 2020 grants.
For more information, including 2020 HSF Funding Priorities and applicant criteria, click here.