UCS Hosts Kansas Public Policy Forum and Completes Family First Policy Series

Yesterday, UCS convened community members, policymakers, agency partners, and funders for the annual Kansas Public Policy Forum, sponsored by REACH Healthcare Foundation and United Way of Greater Kansas City.
The event marked the official release of the UCS 2023 Public Policy Platform outlining priority policy issues for the 2023 legislative session. The forum was an opportunity to highlight the policy issues that support a healthy community and a ready workforce, with particular emphasis on issues affecting Kansas women. A detailed summary of the Forum will be available ahead of the legislative session in our January newsletter. The presentation slides from the event are available here.
The Family First series wraps up today with our feature on women in the workforce and policies to stabilize child care resources and support financial stability for women and children. You can visit our website to take a deeper dive into the other features in this series: maternal health, domestic violence, mental health, and the safety net. As you review the data, personal narratives, and expert opinions in this series, we invite you to consider the role that each of us can have in creating healthy and equitable outcomes for the more than 304,000 women and girls who play a vital role in our society, culture, and local economy.
---
Women in the Workforce: Eliminating Barriers to Increase Potential
By Wendy Doyle
President & CEO
United WE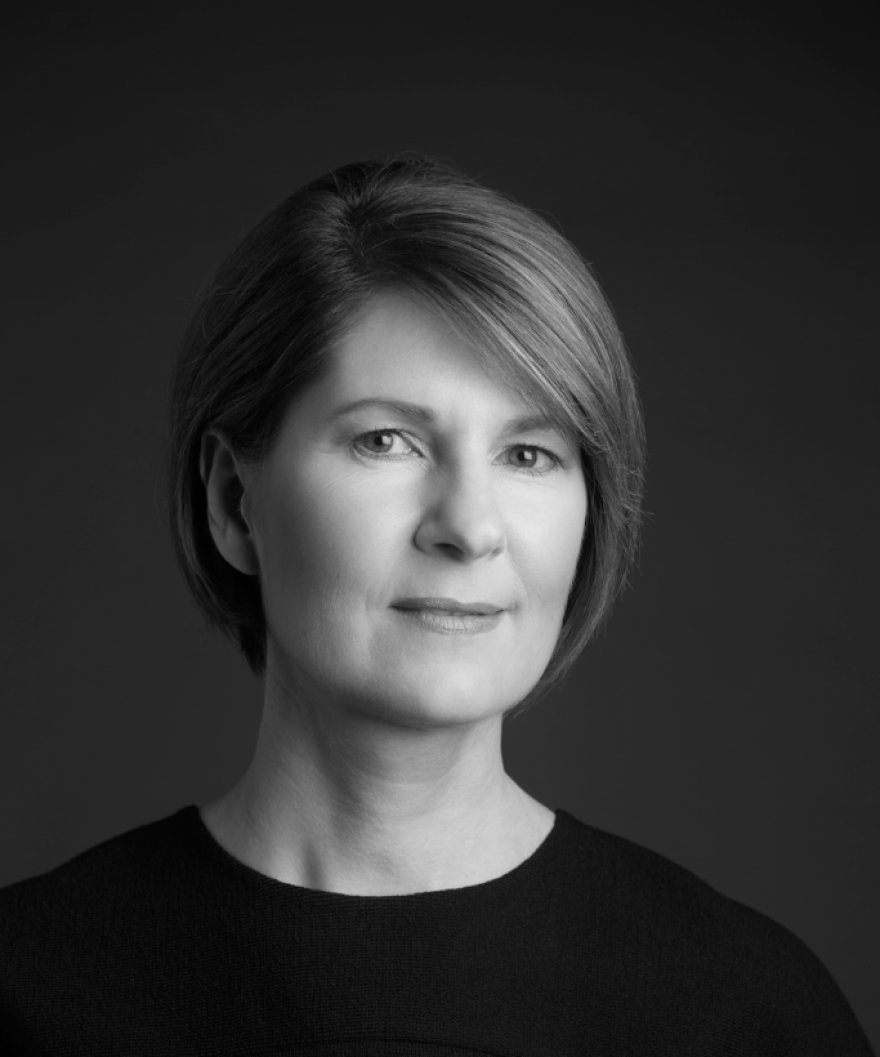 At United WE, we fearlessly advocate for women's equity – in the workplace, in their communities, and across the country. As a nonpartisan, non-profit organization, we work with elected officials to eliminate barriers and create opportunities for women through education, policy reform and civic engagement programs. Our solutions are not one size fits all, but our efforts to meet all women where they are with the results they need is all-inclusive.
In order to best serve our constituents and create meaningful change, a large part of our work must be listening. Our data shows that women do not often have the opportunity to speak about economic issues, which we set out to address this year with our Kansas Town Hall series. After hearing from more than 500 women across the state, we are now equipped with the stories and data to help inform our nonpartisan policy solutions across Kansas.
Our conversations spanned many topics, including broadband access, paid family leave, entrepreneurship, occupational licensing and civic engagement. But there were two topics that continually rose to the top as key barriers for women in Kansas: access to affordable and quality childcare, and long-term financial stability. These are two areas where our work can have immediate impact at the local and state levels.
Childcare: Unaffordable & Unavailable
The key takeaway we heard is that childcare costs are unaffordable. For many women, the cost equals or surpasses their monthly income, making it hard to justify staying in the workforce. As one woman told us, "I know if I have another child, I won't be able to keep my job financially due to childcare expenses." We also heard that the supply of licensed childcare providers simply does not meet the demand for care. Kansas currently has twice the number of children under five per the available licensed childcare slots. Unfortunately, state licensing requirements and low wages create barriers for providers.
Childcare is one area where United WE is uniquely positioned for impact. The Ewing Marion Kauffman Foundation has funded the Women's Entrepreneur Childcare Project, a multi-pronged effort to eliminate childcare barriers in Kansas and on a national level. We also support the Child Day Care Service Tax Credit, which allows more businesses to claim the child day care services tax credit.
Financial Stability: Lower Earnings & Less Flexibility
Women in Kansas working full-time earn 78 cents for every dollar of male earnings, which is less than the national average of 82 cents. We learned that women in Kansas face the compounding challenges of lower earnings and having to take time off to care for their children and family members. When women step out of the workforce entirely to care for family members, their lifetime earnings can be impacted significantly. Many companies do not offer retirement matching programs, affecting women's ability to save for retirement and support their families. We heard that transparency and flexibility are key; as one Town Hall attendee told us, "salaries should be open and transparent. That's a big factor in pay equity."
We compiled pay equity best practice guidelines, which we'll share with businesses and elected officials throughout Kansas. We will also educate employers about how salary history bans on employment applications creates more equity. Our work to increase pay equity goes hand in hand with a paid family leave policy, because we know that women are more often juggling childcare and eldercare plus a career. According to our Town Hall attendees, 79% said that a paid family leave policy is "very important" to them. We will continue to push for a 12-week leave policy for all workers in Kansas.
I am grateful to the hundreds of women who shared their stories with us. Thanks to their input, United WE is strategically positioned to advocate more effectively through policy reform and education for the systems change that women and their families need. One of the most impactful parts of these conversations was the validation that women felt; you are not alone in your experiences, and while we are all different, we are often impacted by the same issues. We are equipped to address workplace barriers in Kansas, and are already hitting the ground running.
---
Child Care Expense Troubles Immigrant Couple, Single Mom
By Mike Sherry
OnPoint Communications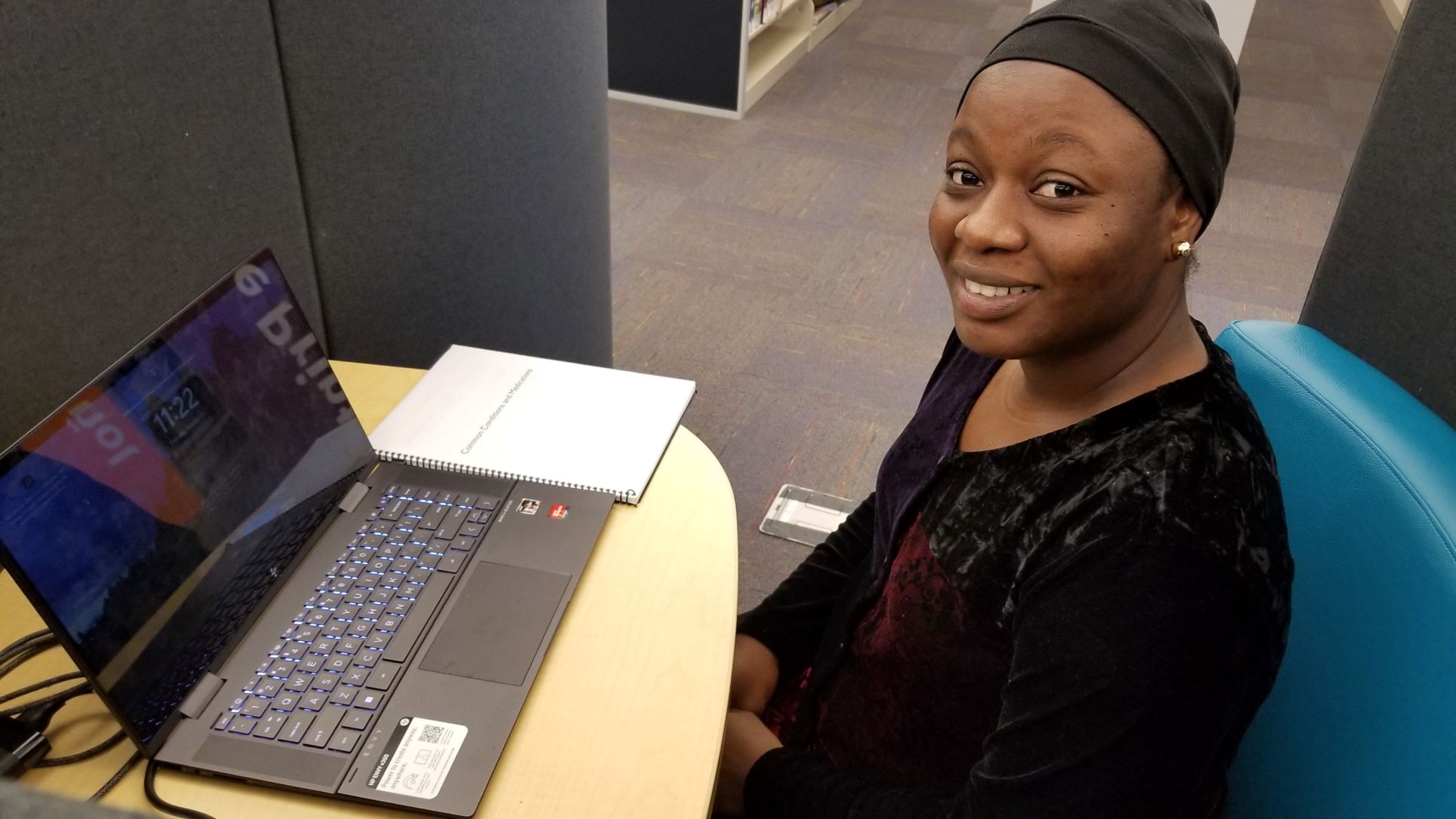 Sholabomi Popoola, 37, a working mother of three elementary-school-aged children, packs a lot into her schedule, including carving out library time during the day for her nursing school studies. Popoola, who is expecting her fourth child in July, stayed home with the children when they were young because childcare was too expensive.  
The math didn't add up for Sholabomi Popoola and her husband.
They were looking at weekly child care expenses of $1,000, which was about equal to what Popoola was making every two weeks as a nursing home caregiver while her husband was working as a janitor for the Shawnee Mission school district.
So the couple decided she would stay home with the kids while he worked during the day, and they would reverse roles in the evening. "That is how I turned myself into a night worker," Popoola said.
The arrangement came after maddeningly unsuccessful attempts to get a child care subsidy through the state.
One Catch-22 came when officials said the family did not qualify because Popoola was staying home with the kids, but the only reason she was doing that was because the subsidy was unavailable.
And then, after both of them started working full time, the agency said they were earning too much. She was making $12 an hour, and he was making $14 an hour.
"For them, they think we were making too much," Popoola said, "but for us, we were struggling."
The couple lives in Kansas City, Kansas, having moved there recently from Overland Park. Their three kids are all now in elementary school. Popoola is expecting their fourth child in May, and it is her understanding that child care assistance will be available through a state program assisting working students.
The 37-year-old Nigerian native, who emigrated to this country in 2014 and followed her husband to Johnson County a year later, considers the U.S a welcoming land of opportunity — even as she wages another bureaucratic fight to qualify for state tuition assistance for college.
She and her husband are both in nursing school, relying on public assistance to become a self-sufficient family helping to solve the shortage of health care workers in the state.
Popoola plans to continue advancing through nursing school, even after the new baby arrives. "When I am hell bent on doing something," she said, "I don't go back."
Popoola's child care experience is not unique, as 34-year-old Emily Pounds can attest.
The cost of child care was such a stressor for Pounds that she considered terminating her pregnancy because the service was going to be way too expensive for her as a single mother who worked in a grocery store bakery.
The cost could have been as much as $2,000 a week for her infant twins, but she was relieved to find out during her pregnancy that she could receive services through Growing Futures Early Education Center in Overland Park. She lives with her parents in Mission, and loves being a mom to Rosalina ("Rosie") and Oliver ("Ollie").
"The idea of not having had them just because I didn't know what I was going to do about child care is really sad to think about," Pounds said.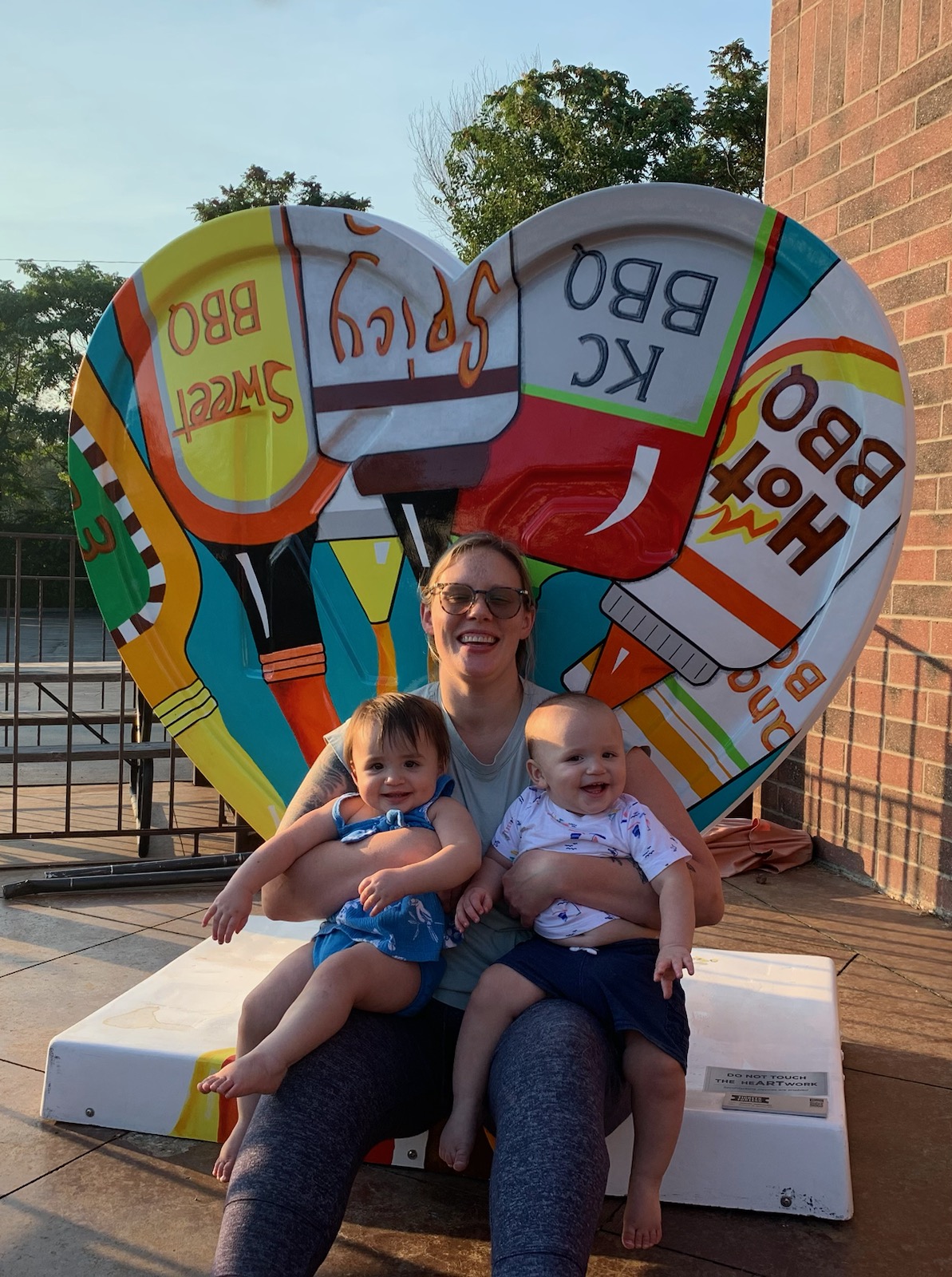 Emily Pounds, 34, holds her twins during their 1-year birthday celebration on Sept. 8, 2022, at Rosedale Bar-B-Q in Kansas City, Kansas. On the left is Rosalina ("Rosie") and Oliver ("Ollie").  
Pounds has an undergraduate degree in geography from the University of Kansas, and her plan is to become a teacher like her mother and two sisters. Pounds hopes to enter an online master's degree program through Kansas State University in the spring.
She likes kids and has worked in schools before as a paraprofessional, but child care is also factoring into Pounds' career decision, knowing that she can be with the twins during school breaks.
Pounds has no answers on how to fix the high cost of child care, but she said, "If it is so financially devastating for families just to try and get child care until their kids can go to free public school, then there is a problem."
---
Fact Sheet: Childcare and Financial Stability
For women who are in the labor force and have minor age children in their household, child care is not only important: it is a critical element for successful workforce participation and long-term financial stability for themselves, their families, and their communities. The lack of access to affordable, high-quality child care has been a persistent challenge for working women, exacerbated by the COVID-19 pandemic. Since the pandemic began, millions of American parents have either lost their job or had their work hours reduced. In addition, due to a lack of quality and affordable child care options, many parents have had to stay home with their children or find less than ideal work arrangements to provide care.
---

The cost of child care stands out as one of the biggest barriers to keeping women in the workforce. The 2021 Status of Women in Kansas report from United WE finds that infant care at daycare centers in Kansas is 1.3 times more expensive than in-state college tuition. In addition to the high cost of child care and the burden it presents to working families, there is an inadequate supply of high quality child care seats in Kansas. The overall supply-demand rate for the entire state was 49% in 2021, meaning that the supply of child care slots meets less than half of the demand. In Johnson County, the current supply-demand rate is 67%.
There are long-term cumulative consequences to leaving the workforce, including loss of wages, employment security, benefits, retirement, and savings. This exacerbates the existing gap in lifetime earnings between men and women due to the gender wage gap.
Policymakers can support the financial stability of women, families and communities by investing in policy solutions that address these child care challenges. To learn more, read our report on Childcare and Financial Stability in our fact sheet.
---
Support UCS in the United Way Campaign!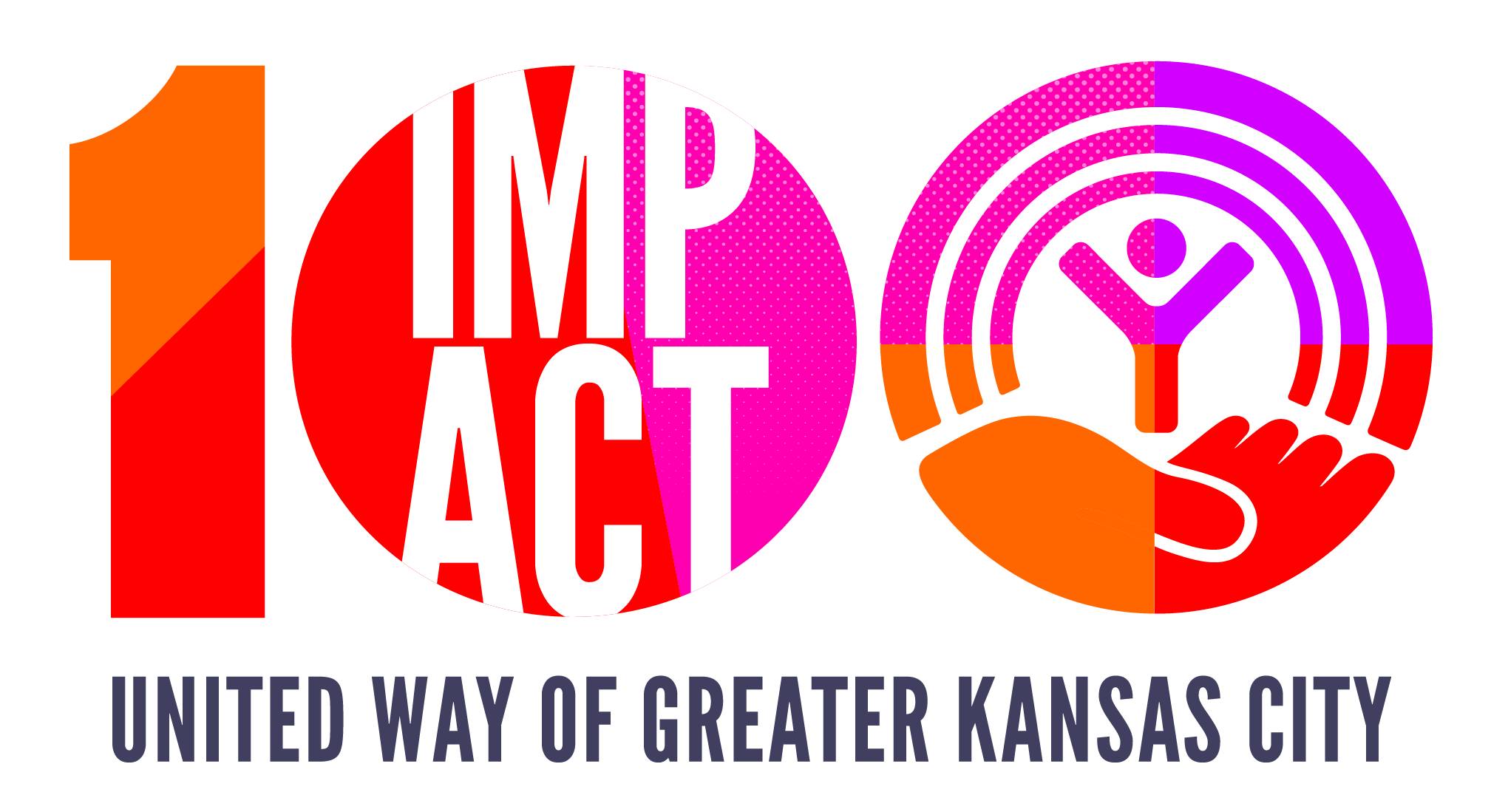 As United Way workplace campaigns ramp up across the metro, we wanted to let you know that we're one of United Way's inaugural Impact 100 organizations. With that designation, you can easily direct your campaign contribution to United Community Services of Johnson County. Simply choose United Community Services of Johnson County from the list of Impact 100 organizations when completing your pledge.
Since 1967, UCS has incubated programs to meet identified community needs, bringing the community together to promote economic stability by furthering health and human services initiatives. Often UCS's work has a "ripple effect" inspiring new opportunities for improving the lives of Johnson County residents through education and advocacy, collaborative planning, and targeted resource allocation.
UCS will use United Way campaign contribution funding to help us continue this important work. You can view a visual and interactive timeline of our projects and initiatives through the years on our website here.
---
Health Insurance Marketplace Open with Application Assistance from Health Partnership Clinic

The Health Insurance Marketplace (also known as the "Marketplace" or "exchange") opens Tuesday, Nov. 1 and will close Sunday, Jan. 15. The Marketplace provides health plan shopping and enrollment services through websites, call centers and in-person help.
Health Partnership Clinic offers free, in-person help with the health insurance application. Open enrollment is from Tuesday, Nov. 1 to Sunday, Jan. 15.
Call 913-730-3653 to schedule an appointment. A certified application counselor is available to help you in English or Spanish.
When you apply for individual and family coverage through the Marketplace, you'll provide income and household information. You'll find out if you qualify for premium tax credits and other savings that make insurance more affordable; or coverage through the Medicaid and Children's Health Insurance Program (CHIP).
---
The Kansas Homeowner Assistance Fund (KHAF) Program is Open for Applications!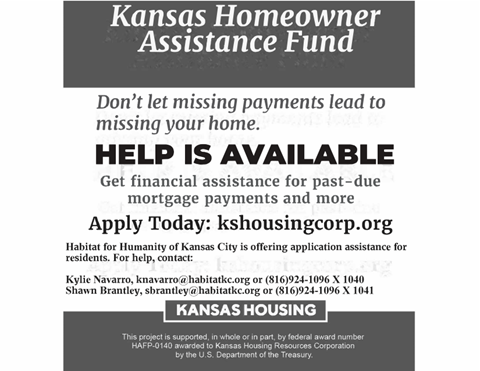 Help for Kansas Homeowners – Don't Wait
If the pandemic has created financial stress causing you to miss mortgage and/or property tax payments, you may qualify for the Kansas Homeowner Assistance Fund (KHAF), a program for low- to moderate-income homeowners. Learn more and apply here: https://kshousingcorp.org/kansas-homeowner-assistance-fund #homeownership #mortgageassistance #avoidforeclosure
 Help for Kansas Homeowners – Apply Now
If you're behind on mortgage or property tax payments, help is here. The Kansas Homeowner Assistance Fund is helping homeowners across the state who have fallen behind on payments. Apply today.
https://kshousingcorp.org/kansas-homeowner-assistance-fund
Help for Kansas Homeowners – Funds won't last long.
Don't wait to ask for help if you need it. The Kansas Homeowner Assistance Fund can help you pay your past due bills:
Mortgages
Property taxes
Homeowner association fees
https://kshousingcorp.org/kansas-homeowner-assistance-fund
The purpose of the KHAF program, is to prevent foreclosures on homeowners suffering pandemic-related financial hardship.
Homeowner submits an online application.
* Application is processed to ensure all eligibility criteria are met.
* If approved, funds are paid directly to the service provider(s), who apply to the homeowner's account(s).
Applicants must meet all of the following criteria:
You own your home in Kansas and are at least 30 days past due on mortgage or property taxes.
The property (a single-family home, one-to-four-unit dwelling, condo, townhome, or manufactured home) is your primary residence.
Your recent income did not exceed 150 percent of your area's median income.
Your household has experienced financial hardship during the COVID pandemic and attests to this hardship.
For help with your application or understanding the process, Habitat for Humanity of Kansas City is providing assistance. Reach out to:
Kylie Navarro, knavarro@habitatkc.org or (816)924-1096 X 1040
Shawn Brantley, sbrantley@habitatkc.org or (816)924-1096 X 1041