UCS released its 2023 policy priorities at the annual Public Policy Forum on December 14, 2022. The annual forum, sponsored by REACH Healthcare Foundation and United Way of Greater Kansas City convened more than 100 community members, policymakers, agency partners, and funders at the Matt Ross Community Center in Overland Park. The event marked the official release of the UCS 2023 Public Policy Platform outlining priority policy issues for the 2023 legislative session. It was an opportunity to highlight the policy issues that support a healthy community and a ready workforce, with particular emphasis on issues affecting Kansas women. UCS completed a Family First research and policy series prior to the forum to raise awareness for issues that affect women in the workforce, including policies to stabilize childcare resources and support financial stability for women and children. Family First is a series of data, personal narratives, and expert opinions on topics such as maternal health, domestic violence, mental health, and the safety net. A brief presentation invited participants to consider the role that each of us can have in creating healthy and equitable outcomes for the more than 304,000 women and girls who play a vital role in our society, culture, and local economy.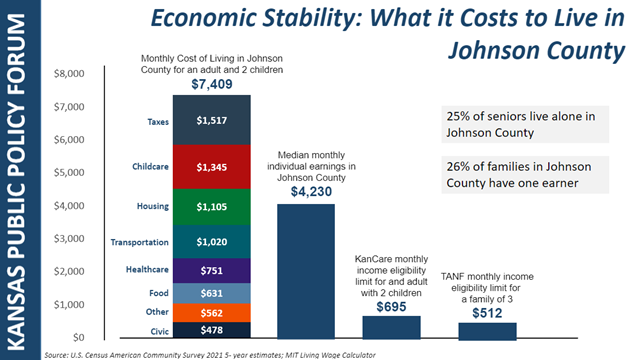 Following the presentation on policy priorities, participants received a deeper dive into the challenges and opportunities facing women in Kansas from Wendy Doyle, President and CEO of United WE, and Brenda Sharpe, President, and CEO of the REACH Healthcare Foundation. They discussed key findings from the United WE Kansas Town Halls report, including topics such as expanded telehealth services to increase healthcare access, as well as occupational licensing policy to expand workforce opportunities.
A legislative panel followed the presentation and included Sen. Cindy Holscher, Sen. Pat Pettey, and Rep. Laura Williams. Each panelist provided a "look ahead" to what they think will be key issues for the 2023 Legislative Session.
Closing remarks came from Todd Jordan, Chief Community Engagement Officer at United Way of Greater Kansas City.